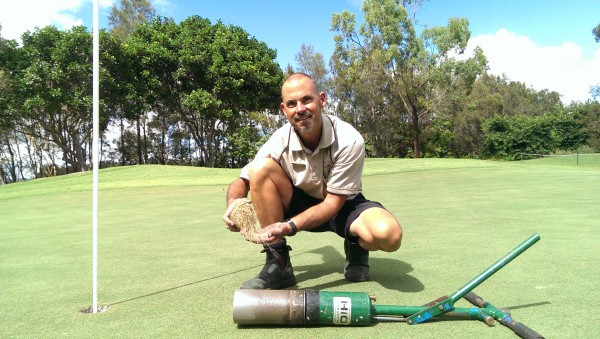 IF golf course superintendent Phil Soegaard had a magic wand he would use it to predict the weather.
Mother Nature, he says, is a superintendent's biggest challenge.
Of course, the weather is just of one the many challenges a superintendent faces in the day-to-day management of a golf course members expect to be in pristine conditions 365 days a year.
Soegaard, 40, has been the course superintendent at Lakelands Golf Club on the Gold Coast since 2006 and was one of the first Queensland greenkeepers to complete the Diploma in Turf Management (2001).
Inside Golf caught up with Soegaard, a former Australian representative player and current Golf Course Superintendents' Association (Qld) committee member, to find out more about his work.
What attracted you to greenkeeping?
I always had a passion for it ever since hitting golf balls at age 11. In 1994, I was working in golf operations at Royal Pines and I continually hounded superintendent Frank Paul for an apprenticeship. He didn't think I was serious and thought I should have been playing golf, but he gave me a start.
Is the weather your biggest challenge?
Being able to control the weather would be the greatest thing. If you could forecast future weather events, even to some degree, it would be helpful. As we speak, I am going through plans of 'what will I do if we get 400mm of rain over the weekend'. We are already servicing pumps, getting products to apply that need washing in and putting growth inhibitors out.
What significant changes have you made to Lakelands in recent times?
In the past two years, we have resurfaced two greens – 11 and 14. I have adopted more of a biological program by using far less chemicals. It's the way of the future, trying to get away from traditional heavy fertiliser applications and chemicals and those things.
What part of your job do members not understand?
For me, what they wouldn't recognise is the HR (human resources) side of things and realising a happy team is a productive team. You have to keep staff morale high through all the wet days, windy days, cold days and hot days. And managing your crew. We have 10 full-time staff and one part-timer and one is generally on holiday and one at college so trying to maximise the performance of the team you have available on any giving day. There is a lot of planning around keeping a work program going. I have been here since 2002 and I think the majority of members appreciate what the team does.
What are you trying to achieve when setting up a course for events?
Tidiness, smooth surfaces and aesthetics is the goal. The detailing of the bunkers and making sure the greens are cut-and-rolled. I won't try and push green speeds too much. Lakelands has won best condition public access course seven times, so we try to make condition our strength.
Do you go for difficult pin placements?
Why would I give myself headaches by putting pins in difficult positions? It's not worth the complaints – I think I am smarter than that. I prefer the course set up easy. You want people to enjoy the game. You don't want someone hitting a great shot in and having a four-putt.
What is the most time consuming area of preparing a golf course?
Bunkers. We have 99 bunkers and lot of them are big. In recent times, we have had to pump water out of the bunkers and repair our bunkers that have been washed out. It's about a 70 to 80-hour process and we have done that five times this season.
What's one thing you'd like to see golfers do more of?
Simple etiquette – things like filling in divots and repairing pitch marks on the greens and leaving the bunker as they found it. Because we are a golf cart course, the golfers mostly use the same exit points and that leaves worn areas. The course suffers when there is non-active growth in winter and cart damage takes longer to recover.
What is the hardest thing about being a super?
Time management. A superintendent is a turf practitioner, a HR manager, has to do the payroll, purchasing, invoicing and work programs.
How many hours do you work in a typical week?
Around 45-50 hours.
What part of your job do you most enjoy?
I enjoy the physical side of greenkeeper. I am out there every morning fertilising, changing holes. I feel I am responsible for the course and need to be out there and set the standard. I think my team appreciate me being out there getting my hands dirty. I love being out on the tools, but it does affect my time management. But where else would you want to be on a beautiful day and the course is looking great?
What don't you enjoy?
Nothing really. I could be here from dark to dark and still think I could do things better and achieve more. It's a job where you are never finished. You can never sit back and say it's all done because there is always the next challenge … the next project.
You once represented Australia. What sort of a golfer are you these days?
Pretty terrible – not good at all. I only play two or three times a year and play in superintendents' days. Sometimes I have a good day, but mostly I don't.
What would you do if you weren't a superintendent?
A motor mechanic. I have an old Ford Escort I tinker around with at home.
# # #
Phil's sliding doors moment
SUPERINTENDENT Phil Soegaard's career could have been very different had he heeded the advice of his one-time coach Charlie Earp.
In the late 1980s, Soegaard was an elite amateur who represented Australia and played alongside Robert Allenby, Greg Chalmers, Stephen Leaney and others.
At 15, he was the youngest person, at the time, to have an AGU scratch handicap.
He played off +3 at Southport Golf Club and between 1989 and 1992 won more than 50 tournaments.
Some of Soegaard's successes include winning the Australian schoolboys' championship, the Australian sub-junior, the Queensland amateur matchplay championship, the Queensland country championship and the Queensland schoolboys' title.
By the age of 17, he held nine courses records and went on to represent Australia in an under-23 team.
His extraordinary talent was recognised and he was offered an AIS golf scholarship, but things didn't pan out the way he had hoped.
"For me, the AIS was a bit of a disaster," Soegaard said.
"I went down there as a natural player with not a lot of technical tuition and probably suffered from paralysis by analysis through getting too complicated.
"It's a bit of a shame and, who knows, it could have been changes for the better but that's the risk you take.
"My coach at the time, Charlie Earp, wanted me to stick with my natural talent, but when you are 17 you think you know better."
Soegaard has no regrets although he does sometimes wonder how differently life could have been.
"I remember beating Greg Chalmers 7/6 in the Australia schoolboys' championship," he said. "He's doing very well as a professional.
"But I got to represent my country and in more recent times I won a State title in triathlon.
"In 2009, I won the Queensland triathlon for my age group and in 2010 I was duathlon champion so I'm happy."