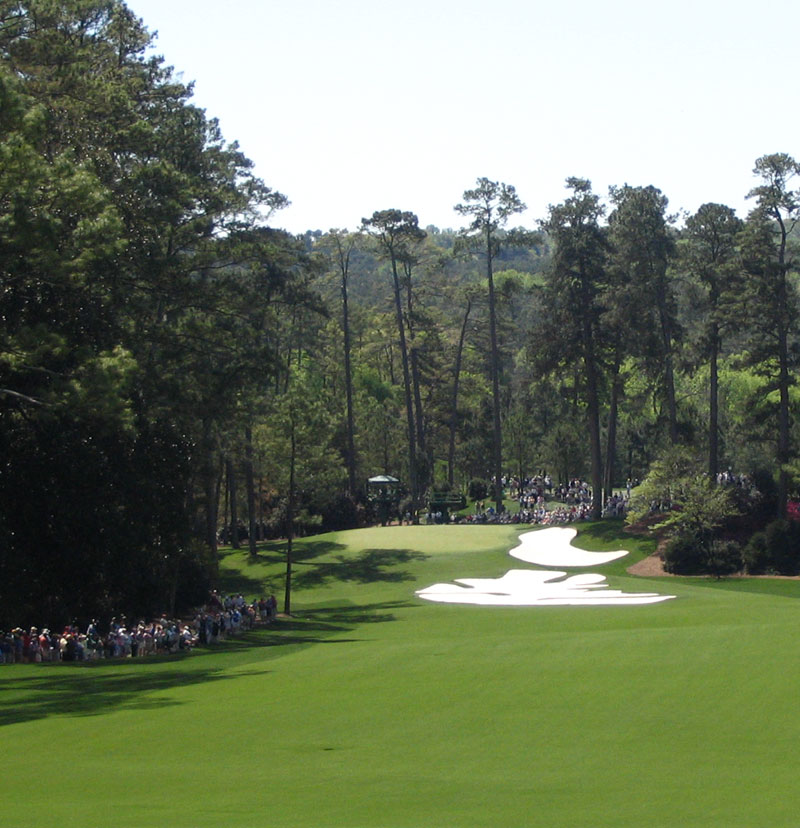 IN September's "Last Word" column, our own Larry Canning penned a light-hearted piece about how course Superintendents are making their courses harder and harder, and how this potentially makes golf less enjoyable for the masses, thus hurting the overall goal of getting more people into the game.
While plenty of golfers from across Australia wrote in to support Larry's viewpoint—claiming that golf is hard enough without tricked-up greens and nasty pin placements—an equal number of industry professionals complained that the viewpoint was completely out of bounds, and that Larry was off his nut.
While the last bit isn't in question (Larry wouldn't be Larry if he 'had a full set of clubs in his bag'!) the fact is that he may have been a bit erroneous in blaming the Supers for our collective misery. In truth, it's not generally the hard-working Supers who are the culprits here, but more likely it's due to committees or other groups who may have a misguided desire to make their courses as difficult as the ones seen on American golf telecasts. It's what some in the industry call the "Augusta Effect".
It's not an uncommon occurrence: golfers see the mega-manicured, shockingly beautiful Augusta National Golf Course on TV during The Masters, the ultra-thick rough at the US Open, or the super-slick greens at the Open Championship and they begin to dream about their local track being equally as challenging and exciting.
The dream spreads like a virus to other players in the Club, and eventually a Committee (or whomever makes the set-up decisions at the Club) will get a glimmer in their collective eye, and try and make their greens as slippery and hard as an ice rink, the pins tucked into crazy corners, and the rough as thick as a Chef's Salad.
A tricked-up course is fine and well for professionals who hit 80% of the Fairways and Greens during a round. But what about the average club player who struggles to golf his/her ball in any pre-determined direction at the best of times? And what about the course staff that endure increased pressures to maintain such high standards?
For example: during a recent round at a local course, I and my playing partners found ourselves searching tirelessly for a handful of drives that had barely trickled off the fairway into the first cut.  You read that right – the grass was so long in the FIRST cut that it all but buried the ball. Now, I'm not complaining about long rough (for that is often a main defence for a course), but my point is that we wasted around 15 minutes that day looking for balls that—had the grass been trimmed just a few millimetres shorter—should have been spotted straight away. A few millimetres of difference wouldn't make much difference to the difficulty of the shots, but would have definitely sped up our round.
At another course I played recently, the greens were so fast that they were borderline unplayable. A gentle tap on a one-metre downhill putt would slip by the hole, roll 15 metres, run off the front of green and drop into a bunker, effectively prolonging the playing of that hole considerably.
With factors like this, it's no wonder why the game is taking longer and longer for us average golfers to play.
So if the USGA really aims to combat slow play, perhaps they should lead by example and not glorify the wrist-breaking rough or snooker-table greens? If they did that, then maybe the TV Media would follow-suit, and so on down the line. And closer to home, we can all do our part. If you think the members and committee at your club is suffering from The Augusta Effect, then let them know.
And if your club has some creative and successful ways to approach a course set-up, then let Inside Golf know. I'd be happy to share your ideas with our readers.
Case in point: The Eastern Golf Club in Melbourne, for example, has a simple, golfer-friendly mandate when it comes to pin placements: "Rotate pins from Front, Middle, Back, and place in a location that is as easy as possible for the member to play." How simple (and friendly) is that?
If more clubs followed this example (and I should point out that there are many out there that do), our rounds would be quicker, we'd have a few extra golf balls in our bags, and we'd all have time for a cuppa or a beer in the clubhouse after our round (and maybe invite the Super to join us!)
See you on the fairways