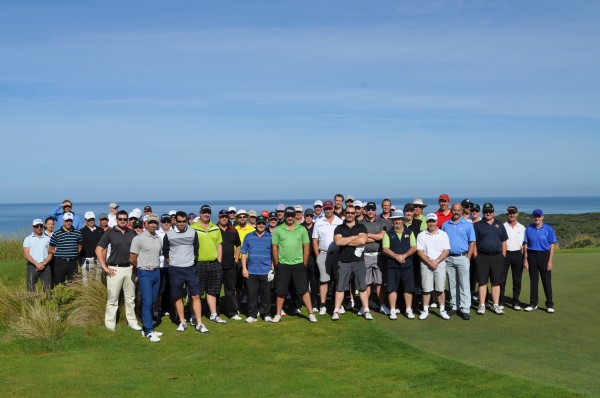 My recent Starters Box article on "Discrimination" by clubs who are eschewing social and "remote" members (i.e. country members) has generated plenty of responses by readers. Many of these letters (as well as many I've received in the past) attempt to paint a picture of Remote/Social members as beer-guzzling, obnoxious and cheapskate golfers who have little regard for the traditions and etiquette of the game.
The reality, however, is that this is a stereotype which couldn't be further from the truth. Stereotyping any group (in golf, but more importantly in life) is a dangerous and ill-bred exercise that often leads to problems.
So here are a few Social Golf stereotypical viewpoints as shared by readers, and my attempt to illustrate the reality.
"Social/Remote golfers are rowdy, irresponsible, do not understand the rules or the etiquette of golf and think that they can take 5 hours or more to play a round."
Conversely, there are many members of private clubs who don't know the rules (or simply ignore them). Does that mean ALL members are ignorant? Of course not. Just a select few. It's the same with social golfers. In fact, I have played with many social golfers who are plus-markers, who know the rules so well that they probably know more than most private members.
As for the slow play: again, I play with many social golfers who can finish 18 holes in just over 3 hours. Conversely, I have played many private member comps which have taken over 5 hours (without a social golfer in sight). The stereotypes do not tell the whole story.
"Social/Remote players should join a recognised golf club, play with members, do their apprenticeship, and learn the game of golf as it was meant to be played."
 Or, they could do what is arguably the most common pathway to golf: Introduction to the game via a friend/family member > group/Individual lessons > social golf with mates > invitation to a member club during a Corporate/Open/Tournament/social day > enjoy the course = Membership enquiry.
Many of these players eventually will join a club (industry data backs this up). I'll use my own history as an example: For over 30 years in the US, as a social golfer, I played some of the most amazing courses anywhere in the world. Playing with mates and colleagues from work was the norm, and many of the big companies I worked for had social golf clubs.  CEOs, engineers, software designers and marketing managers were members of these clubs. They were a far cry from the perceived stereotype of the beer-guzzling, havoc-wreaking social golfer (well, maybe except for the marketing managers.)
When I moved to Australia, my employer at the time (the GM of the business) invited me to play with his social group. As it turned out, they were (and still are) a great group of guys who know and respect the game as well as anyone with whom I have played.
Now, as you all know, I eventually joined a private club (proving that the GAA pathway model indeed works). Joining a Social group in Australia was simply my pathway to joining a club a few years later.
 "Remote/Social members only join a social club to obtain a GA handicap because it is CHEAP."
Not necessarily true. Many of them have found a great group of mates who enjoy playing together, or they can only play a few times a year. Does that make them cheapskates? Nope.
While some are doubtless retired, or on a low or fixed income, etc, many social golfers pay heaps of money to enjoy the game they love. In fact, prior to joining a private club, I was spending over $3,000 a year in green fees and entry fees for social events. This also doesn't include the Annual Golf Weekends, etc, which can add anywhere from $500-$1000 or more. All up, I found myself SAVING money when I eventually joined a member club.
"Social/Remote members rarely patronise the bar when they visit a club, so they do not support the club with much additional revenue."
I find it interesting that the stereotype of the "Beer-guzzling" social golfer doesn't seem to apply when the player is off the course. At any rate, I can honestly say that there are many social golfers who spend heaps at the 19th hole – which may offset the many "carpark" members of many private clubs who never visit the clubhouse.
 "Social/Remote memberships allows them to play in club competitions on beautiful courses without paying annual fees — which maintain most Golf Clubs to a high standard."
But what about the money collected from green fees? If it's not high enough to cover maintenance and all other costs, then perhaps your club should raise the rate.  But then, you'd probably get fewer social players anyway.
"Some Club Managers do not respect the wishes of their members and will allow social players to enter club competitions and cause havoc. The main reason is to improve their bottom line and receive a performance bonus."
Either that, or these managers simply understand that the revenue collected (see previous point) might be enough to keep their club in the black, or to keep from closing, like so many have done. And many recognise that the single largest pool of potential members is the one million social golfers in Australia.
"Most private members are not elitist, or snobbish, and only wish to play the game according to the rules of the Royal and Ancient and to respect the etiquette of golf."
 And most Social Golfers I play with are not obnoxious, nor cheap, and only wish to play  the game according to the rules of the Royal and Ancient and to respect the etiquette of golf, when their hectic schedule (and finances) allows.
My point this month is that if you apply stereotypes to all social and remote golfers, then you must also apply the "elitist" stereotype to ALL private club members. And as we all know, neither stereotype is accurate.
As always, I'd love your feedback