BUNKER-TO-BUNKER… Inside Golf writers have their say!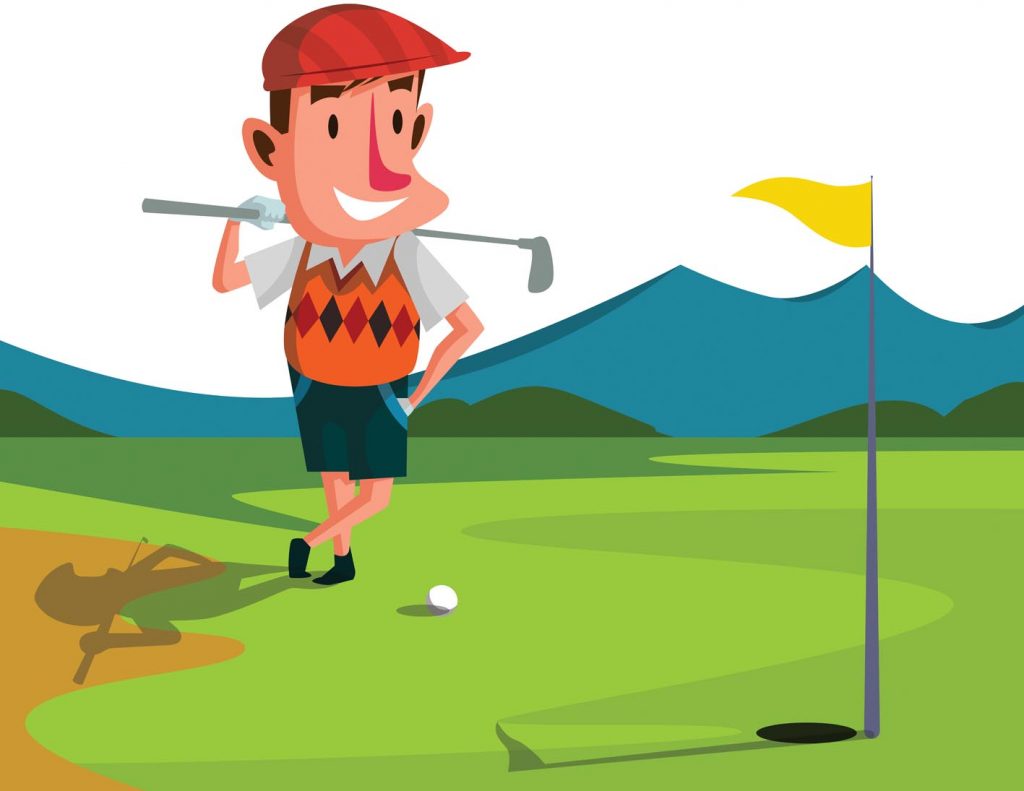 By Michael Court
WE don't want to frighten them off … and let's face it, knowing half the things you need to know in a round of golf would put the wind up a lot of prospective golfers at any club.
But people really do need to learn at least some of the etiquette so important to everyone enjoying their round of golf in any weekend competition.
You want an example? Sure!
We played behind a group just last Saturday and most of them had the correct etiquette ingrained in them. They'd finish the hole and quickly move on to the next tee.
Yet the fourth player must have been driving them absolutely insane. He certainly had our group pretty fired-up.
On almost every hole he would park his buggy in front of the green, just in case we might have contemplated hitting while he was still there.
I said 'almost every hole' – because on the only two greens where he didn't do that, he stood beside the green and added up his scores up while we were waiting to hit. We were ready to shoot him.
Near the end of the round, sadly a stroke round, his playing partners were gone and he'd still be there marking his ball and three-putting.
He had no idea he was upsetting everyone – until one of our group let fly with some expletives and he looked shocked that he'd erred.
Please, someone teach him the etiquette of our great game.
---
By David Newbery
IT would be beneficial for new-comers to competition golf to have a basic understanding of the rules of golf and definitely learn what's required when it comes to etiquette.
Being ignorant of the rules, or simply flouting the rules, can cause all sorts of issues with your playing partners.
I played golf with a chap who was a poor putter – and that's being kind. He would leave a two-metre putt 30cm short (or long) and then casually walk up and attempt to backhand the ball into the hole and miss.
Then he'd say: "I was on for three and two-putted for a five."
No, you three-putted!
The late, great Norman von Nida got into a physical fight with an American who said he had a four, but the Von knew he had missed an attempted one-handed tap-in and took five.
Etiquette too is the bane of golfers who take the game, especially competition golf, seriously.
A rules and etiquette exam would alert them to the fact that they need to play the ball as it lies, play at a reasonable pace, repair pitch marks, replace divots, rake bunkers, leave the buggy to the side from which you exit the green, be ready to hit when it's their turn and be early for your tee time.
And don't pick up a golf ball you suspect has been lost by another player. There's a joke that says you have to wait until the ball stops rolling. Still, it's against the etiquette of the game.
---
By Michael Davis
NO. I am reminded of a long-time friend's horror start to golf many years ago. As a young mum, she called into a public regional course with the thought of joining the social players during the week. The receptionist was very polite and furnished her with the required paper work to join the club. My friend was impressed by the welcome and pleased she had made the inquiry.
An appointment was made to play with the ladies' captain and vice-captain the following week – just to see how well she could play so that she could be grouped with players of a similar standard. Or at least that's what she thought!
Instead, she turned up to a four-hour nightmare which began on the first tee when she 'cold topped' her tee shot and took off to retrieve her ball to reload.
"DON'T YOU TOUCH THAT BALL," the lady captain bellowed. And that was the good part.
It's a funny dinner party story now, but at the time it was a horrible introduction for a young mother who was a little down on confidence.
I am pleased to report that my friend is now a competent player and is a member of two clubs, both with very difficult courses. Things are different now, with most clubs having superb programs for beginners which include rules, etiquette and lessons.
By the time new players step out in the competition, they are well versed in what to do and what is considered taboo. As for having to sit an exam, that's taking it a bit too far.
---
By Larry Canning
I DON'T think it's a coincidence Olympian Sally Pearson has taken up golf with, I've heard, some serious passion. She is sick of jumping bloody hurdles!
Introducing anything resembling a formal speed bump on the path to playing golf flies in the face of everything we're trying to do for our game.
I had an interesting chat with Golf Australia CEO on the latest "Backspin" podcast and its obvious one of the under-exploited paths to becoming a competition playing member was by being introduced to the game by a current member.
I know there are hundreds of devoted golfers around Australia doing their part to introduce a friend, neighbour, work colleague etc to the game, but given there are approximately 480,000 golf club members across the country, its nowhere near enough.
For me, the best environment to learn the rules and etiquette of golf is through a friend. The unique integrity golf is built on is another huge part of the learning process and that just cannot be learnt from a book and an exam.
I know it sounds a little simplistic but how good would it be if every serious golfer committed to bringing just one new person to the game?
C'mon golfers; don't leave it up to an exam or some crusty old golf bully wearing long socks having a crack at a newbie because he didn't know not to tread on someone's line.
Let's share the love!