BUNKER-TO-BUNKER….Inside Golf writers have their say!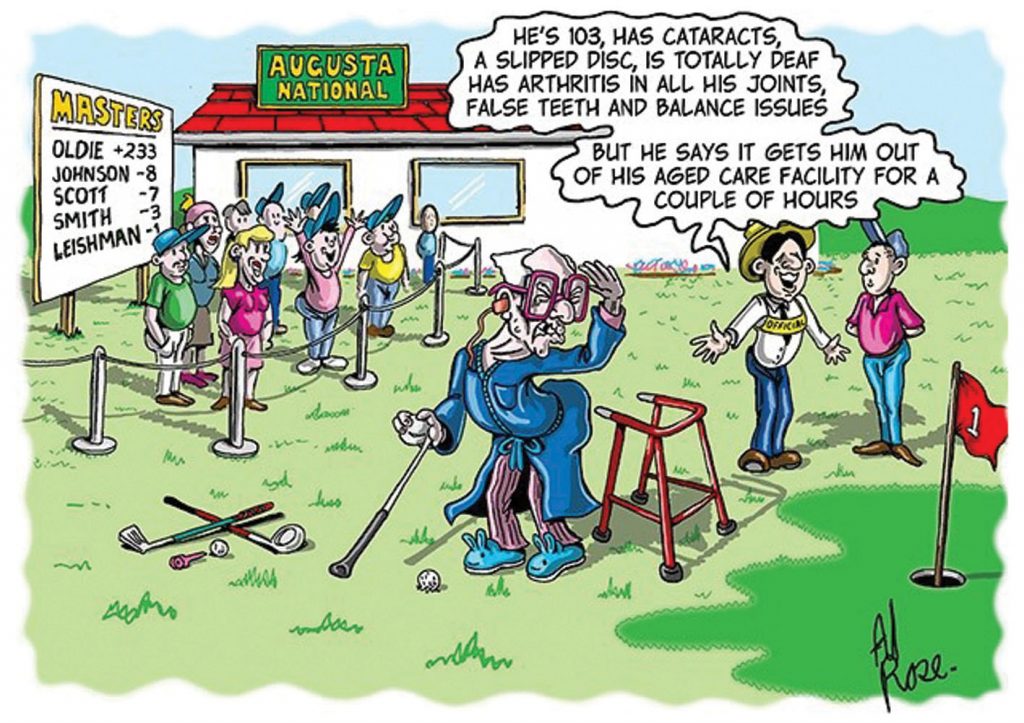 By Michael Court
DON'T do it … please?
Don't deny us a chance to pay tribute to some of the greatest golfers of all time. Americans love their champions, especially the golfing ones. And we aren't that different.
I just spent an hour or so watching a "scramble" format match that was added as part of the PGA Tour Champions Insperity Invitational. And thanks to the likes of Nicklaus, Trevino, Player etc, I found it more entertaining than the tournament itself even though likeable Kiwi Steve Alker won the main event.
Just the sight of a rotund Tony Jacklin and a pudgy David Graham trying to hit a shot over water – and coming up way short – didn't put me off. On a couple of holes, the great Jack Nicklaus didn't even bother hitting because he knew he couldn't hit it as far as Annika Sorenstam. So, he didn't bother.
"Welcome to my world" I found myself saying because, sadly, our golf games do go downhill when we reach that senior status. Golf, like almost every sport, is a young man's game.
But I digress, the US Masters has been – and always will be – an invitation event that was dreamt up by the late, great Bobby Jones to meet and greet his mates and have a bit of fun on a golf course when they got together.
Let the legends themselves decide when they are too old – or embarrassed to play on against the 'flat-bellies'. They should be accorded that honour. And if they feel they can get it around Augusta National, let them – and applaud them all the way around.
---
By Peter Owen
THE refined gentlemen who run things at
Augusta National Golf Club aren't quick to embrace change. They grip tightly to what they believe is tradition, maintaining until 1983 that only African-Americans could be used as caddies, and even today insisting that caddies wear those curious white boiler suits.
And they reluctantly, and only comparatively recently, allowed women into their membership and it isn't so long ago that they refused to allow television cameras to record anything that happened on the first nine holes of a Masters tournament.
Convention, ritual and habit are very important to the people who run one of the world's biggest golf tournaments. But there's one tradition they really need to change.
Golfers who win the Masters get a lifetime exemption to play in the tournament. That means they can play until they drop. And some of them seem hell bent on doing just that.
I hate to see legends like Vijay Singh, Jose Maria Olazabal, Bernhard Langer, and even Fred Couples, tackle a course, and take on competition, that is clearly way beyond their capabilities.
Tournament organisers clearly thought it would be a tribute to these wonderful players to have them come back each year, but there's no glory in shooting in the 80s, finishing at the tail of the field, and inevitably going home after 36 holes. It's an embarrassment.
But such is their character that they'll continue to show up as long as they're invited. Spare them the indignity.
---
By Larry Canning
MY question here is more about the size of the field and the American-biased exemptions … sorry "invitations" that go out each year.
The Masters is a major yet you have to be invited to play. Why?
The field for the other three majors – PGA Championship, US Open and British Open – will be 156. The final field for the 2022 Masters was 90. Why?
Anyone who wins one of the 35 US PGA Tour events that award a full-point allocation for the season-ending Tour Championship is automatically invited. But despite a major, a win virtually anywhere else in the world isn't worth a cracker. Why?
A player can actually qualify for the PGA, US Open and Open Championship through a bunch of different ways, just like you can on all four of the tennis Grand Slams and this, despite Wimbledon being run by a private club not unlike Augusta.
The All England Club has clearly embraced the concept that a modern Grand Slam as being a "world" major.
I don't have so much of a problem with some of the old farts teeing it up, well, except for Larry Mize. I don't have any issue with the Masters being a major. It's a magnificent tournament!
I just question why in 2022 it remains so selective with its field. I know Augusta National is breaking down some of its barriers and the National Women's Amateur is a wonderful initiative, but surely it's time to open up Magnolia Lane to anyone good enough to qualify!
---
By Michael Davis
IT might be old-fashioned of me, but I love the quirkiness of the people who run the Masters at Augusta National Golf Club.
And that extends to those whom they invite to play in their tournament every year. As tradition is paramount at Augusta National, past champions are honoured forever and a day.
Once they have donned the green jacket, they are invited to play the tournament for the rest of their lives.
Most past champions bow out gracefully when it's time – just as 1991 Masters champion Ian Woosnam did this year. Welshman 'Woosie'
turned 64 in March and decided he had had enough. Gary Player made the cut aged 63 in 1998 and played his last Masters in 2009, aged 74. The 86-year-old still turns up every year to entertain the patrons at the par-3 event.
Some past champions hang around to shoot two rounds of 85 and disappear into the sunset until the following year. Others, like 64-year-old German Bernhard Langer, actually still contend. Fred Couples often thrills the galleries too. To me, that's the beauty of the Masters.
It's quaint that they continue to have the opportunity. Augusta National is not going to be governed by the latest big thing in golf at the expense of one of their past champions. And I love it.
Whatever the past champions shoot doesn't matter a hoot. Their presence adds to the mystique and soul of the Masters. Let's hope this joyful part of the Masters at Augusta is never abandoned.