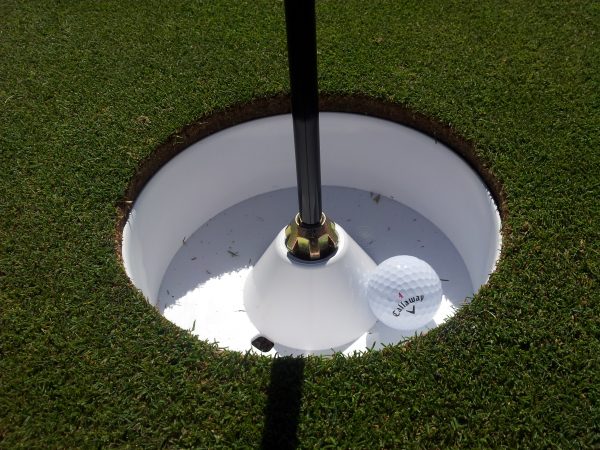 Recently, there has been a huge surge in the media about new, non-traditional formats of golf. From Big Hole/Hack Golf (which features 15-inch cups) to Light It Up Golf (playing with glow-in-the-dark balls) to Project Flogton (a set of "improved playability" guidelines and rules), to suggestions about 6-hole layouts, etc., it seems that this great game of ours may be on the eve of a renaissance of sorts for the modern social player.
A few years back, TaylorMade Adidas CEO (now President) Mark King caused a ruckus when he called for the game's rules to be 'bifurcated'; one set for "serious" professional players and another set for recreational players (with relaxed technology restrictions, tees placed halfway down the fairway to shorten up ever-lengthening courses, etc.)
Last month, the Golf Channel threw their hat into the ring, with their "modified rules" aimed for social golfers. Their proposition:
"For all who play golf just to have fun, we offer 7 rules to govern all play.
1.    MAXIMUM SCORE: Double par (i.e., 6 on par-3s, 8 on par-4s, 10 on par-5s).
2.    PENALTIES: All are one stroke, including out-of-bounds, water and lateral hazards, lost balls and unplayable lies. Drop a ball near where the original was lost and play on.
3.    SEARCH TIME: Two minutes to look for your ball. If lost, proceed under Rule 2.
4.    UNFORTUNATE LIES: With your playing partners' consent, balls may be dropped out of divots or footprints, away from tree roots and any other dangerous lies.
5.    CONCEDED PUTTS: Putts may be conceded with your playing partners' consent.
6.    EQUIPMENT: No restrictions, including number of clubs.
7.    COMMON SENSE: When in doubt, use common sense and fairness."
It's been well documented that golf is struggling in the modern world. With costs going up, rounds taking longer, and the game just as challenging as ever, cash-strapped and time-poor golfers are quietly walking away from the game, while getting new players to replace them is even harder.
So, is a "relaxed" set of rules the answer? Should professionals and recreational players play by different rules?
Traditionalists (as well as the USGA, R&A, etc) argue that golf's strict rules give the game its unique identity, creating the integrity that sets our game apart from all others.  One set of rules allows a social golfer to compete under the same conditions and restrictions as, say, Rory McIlroy – whether at a local course or at an Open Championship venue. It's a clean and clear arrangement that has been a fundamental part of the game throughout its history.
Conversely, many modern golfers retort that the game is already bifurcated to a point. Equipment has made the ball go much further, causing courses to be longer and harder, which makes some layouts only playable (or enjoyable) by the big-hitting professionals.  When an average golfer plays the monster tracks, they lose more balls, it takes them longer to play, and they generally walk away frustrated. So when they play socially with their mates, they often agree to a more relaxed set of rules, with preferred lies, Irish Drops, conceded putts, mulligans and the like.
Let's face it, the rules of golf can be ridiculous at the best of times. Every week there seems to be news of someone on the PGA Tour being penalised for something that is both ludicrous and head-shakingly bizarre. From brushing away a divot (Camilo Villegas, Hyundai TOC) to a tiddly-winks ball-marker move (Padraig Harrington, HSBC) to the "what defines  a sand trap" debacle (Dustin Johnson, PGA Championship), the rules seem to be getting more and more difficult for even the pros to decipher.
And the rule book is only getting thicker, with more revisions and Decisions being added every few years.  A game that is based on honesty and integrity, yet it has more rules governing play than many other sports.
Golf is not alone in its modern-day struggles. Cricket, for example, endured the Twenty/20 cricket debate not too long ago.  When it was first introduced, the naysayers fought tooth and nail against it. But now, the colourful and exciting quick-play format is an integral part of the world game, drawing juniors, locals and an entirely new audience to the pitch, with the once-solid One-Day version now being questioned regarding its relevance.
So is the standard 18-hole, traditional golf format on its way out? Or is it just in need of a shorter, more exciting version on the side? What does golf need to do to stay relevant in the modern world?
We'd love to hear your thoughts.