BUNKER-TO-BUNKER….Inside Golf writers have their say!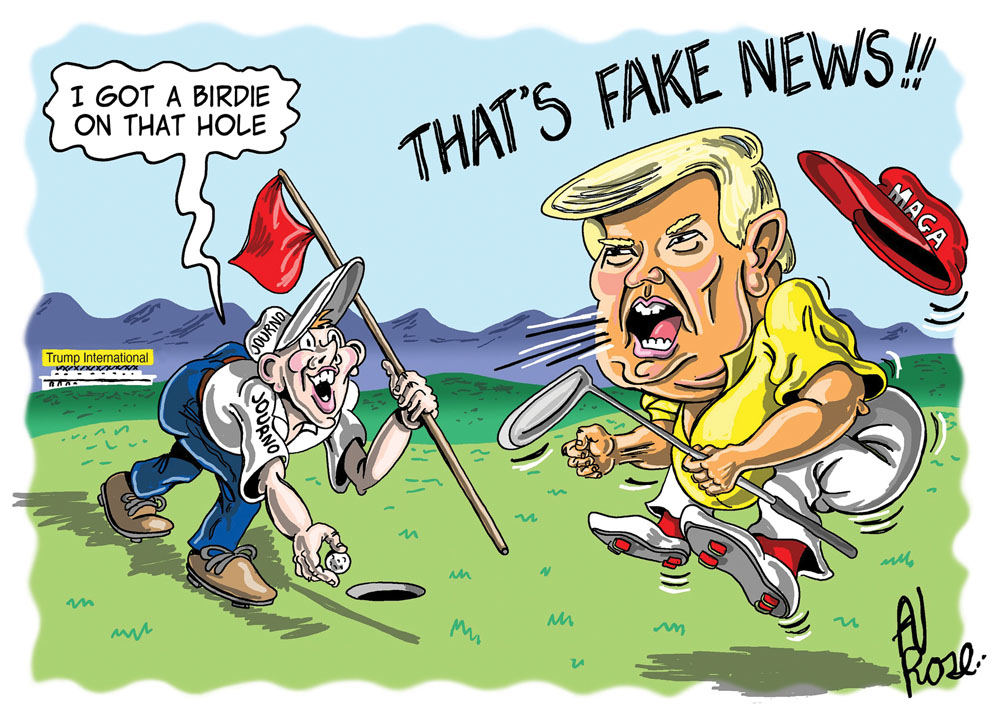 By Peter Owen
MY first inclination was to simply write 'No' and be responsible for perhaps the briefest column in the history of golf writing.
I'm no fan of Donald Trump. I don't like his politics or his ethics. I just don't like him. And he probably wouldn't like me.
But, if he was to invite me to play in his fourball, would I accept? Yes, absolutely!
I'm a journalist, and to spend four hours with one of the world's most famous people would be priceless. Who knows? I might come up with the scoop of the year, and find myself on the set of Today alongside Karl and Allison.
And if I was in a foursome with President Trump, chances are we'd be at a prime golf course – perhaps one of the dozens he owns. It's always a joy to play golf at somewhere special.
Playing in a foursome means there would be two others in the group. And, assuming they weren't no account ring-ins like me, they'd provide interesting company.
If we threw balls in the air on the first tee, I'd hope to draw Trump as my partner. I've seen film of him playing and, not to put too fine a point on it, I've seen better swings at those suburban parks where my kids used to play.
Yet I read once that, after a break from golf due to the pressure of his work in the White House, Trump went out one weekend and shot 68 off the stick. With all the spare time he's had in recent times, just imagine what a fourball partner he would be today.
---
By Michael Court
YOU'VE set me a tough one here.
Why? Because in the end I'd have to say 'no' to a game of golf with Donald Trump because much as I'd love to beat him, I suspect there'd be too many mulligans and 'gimmes' in his game for a serious round of golf.
What made it hard to say 'no' was the respect I do have for 'The Donald's' love of the game and indeed the fantastic courses he has and the condition he presents them to the public.
I was in Scotland for a British Open several years ago and headed for Trump's masterpiece at Aberdeen, appropriately named Trump International.
We were the first two-ball out that day and I have never seen a course in better condition than this marvellous layout, cut out of the sandhills and swales beside the North Sea.
Now we know Trump is prone to exaggerate, but he rates Trump International the No 1 course in the world and says it makes some higher-rated layouts look like toys when compared with his course.
He owns 17 courses worldwide, including Greg Norman's Doonbeg design in Ireland and even a course in Bali. So, even though I might not vote for him if I were American, I will always respect his love of the game and the golf experiences he has been able to present.
I'd never tee it up with him though because I know we'd end up arguing about anything – and everything. And if he tried to take a mulligan we'd probably come to blows.
---
By Michael Davis
CURIOSITY would get the better of me if I were asked to be part of a four-ball with former US President Donald Trump. I would accept the offer.
They say you never really know anyone until you've played a few holes of golf with them.
And I reckon Trump would be no different in this regard. He might even deny my pre-conceived notion that he is the world's leading narcissist.
(Apologies here to Russia's President Vladamir Putin and North Korea's supreme ruler Kim Jong-un, who have Donald well and truly covered in this regard).
Trump might even surprise me and be damn fine company on the golf course and courteous to a tee (pardon the excruciating pun). Somehow I doubt it. But I would be prepared to give him the benefit of the doubt.
I have played golf with a lot of "celebrities" over the journey and many have totally belied their public persona on the golf course – some for the better, others for the worse.
The most notably painful of them was an extremely high profile, laugh a minute television comedian who turned out to be both a boor and a bore from tee-to-green. It was the longest round of my life. He was anything but "a television personality".
But organisers of the event got their wish by inviting him to play – a couple of prime time minutes on commercial television bulletins that night. Rest assured, a round of golf with Trump could hardly be any worse than what the renowned 'comic' put his playing partners through that day. 
---
By Larry Canning
NOW this is a tough question.
There's a lot to be weighed up and I'm not sure I'll know myself until I finish this piece.
For a start, politics aside, the guy did hold an extremely distinguished position as President of United States of America and that deserves some kind of respect and he's clearly inviting me to play because he acknowledges the amount of big tournaments I came close to winning – had I have made the cut.
Given what I've heard and read about golf with Don, I'd probably need to let him win though.
With my medically diagnosed affliction of "Badorosis Loseritis", I'd need to make sure I took my meds regularly during the round.
Then again anyone who's played golf with me recently, would not see the need to fake a loss at all.
I suppose part of the day would include some kind of meal and drinkies which no doubt would be top shelf stuff. Nothing distracts me from a host's character flaws than a couple of bottles of Moet and Lobster Thermidor.
You know what – I don't like the bloke. In my job, I'm constantly reminded how golf imitates life. His apparent disregard for the rules and etiquette of the last sport left to still possess them is as obvious as the steel caps on his Footjoys.
Word is he had his last pair fitted on a launch-monitor. I guess if I had to play I would, but for a friendly hit – NO!