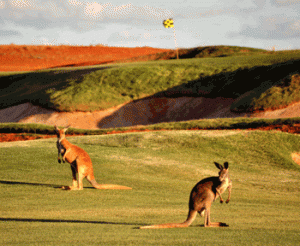 When I first moved to Melbourne from the US, I had little knowledge about the area's golf courses. An avid golfer since the age of four, one of the first things I did after unpacking was to grab a copy of the Golf Course Guide to study the 'lay of the golfing land'.
Needless to say, my jaw dropped at the sheer number of courses around Melbourne. (To this day, my wife still claims I squealed gleefully like a schoolgirl).  Surely, I had died and gone to heaven – there were courses galore – and the green fees/memberships were extremely reasonable compared to similar courses in America. Unbeknown to me, I had landed in a country that has the third highest number of golf courses per capita in the world (behind Scotland and New Zealand), with the majority of these courses in my own backyard.
What's more, I soon learned that there were heaps more courses being built or designed.  And this wasn't just in Victoria – there were world-class public courses popping up all over Australia. Courses like Eynesbury, Growling Frog, Barnbougle Dunes, Kalgoorlie, Hamilton Island, St Andrews Beach and others started staking their claim for the almighty Golfing Dollar.
Indeed, the golf scene in Australia was mouth-wateringly good.
Fast-forward to today.
Many private/member clubs have seen their numbers slowly dwindle over the years as golfers began to migrate to the spectacular new public courses. A study last year showed that social golfers outnumbered member golfers for the first time in our history, representing a troubling trend for clubs that had become dependent upon joining fees and member subscriptions.
But that wasn't the half of it. After enduring severe droughts, a crippling GFC (with a sequel potentially on the way), horrible winter weather and a few floods/disasters across the country, the golf industry as a whole is enduring difficult times, and the share of the Golf Dollar has diminished significantly. Courses are seemingly being sold/bought every month, while new projects have all but dried up (forcing some architects to venture to growth areas like China/Asia).
So what can be done?
While some clubs are choosing to take a "wait-and-see" approach, others clubs are aggressively promoting to this social market. Whether they are dropping joining fees, creating unique membership models, giving away prizes or participating in the "Daily Deals" phenomenon/fiasco like Scoopon (which we have detailed extensively – see our articles online), many clubs today are scrambling to stay out of the rough.
But that may not be sufficient.
Unfortunately, many in the industry believe strongly that there are simply too many golf courses to go around, and that consolidation is the key. This means that some courses will be forced to close their doors permanently or amalgamate with neighbouring clubs. Melbourne's sandbelt and southern/outlying regions are rife with top-quality, middle-tier clubs that simply cannot survive in the current economy, and there are many areas across the country that are in the same boat. So they need to act soon to survive.
Sad, yes. But very necessary.
As a golfer, this kills me. Every time a golf course closes, I honestly feel empty inside. Even if I have never seen the course, I think about the members, the good times and the rich history that the club represented.  And I lament the fact that there is one more course that I will never have the opportunity to play.
But as a lover of golf, I understand that we must do what is necessary to ensure our industry stays strong and healthy.  While 'survival of the fittest' may be a natural part of life (depending on your beliefs), it's a fact that mergers and acquisitions (and insolvencies and closures) are part and parcel of business, and we would be foolish to think it cannot happen to golf.
But we need not look at Amalgamation as entirely a sad thing. Indeed, some of history's greatest companies/inventions/creations came about through mergers and collaboration. And the same will happen with Australian golf, eventually, if we can bear the short-term pain for the long-term gain.
See you on the fairways (I hope)