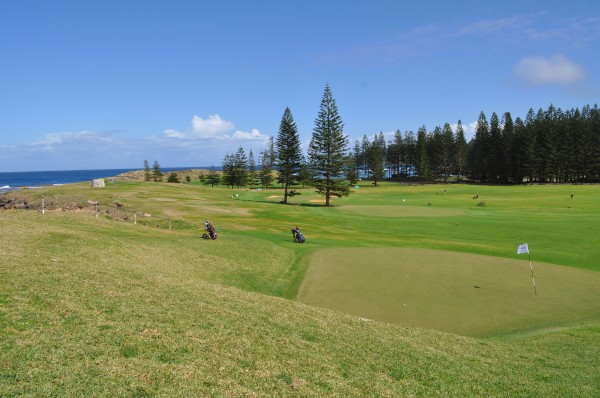 As the editor of a major golf magazine, I am often asked about my favourite golf courses in the world. While the discussion invariably includes the most famous courses on the planet, to this day one of my all-time-favourite layouts is a relatively obscure, short course that I played during my youth.
With a par of only 58, the course (Incline Village Mountain, by Robert Trent Jones Jr) is a challenging layout containing mostly par-3s—with a couple par-4s thrown in. The magical thing about this course is that it is no picnic. Indeed, for an "executive" course, it has plenty of bite. Every hole has a massive challenge; whether you're playing to an elevated green over a massive bunker, or teeing off from an extreme height to a smallish green surrounded by scrub, water, etc. The course demands respect, but rewards you with memories at every turn. It embodies everything that I love about golf.
As I look back, some of my fondest memories as a young golfer were on nine-hole and par-3 courses. On many of these "short" courses, you don't need a full bag of clubs, attire is not a concern, there is no pressure to be "good" and you can get through a round quickly. They are a fun and simple way to go out and have a quick hit – or simply be introduced to the game
Fun, simple and quick. Three words that golf industry "experts" are currently focussing on as we attempt to lure and retain more participants into this great (albeit struggling) game of ours.
Perhaps this is what Australian golf needs. Why not migrate from the same-old "18-hole championship" layouts (Australia already has too many of those) and instead, move towards the development of more high-quality nine-hole and par-3 facilities?
The recent launch of the new nine-hole layout at Geelong Golf Club (see story on page 11) is a great example of a club that has responded to a changing industry, and is capitalising on an opportunity in the market. They will likely garner a loyal following of all levels of golfer in their community, from experienced players to beginners and juniors.
Short courses like a nine-hole or par-3 layout take a fraction of the land size and cost much less in maintenance than a traditional 18-hole layout. They are also a good solution to the challenge of many larger courses/clubs who are currently struggling to survive. Why not sell half (or more) of your land, build a challenging short course on the rest, and open it up to all comers?
More member clubs have cottoned on to the idea. The Eastern Golf Club in Melbourne, for example, had the foresight to include a 9-hole Par-3 course into their larger 27-hole design which is currently being built in the Yarra Valley. This par-3 course will be perfect not only for members to practise their short game, but will also open the door for a variety of new golfers to enter into the game, from beginners, to juniors, to even just the time-strapped golfer who wants to play a few holes before or after work.
Now, for the traditionalists out there who are starting to "um and ah", keep in mind that a short course does NOT need to translate into "easy". On the contrary, there is an opportunity to develop challenging, world-class nine-hole layouts that could be the envy of the industry. Think Twenty/20 cricket: world-class experience, extremely interesting and fun, in a shorter amount of time.
Norfolk Island, for example, has a cracker of a 9-hole layout. Considered by some to be the "Toughest Easy course" anywhere, their nine holes are all challenging, fun and picturesque. And you can't help but want to play the course over and over. It's the same with other short courses like Melbourne's The Dunes' "Cups" course, or Peterborough on the Great Ocean Road, etc.
As always, I'll open this up to discussion. What are your thoughts on short courses?  Are they a viable alternative to the standard 18-holes?  Can they revitalise a struggling industry? Which are your favourite short courses in Australia?