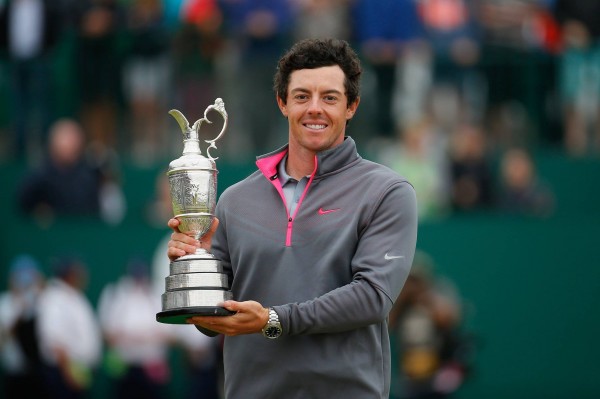 RORY McIlroy has etched his name in history, following a dominant wire-to-wire win at The Open Championship at Royal Liverpool.
With rounds of 66, 66, 68 and 71, McIlroy's 17-under-par, 271 total was two shots better than American Rickie Fowler and the fast-finishing Sergio Garcia, who both finished on -15. Rounding out the top-5 were Jim Furyk (4th, -13) and Aussies Marc Leishman and Adam Scott, who finished T5 on -12.
With a six-shot lead going into the final round, many assumed that a McIlroy victory was a certainty. But—as we all know—nothing is ever certain in golf. Despite a birdie on his opening hole—extending his lead to seven shots—Rory stumbled with consecutive bogeys on 5 and 6, before righting the ship with a birdie on 9, finishing even with the card on the front. Garcia, meanwhile, sank three birdies on the front, making up 3 shots on McIlroy, finishing with a 32 on the front.
The back-nine on a Sunday at a Major is usually where the drama unfolds, and this year's Open was no different.  An Eagle on 10 by Garcia edged him one shot closer to McIlroy, who only managed a birdie on the short par-5. A bogey on 13 by McIlroy added further fuel to Garcia's run, cutting the lead to just two.
Garcia's hopes were dashed, however, on the par-3 15th, as he failed to escape a pot bunker, leading to a bogey. Birdies on 16 and 18 were not enough to undo the damage, as McIlroy finished birdie-par-par to win the Claret Jug.
In winning the Open, McIlroy claimed his third major title—with his 2011 US Open and 2012 US PGA victories—and at 25 years old is the third-youngest in history to win three of the four majors, behind Jack Nicklaus and Tiger Woods.  He is also well positioned to win the career "Grand Slam", needing just a Masters victory to join Nicklaus, Woods, Gary Player, Ben Hogan and Gene Sarazen as the only players who have won all four majors in their career.
For Garcia, it was a third runner-up finish in a major and a 19th top-10, while Fowler recorded his third top-five in this year's majors after finishing fifth at the Masters.
For Leishman and Scott, they can walk away with their heads high, despite the disappointment of not claiming the hardware. Leishman's stunning 7-under-par 65 on Sunday could have been even better, as a pair of Eagle attempts on 16 and 18 both narrowly missed going in. Scotty, meanwhile, has been in contention for the last three Open Championships, so one can only hope that a Claret Jug is in his near future.
THE OPEN CHAMPIONSHIP
FINAL SCORES – TOP-5
| | | | | | | | | |
| --- | --- | --- | --- | --- | --- | --- | --- | --- |
| | POS | PLAYER | RND | R1 | R2 | R3 | R4 | TOT |
| | 1 | McIlroy, Rory | -1 | 66 | 66 | 68 | 71 | 271 |
| | T2 | Fowler, Rickie | -5 | 69 | 69 | 68 | 67 | 273 |
| | T2 | Garcia, Sergio | -6 | 68 | 70 | 69 | 66 | 273 |
| | 4 | Furyk, Jim | -7 | 68 | 71 | 71 | 65 | 275 |
| | T5 | Leishman, Marc | -7 | 69 | 72 | 70 | 65 | 276 |
| | T5 | Scott, Adam | -6 | 68 | 73 | 69 | 66 | 276 |
AUSSIES
| | | | | | | | | |
| --- | --- | --- | --- | --- | --- | --- | --- | --- |
| | POS | PLAYER | RND | R1 | R2 | R3 | R4 | TOT |
| | T54 | Jones, Matt | +1 | 71 | 74 | 72 | 73 | 290 |
| | T58 | Day, Jason | -1 | 73 | 73 | 74 | 71 | 291 |
| | T58 | Senden, John | -1 | 71 | 74 | 75 | 71 | 291 |
| | 72 | Gibson, Rhein | +6 | 72 | 74 | 74 | 78 | 298 |
| | CUT | Rumford, Brett | | 75 | 73 | | | 148 |
| | CUT | Macpherson, Bryden | | 90 | 80 | | | 170 |