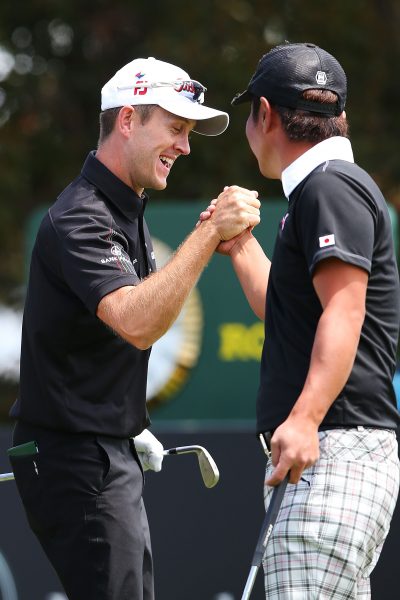 Australia will take a one shot lead into the final round of both the individual and teams components of the ISPS HANDA World Cup of Golf on a day where teammates Jason Day and Adam Scott stood tall at the Royal Melbourne Golf Club.
Day leads the World Cup of Golf individual competition at 9-under par, one shot ahead of Round 2 leader Thomas Bjorn of Denmark.
Last week's Talisker Masters runner-up American Matt Kuchar sits ominously in third position at 6-under par, one ahead of Italy's Francesco Molinari in fourth.
American Kevin Streelman rounds out the top five at 4-under par while Day's teammate Adam Scott shot a 3-under 68 to finish Round 3 in a tie for eighth.
But just as his playing partner Scott had done on the same day last week, it was his fellow Queenslander who stood the tallest on this particular Saturday in Melbourne; Day's 5-under 66 putting Australia out front in both competitions.
"To win the team's event would be phenomenal," said Day.
"(The World Cup) goes back to a long, long time ago when Kel Nagle and Peter Thomson won it. I can't see a more fitting place than bringing it back to Royal Melbourne and to the Melbourne people and even to Australia."
If he wins tomorrow, the title would be Day's first as a Professional in his home country.
"For it to be my first win would be amazing.  It would be a complete honour.  I would definitely welcome it with open arms if it happened to fall in my lap.  But it's going to be a challenge."
Adam Scott's third round of 68 ensured Australia's hopes of a team and individual title were still well and truly alive heading into the final day.
Scott heads into Sunday seven strokes back from Day's lead but refused to rule himself out of contention.
"Personally I think if they're not in double digits I've still got a chance to post a number tomorrow and win this tournament," said Scott while Day was still out on course.
"I'm going to have to play great to do it and I'd like to come out and hit some good shots tomorrow and give myself a chance."
Of other notable moments on an eventful Saturday, Stuart Manley's round will go down as one of the most memorable in world golf history.
Manley shot a round of 72 which saw him fall back into a tie for eighth place on two under par, but the bare figures do not even begin to tell the story of what unfolded at Royal Melbourne Golf Club on Saturday November 23 – a date which, one suspects, will linger long in the Welshman's memory.
Consecutive birdies from the first hole got the 34 year old's round off to the perfect start, and his day got even better when his tee shot on the par three eighth hole landed at the front of the green, took three bounces and rolled straight into the cup for the third hole in one of his career.
Thinking he had also won the AUS$130,000 Mercedes on display behind the tee, Manley broke off his celebrations and gave the car a quick pat. He then made his way to the green, only to be told by a rules official that the prize was, in fact, only on offer during the final day's play.
His disappointment was compounded at the next hole, where he took four shots to locate the putting surface from the edge of the green en route to posting an 11 – the highest score of his professional career.
Said Manley: "It's the highest high and then the lowest low I've ever experienced on a golf course. I thought the car was mine, and with the crowd, all the hype, I was just buzzing. The adrenaline was pumping so much, I could have flown to the green.
"Then I found out about the car, and go and have an 11. I kept asking my caddie, "How many shots is that now?" I actually thought it was a ten but I was not going to argue, because my head was pretty fried at that point, to be honest."
To his eternal credit, the Challenge Tour champion then showed immense mental strength to bounce back with birdies at the sixth and 15th holes, and an eagle at the 15th which, miraculously, moved him back to level par for the day.
There was time for one last bizarre episode, however, as he pulled his approach shot on the last and his ball ended up in the container beneath the big screen adjacent to the 18th green.
Having taken a free drop, Manley chipped onto the green and two-putted for a round of 72 which has to rank amongst the most eventful in history.
He said: "Even though it probably sounds a bit strange, I'm actually quite proud of the way I held it together after my 11. I think I am pretty strong mentally. My caddie said a lot of people would have folded after that, but I made some good chances after that and I just kept plugging away.
"It's obviously a shame I bogeyed the last, but if somebody had told me I would've finished on two under at the end of the day after taking an 11, I would have taken it. I didn't know whether to laugh or cry at that point, but you've just got to pick yourself up and get on with it. I won't forget this day for a while, talk about mixed emotions. But hopefully it'll have a happy ending."
VIDEO