THREE-TIME Masters champion Sir Nick Faldo knows Augusta National like the back of his hand. He played in 23 Masters over his career and golf fans likely remember him most at Augusta when he beat Greg Norman on that unfortunate Sunday in 1996. The 64-year-old, who will commentate on his 16th Masters this month, recently sat down with GARRETT JOHNSTON to discuss the pressure of Masters Sunday, his pick to win, and what he thinks of Tiger Woods' comeback chances in 2022.
GARRETT JOHNSTON: There are so many impressive players in today's game. Who do you think best fits Augusta National?
NICK FALDO: The most obvious one to me has to be Collin Morikawa. He's the clearest one on paper because Augusta National is all about your irons and it's all about distance control … and I mean real distance control. You are literally given plus or minus a yard to land your ball over a ridge, next to an edge, right over a false front, right over a side hill. The course asks you to be patient, smart, calculated, and to put the reins on yourself. Just because you've got a wedge in your hand, you've still got to think, if this stops where I think it's going to stop then I need to give myself a little more margin for error.
A little more right or left of the flag will give you a bit more room. Little things like that are crucial. I like the way Morikawa putted during his Open Championship victory. When you look at stats, those putting stats meant nothing on the back nine of The Open when he holed three really crucial putts. Then later in the year look what he did in the Race to Dubai. My goodness, that back nine putting display was impressive as well. He's already proven that he's a player that when he really wants it, and needs it, can make it happen.
GJ: When you announce the Masters now, what common mistakes do you see players often making on Masters Sunday?
NF: I wouldn't call it a mistake, but it's such a demanding golf course. You've got to hit a couple of shots in the right place at the right angles – all of that sort of detail. If you keep putting that together, all of these players can do that, they know what to do. It's just so demanding at Augusta when you have to pick the right club in the swirling breeze and you're trying to land it in the right spot.
Good players know when they can be aggressive and when to not push it. The fascinating example was with adrenaline and last year's final round with Hideki (Matsuyama) on the par-5 15th hole. He hit that tee shot at 13 that was over the trees.
On 14 he smashed it up the hill, then on 15 he smashed a 4-iron extra yards through the air and into the water behind the green. Adrenaline is something to be conscious of at Augusta and you are truly in a cauldron, playing for your first green jacket and that pressure can really get to you because you have such a fine line.
Adrenaline does not help you if you're landing shots 10 yards further than you were planning. You have to find a way to dial it back down again. That would be the hardest aspect to rein yourself in. When you're really getting excited about it, you've got to then push it back down and try to stay as even as you can.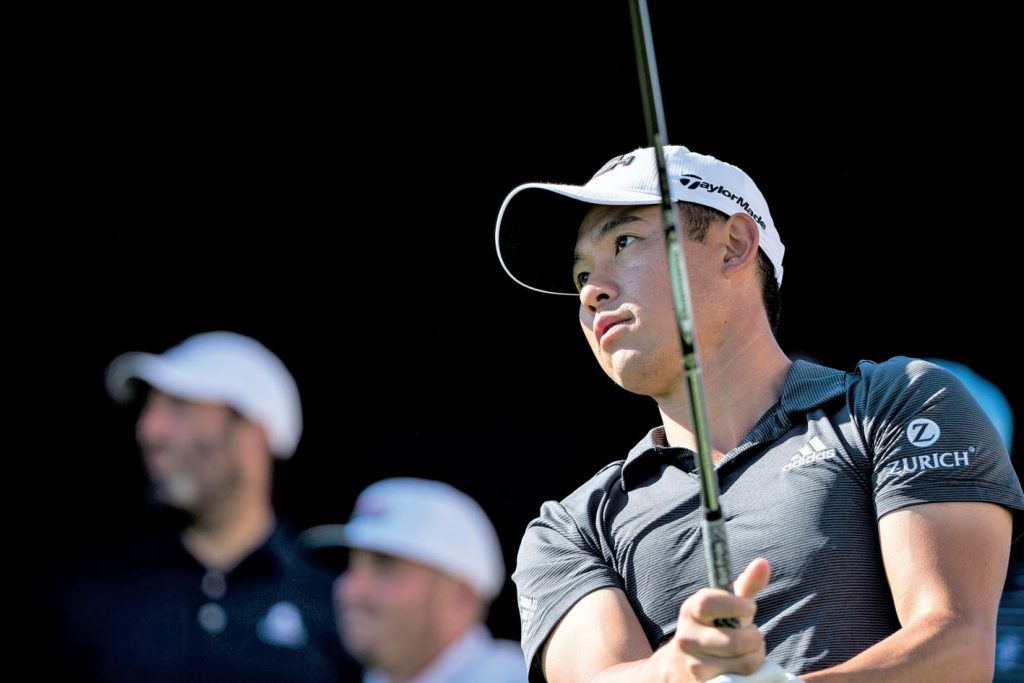 GJ: Speaking of staying even, remember how relaxed you were before the final round of the 1996 Masters when you beat Greg Norman?
NF: I usually take one hour and 20 minutes for my pre-round warm-up, but that morning I'd been watching Nascar and arrived to the golf course later than usual. When I arrived, my caddie Fanny Sunesson's eyes were as big as saucers and said "we've got 57 minutes left". In hindsight, it was probably really good for me because I didn't have a lot of time to think … I had to just get on with it. I rolled a few chips, a few putts, and then off we go. So, in a way that might have worked out.
GJ: Who do you expect to have the biggest 2022?
NF: I think we've been off to an exciting start so far to this tour season. We've got Collin (Morikawa), Jon Rahm, and Hideki Matsuyama as the young major champions from 2021 and the question is how will they do? Hideki has already answered the call and hit that incredible 3-wood at the Sony Open in a playoff. He hit an unbelievable fairway wood at Torrey Pines a couple years ago from the fairway bunker, which is one of the greatest shots I've ever seen.
He's got some amazing talent. It will be interesting to see how Rahm does with a young son now and how will he balance his work and family life. Morikawa has been steady as of late, so it will be interesting to see what they do. I would look out for some up and coming players like Sam Burns and Talor Gooch as well. They've really shown flashes of brilliance and amazing
potential.
Then you've still got Rory (McIlroy), (Jordan) Spieth, and Phil (Mickelson) looking for a grand slam. Who knows if one of them actually finishes it off this year? It starts with Rory at Augusta.
GJ: Tiger Woods will be an interesting player to follow as he tries to get better you'd imagine?
NF: Yes, we'll see with Tiger. Can he get that right ankle really working well? That's his biggest thing, I guess. Tiger may venture out on a nice, flat golf course this summer but I don't know, we shall see.
GJ: When might you expect that we see Tiger Woods this summer?
NF: Well, he's going step-by-step. Number one, I was very impressed how active he was at the Father/Son event in Florida in December. He was wandering around the range backwards and forwards. But you've got to be able to stand on your two feet at a tournament for minimum six hours a day. Probably more, but six hours is the absolute minimum.
Can he do that after what he's been through, I don't know. That would be goal number one for Tiger. The next goal is can he walk an entire golf course for the 18 holes? And can he do that comfortably? Then the next goal is can he do that for five days? You have to do a minimum of five days in a tournament. So put all of that together. All I know from Tiger's words is the ankle does not have the flexibility and range of motion. A lot of people straightaway want to know if he will play Augusta. You know, that's actually the hardest walk on tour. It really is, because there's so much downhill.
You could actually get shin splints that week, even if you're fit and healthy. So now, the big key is whether he's physically ready, because technically he looks really good. His waste is about 28 inches and his shoulders are about 38 inches, he's basically going to use his top half to drag his leg around (laughs). He does look very impressive.
FOOTNOTE: Garrett Johnston is a golf journalist and presenter. He has covered 35 major championships and lives in Washington, DC. He hosts a golf podcast called Beyond the Clubhouse with players, caddies, and broadcasters: https://apple.co/3sGcSPl