FORMER Masters champion Adam Scott and fellow Aussie Marc Leishman have turned their attention to this month's Masters at Augusta National from April 7-10. The pair sat down with GARRETT JOHNSTON to answer a range of questions.
Garrett Johnston: The Masters is weeks away. When do you start thinking about the year's first major and how will you prepare for this year's event?
Adam Scott: Hmmm … yeah it's really at the start of the year. You finish a season in November or December, whatever it might be and you kind of have a debrief and everything has been geared around January, February, and March to get to the start of April for the Masters so really from January onward everything you do you're telling yourself "okay, I'm going to try and win everything I play and try to be in form the whole time, but really with the focus on getting to April in great shape" and that's nice. You don't have to rush yourself into that, you can really play your way into the form you need for that tournament because you've got a bit of time.
Marc Leishman: Definitely as we approach the spring. In the winter you're just plugging away on your game, but once the sun starts staying out later in the states, and the weather improves, you're definitely thinking about the long evenings at Augusta.
What do you think are the keys to playing well at Augusta?
Scott: Every hole is obviously critical for the big picture that week. But as you play it, I think that the par-5s are critical. There's an opportunity to hit three and potentially four of those par-5s in two shots. Even if you only hit two of those greens in two shots that takes a lot of stress out of the rest of the round. All of the other holes, depending on the pin positions, are tough to birdie. You've really got to hit some good shots.
Leishman: Well the key is basically, if any part of your game is off, you're going to have a rough week. For me, I feel like my iron play is usually pretty consistent, my putting and chipping is usually consistent. The funny thing is that driving is always a big key for me at Augusta, and it's probably not the same for everyone. Like they always say, the Augusta I know is as a second shot golf course. The key for me is to be in the proper part of the fairways, that puts me in a position to where I can showcase my iron play and, in turn, that puts me in good places around the greens to be able to be assertive with my putts. I think it's important to shape the ball both ways. Imagination around the greens is huge there.
What are the key holes?
Scott: The par-5s. It's not easy to get it in the hole at Augusta National, and there's an opportunity on the par-5s with two good swings to set up some easier scoring opportunities. Gosh, that takes a lot of pressure off if you happen to do that several times throughout the week.
Leishman: Stats-wise, I think numbers one, four, five, seven, and 18. I feel that if I play those well, then it's a good recipe for a decent week. I think they're difficult holes. I'm not even saying that I need to play them under par, I'm just saying that the key for me is to not blow up on those holes. I feel like I've let those holes get the best of me. I've definitely struggled on those holes. You have to play the hard holes well, at the same time, as I say that, you also have to play the easy holes well. You can't really get away with any real bad numbers on holes. The stats say if you have a double-bogey, you're pretty unlikely to win at Augusta. So keeping the card clean is important any week, but even more importantly at Augusta it's crucial. Things can snowball so quickly at Augusta and go the wrong direction.
What is your favourite hole at Augusta?
Scott: Well 13 has always been my favorite hole. It's absolutely beautiful in pictures, it's wonderful and a delight to play, it's an exciting hole. But now I have the softest spot in my heart for the 10th hole because that's where I won the Masters. So special for me to walk down that hole and reminisce.
Leishman: Twelve and thirteen. If there's no wind I feel like they're two very gettable holes. Twelve is a wedge. If there's no wind you're thinking about birdie every time there, but if there's wind on 12 and 13 and the wind's off the left on 13, to be honest in that case if you get through those two holes with par then you're very happy. They're a couple really fun holes to play. They're aesthetically gorgeous too and we have those flowers blooming in April. It's always fun to look at them, especially with the big crowds around … it just makes that stage so awesome.
What makes the Masters so special?
Scott: It's just one of the most amazing traditions in our game. The golf course is just immaculate. And what really makes it so special is definitely the Champions Dinner on Tuesday night. You end up swapping stories with some of the all-time greats and you have to pinch yourself at times. It's just an amazing experience and a special week, for sure.
Leishman: Well, just the feeling of when you get there and drive down Magnolia Lane and play the par-3 contest with your kids and walk over to Amen Corner and soak up the traditions that make that place so special. I love the course, love the challenge and it's just unforgettable. I'm the kind of guy who either plays well at a course, or I miss the cut (laughs). It rewards good play and punishes bad play. But that's what you want. I just really like it when you can shoot a good score on a golf course if you're dialed in, and if you're not firing on all cylinders then you get punished, and that's what I like.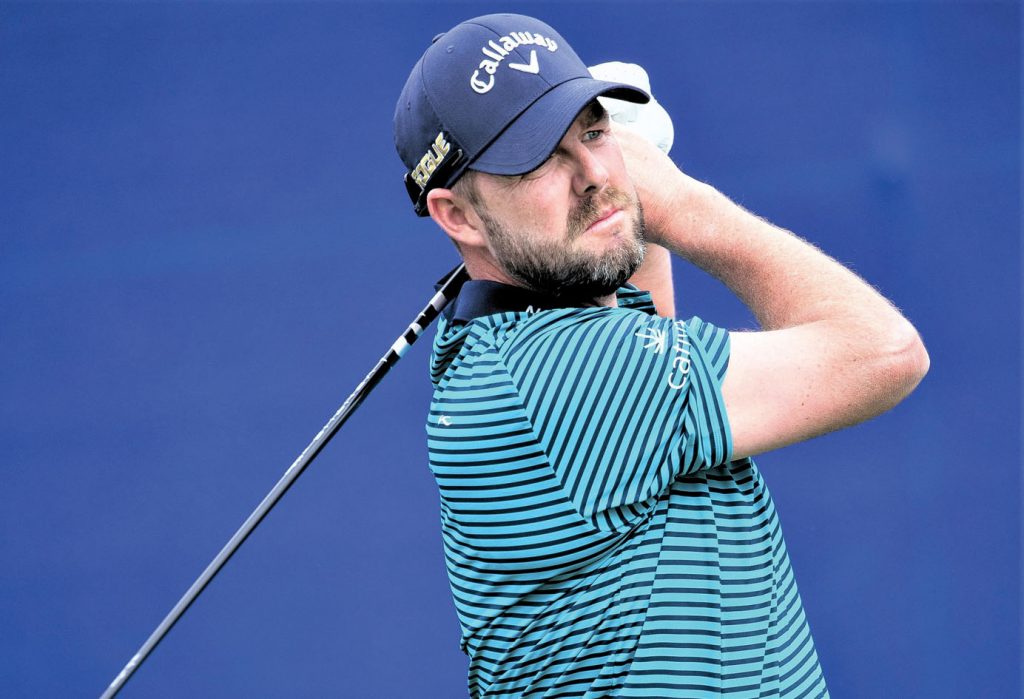 Do you need a low ball-flight to be successful around Augusta?
Scott: I feel like everyone has a high ball-flight these days. It's a wave that we're all on. There's not that much variance between players in their ball-flights these days.
Leishman: No, I don't think so. I think it's more that you have to be able to control your ball-flight and work it both ways. It's also important to land it into the slopes, not with the slopes on the greens so you can control your ball when it's on the ground, particularly if it gets firm. That's not a matter of working on the range the week of the tournament, that's years of preparation particularly with your iron-play. I think that iron-play is crucial there to be able to control your trajectory and your shape, and your spin. Some shots you want to hit low draw with lots of spin or you've got to be able to hit a low draw with very little spin, depending on where the wind is coming from. There are so many different types of shots you need at Augusta, and that's why experience is so important around there.
What's on the menu at the Champions' dinner in 2023 if you win this year?
Scott: I haven't thought about that for many years, unfortunately. I would definitely have some fun with it. I feel like it does go a long way in the room if you put a little thought and effort into the menu and I tried to do that the first time in 2014. I'd have to really think about it. Maybe I'd get a little bit out there and go with kangaroo meat.
Leishman: Great question. I hope to have that chance someday. I'd have to think about it. It would be a good one though, and plenty of choices to go around.
Is the Masters your favorite major?
Scott: It's right up there for sure. And because of that I have to manage my expectations. I think some of that want and desire is good. You have to want it badly. You need to have the belief. I think for me, I manage it through experience. I've played there a lot and having won there and having been close to winning there, you really just have to know how to pace yourself through a major week, especially a Masters week. They are indeed very different than regular tournaments. It's hard to just go out and make a ton of birdies, the trouble is more difficult to manage, the penalty is more severe, and I feel like it can happen, but if it doesn't then you have to find a way to just chip away and take a move at the lead by just playing smart and then hopefully, I always feel like if you have a hot nine holes then you're always in a major. In other words, that's all it takes to get yourself in the hunt.
Leishman: I couldn't pick between the Masters and The Open. They're both so much fun in different ways. The wind is such a huge factor at the Opens, especially the year I almost won at St Andrews (2015). Augusta of course has all of its amazing traditions though. It's such a thrilling place to try to win a major.
FOOTNOTE: It's been a long seven years since an Australian has won a major. The last Aussie major winner was Jason Day, who won the US PGA Championship in 2015.
---
Garrett Johnston has covered 120 PGA Tour events including 35 major championships. He regularly interviews players, caddies and broadcasters on his podcast Beyond the Clubhouse. Link here: https://podcasts.apple.com/us/podcast/beyond-the-clubhouse/id1522077847
You can follow him on Twitter: @JohnstonGarrett.