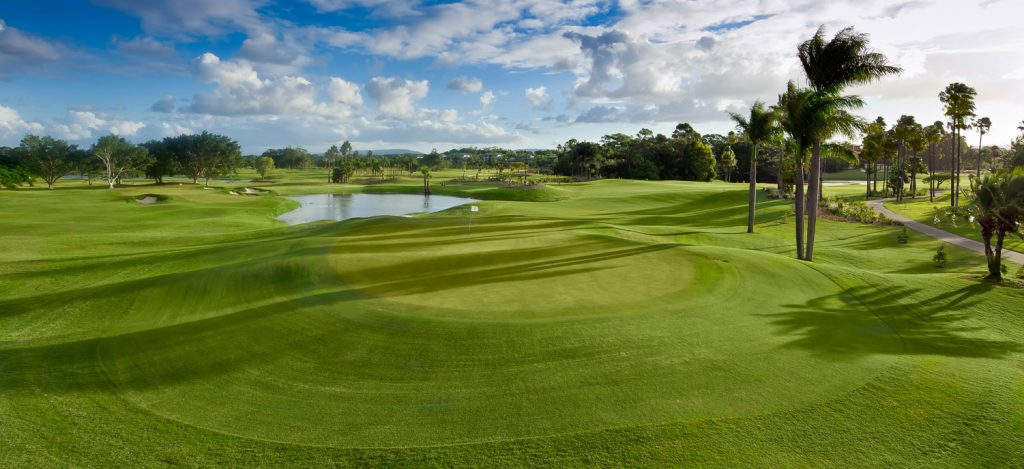 Sanctuary Cove Golf and Country Club's The Palms golf course will embark on an enhancement plan which will see further upgrades since its redesign was completed just over a decade ago.
Paul Mogford and Neil Crafter of Crafter + Mogford Architects, who have Melbourne's renowned Metropolitan Golf Course and Barwon Heads Golf Course to their names, will spearhead the project, which is expected to commence in early 2023.
Mr Mogford, who was recently elected President of The Society of Australian Golf Course Architects, is creating the enhancement plan for The Palms golf course, which underwent its last significant rebuild by renowned architect Ross Watson in 2009.
Sanctuary Cove Golf and Country Club Executive General Manager Paul Sanders said the enhancement plan was part of the club's commitment to maintaining the best facilities for its members and guests.
It follows a $4.5 million investment in Sanctuary Cove's Arnold Palmer signature course, The Pines, over the past two years alone.
"The Palms is renowned as one of Australia's top golf courses, and this significant upgrade will improve the playability of the course, as well as introducing new challenges for members and experienced players," Mr Sanders said.
"The architects are excited to showcase their concept for the enhancement plan to our members.
"They will focus on improving the bunkering on the course with a new and modern drainage system, as is installed on The Pines, to further improve staff efficiency and course standards.
"Other planned improvements include reducing mowing in non-play areas, improving drainage on the playing surfaces and softening some of the greens to improve playability for the members."
Mr Mogford said he was very pleased to have been appointed to work on such a well-known course.
"The existing Palms golf course provides us with an excellent canvas to create an enhanced and unique player experience," he said.
"The Palms is already world class, so our job is to reimagine the course from a player perspective to create a more strategic and aesthetic experience while prioritising the playability and fairness of the course.
"We will be looking at the design of the golf course from an operational and maintenance perspective, as well as reviewing golf course bunkering and green complexes.
"Our brief is to ensure players are continually presented with the best facilities and playing surfaces.
"As always, the designs will have a focus on working with the natural environment and topography of the land for efficiency and sustainability."
The Palms is an 18-hole, par-70 golf course spanning almost 6,000sqm. It sits at the heart of the master planned Sanctuary Cove community, which is home to some of the Gold Coast's most exclusive real estate, alongside the Intercontinental Sanctuary Cove Resort, a shopping village and marina.