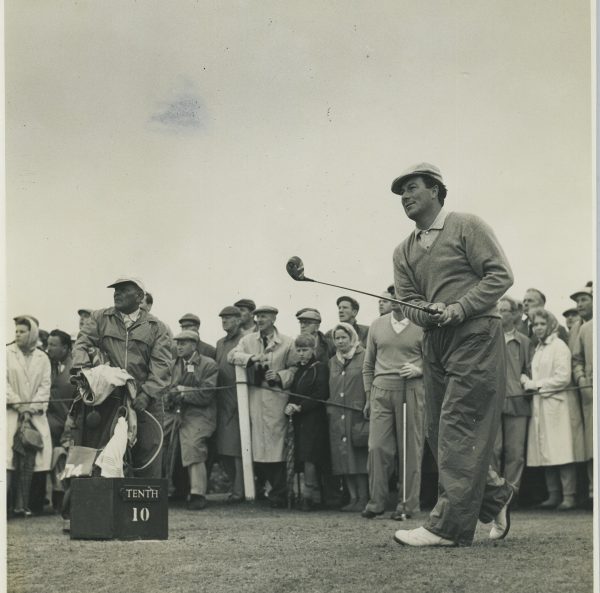 The Australian golf industry lost a legend and icon this week, as the family of Australian golfing great Peter Thomson AO, CBE, announced his passing on Wednesday, 20 June. He was 88.
Thomson had been suffering from Parkinson's disease for more than four years and lost his battle at home in Melbourne surrounded by family. Born on 23 August 1929, he was two months short of his 89th birthday.
Thomson was the first Australian to win the British Open, and went on to secure the title five times between 1954 and 1965, a record equalled in the 20th and 21st Centuries only by American Tom Watson.
As well as a great player he was an outstanding contributor to the game, serving as president of the Australian PGA for 32 years, designing and building courses in Australia and around the world, helping establish the Asian Tour and working behind the scenes for the Odyssey House drug rehabilitation organisation where he was chairman for five years. He also wrote for newspapers and magazines for more than 60 years and was patron of the Australian Golf Writers Association.
In 1979 he was made a Commander of the Order of the British Empire (CBE) for his service to golf and in 2001 became an Officer of the Order of Australia (AO) for his contributions as a player and administrator and for community service.
Thomson will be remembered as one of Australia's greatest ever golfers.   Over a playing career that celebrated 89 professional tournament wins, Thomson's mental strength and ability to perform under pressure were considered a key part of his success. Across his career he won the national championships of 10 countries, including the New Zealand Open nine times.
Following his successful playing career, Thomson began designing courses with Michael Wolveridge in the 1960s.  Over 51 years, he and his business partners, including Ross Perrett, developed more than 180 courses in over 30 countries.
Following Thomson's passing, condolences and tributes poured in from around the world.
"The PGA is deeply saddened by the passing of Peter Thomson AO, CBE," said Gavin Kirkman, CEO of the PGA of Australia. "A gentle man of the game, a legend of Australian sport and an Immortal of the PGA of Australia, Mr Thomson's contribution to golf and our Association was immense and will live forever in our hearts and the pages of history."
Martin Slumbers, Chief Executive of The R&A, said, "Peter was a true gentleman and will be forever remembered throughout the world of golf as one of the great champions of our wonderful sport. He was a distinguished Honorary Member of The Royal and Ancient Golf Club of St Andrews and will be sorely missed by all of us at The R&A. Our thoughts are with his family at this very sad time."
Martin Blake, President of the Australian Golf Media Association, offered the condolences on behalf of the Association:  "The AGMA mourns the passing of Peter, a lifelong supporter of members of the media in the sport of golf aside from his incredible feats as a player and his contribution to the game as an administrator and a course architect. Peter was a fine writer himself with several newspapers and magazines over his life as well as an acerbic commentator on television broadcasts of golf. But perhaps more importantly, our members found him to be a great source of help and encouragement over many years."
Thomson's long-time business partner, Ross Perrett, offered a heartfelt tribute to Thomson.
"It is with great sadness to say goodbye to my great friend and business partner of over 30 years, Peter Thomson. He was a humble champion of great integrity and intelligence. Peter will be sadly missed but never forgotten. Peter was a pioneer of golf design in Australia and paved the way for all of us who currently enjoy working in the field. To travel and work alongside a man with tremendous knowledge, wisdom and sense of humour was a true privilege.  He had a wonderful ability to reduce complex issues and apply a healthy dose of common sense to achieve practical results."
Fellow golf legend Jack Nicklaus offered his own tribute to Thomson via social media.
"I always respected Peter Thomson the golfer. Later in life, I respected & appreciated Peter Thomson the man even more. Peter always played the game as it should be played—with great competitiveness, respect, integrity and sportsmanship. Any golfer who won five Open titles had to be a very special player, and Peter was. But while that record certainly cemented Peter's place in history, it might have been Peter's ability to give back to the game after his years of competition that will underline his global legacy. I think the PGA Tour would give Peter Thomson a great deal of credit for the success they enjoy today.  My wife  and I send our heartfelt thoughts, prayers and love to his wife Mary and his family."
Peter is survived by his wife Mary, son Andrew and daughters Deirdre Baker, Pan Prendergast and Fiona Stanway, their spouses, 11 grandchildren and four great-grandchildren.
PETER THOMSON, LEGEND OF THE GAME
(by Andrew Crockett)
Peter Thomson was a superstar of World Golf before money, television and corporate sponsorships pushed the professional game into the millionaires' row. He was never attracted to the game for monetary reasons as evidenced by choosing to play on a fledgling Asian circuit and in Europe; building the world game, rather than chasing the easy money in America. Forever known as '5 Times' for winning the greatest championship of them all, The Open Championship five times, the life of Peter Thomson is far greater than his accomplishments on the links courses of Great Britain. There is only one golfer who has a comparable career and that is the world traveling Gary Player; of the Australians, the only man who comes close to his record is Greg Norman.
The first of four sons of Arthur, a signwriter, and Grace (nee Watson), a dressmaker, Thomson was born in the working class district of Brunswick, Melbourne where he began playing golf in his early teens on the 9-hole Royal Park course, across the street from where he lived. With the Second World War raging, the golf course was largely empty and Thomson was left to himself to navigate how to play the game, without instruction of any sort. The course was hard and bouncy and that is where he developed the trademark abilities that served him so well on the links courses of Great Britain. By 16, Thomson was a member of the prestigious Victoria Golf Club and playing off scratch. He gained a diploma in applied chemistry at Footscray Technical School in 1945 and worked as a rubber technologist for Spalding in Melbourne, helping to design and make golf balls. His love of golf ball history and his passion for slowing down the technology became well documented. He won the Victorian Amateur in 1948 and two years later flew over to New Zealand and won his first professional event, The New Zealand Open. He returned the following year and won it again. Travel would become a big part of Thomson's life.
The first year that Peter Thomson entered The Open Championship was 1951 at Royal Portrush, he was just 22. After an extensive trip from his beloved Melbourne in a small aircraft, complete with stops in Darwin, India and France, he finished a credible 6th. The following year (1952) he finished 2nd to South African golfing immortal Bobby Locke at Troon Golf Club in Scotland, and their relationship would become a significant one throughout the next decade. 1953 was the year of the American golfing God, Ben Hogan. Hogan famously won the US Masters, The US Open and The Open Championship in the same year. The 1953 Open was held at Carnoustie and Hogan won easily by four shots. Thomson tied 2nd. By 1954 the coveted claret jug was in the hands of the Australian, where he beat Bobby Locke by one shot at Royal Birkdale for his first major championship. Thomson famously won it again in 1955 and 1956, becoming the only player in the modern era to win it three years in succession. Thomson very nearly made it four wins in a row, as the 1957 champion, Bobby Locke, was close to disqualification. Locke famously marked his ball a putterhead off the line of playing partner Bruce Crampton on the 72 hole, however when he replaced his ball he did not move the ball back to its original position. Locke signed his scorecard, no penalty and won by three shots from Thomson.  It was days later that the rules infraction came to the attention of the Championship Committee who decreed that no advantage had been gained and the result stood. Thomson fully supported the ruling, but Locke wrongly got it into his head that his closest rival was behind a whispering campaign against him and their friendship died.
Thomson returned to England in 1958 and won his fourth Open Championship at Royal Lytham and St Annes, shooting a record 63 in the pre-qualifying round.  After four days' play Thomson was tied with Dave Thomas of Wales and a 36-hole playoff was held the day after the final round, on Saturday, with Thomson winning by four shots.
World golf was a concept that Peter Thomson pushed forwards. Like the Scottish ancestors before him, who had taken the greatest game of all and shared it with the world, Peter Thomson had that gene. He took golf to Asia, India and China while at the peak of his powers. By 1960 when Arnold Palmer became the face of golf, sports marketeer Mark McCormack (IMG) wanted Arnold Palmer, Jack Nicklaus, Gary Player and … Peter Thomson. Peter, to his credit, was not interested in the giant fiscal carrot of America and sports marketing. He had grown up through an era where the best players did not have a logo on their shirt, hat or sweater. An era where to earn a living a professional golfer had to be the best in the business and perform exhibition matches with other top players, the public playing an entry fee to watch the action. Peter famously undertook nine straight weeks of exhibition matches with Bobby Locke, on Locke's home turf in South Africa. The monetary rewards were greater than winning The Open Championship at the time. Along with Australian icon Norman Von Nida, Bobby Locke is the other name that Peter Thomson regularly cited as being a large influence on his golfing life. The third pillar of Thomson's golfing influence was his best friend, the most prolific winner on the Australian Tour, Kel Nagle (1920-2015). Nagle won 61 times on the Australian Tour, almost twice that of the next best, Peter Thomson with 33 and Greg Norman with 31 victories.
Nagle and Thomson are the grandfathers of Australian golf. Together they travelled the world, winning tournaments in all corners. Collectively they won 16 NZ Opens and as a team they were as formidable as any, winning two World Cups in 1954 and 1959.  When Kel Nagle passed away in 2015, those close to Peter could see a change in him…the flame started to dwindle.
Historically by 1960, the times were changing. Money was rolling into the game, thanks to the marketable allure of the great Arnold Palmer and the advent of commercial television. Somehow Thomson seemed to avoid the trappings, rather forging a career in golf course architecture, journalism and sports broadcasting.  Thomson regularly shared the commentary box with his good friend, fellow World Golf Hall Of Famer, Peter Allis. Their voices akin to Richie Benaud and Bill Lawry with cricket, Thomson's laconic way with words was perfect for golf commentary. Never saying too much, always letting the viewers have their own insights, but never missing a beat with his own innate sense of the game.  Thomson's career beyond professional golf lasted right up to his retirement in 2016. A career that would see him design over 180 golf courses in 30 different countries. Together with his business partners Michael Wolveridge and Ross Perrett they pioneered golf course architecture in Australia, taking their skills to the world very successfully, especially in Japan.
Critics will cite that Peter Thomson never really made it in America, but the same critics perhaps fail to accept that professional golf in the 1950s was very different animal to what it is today. Thomson chose to base himself in Europe; preferring the courses and the 'tour' that was emerging. The four 'majors' were coined in 1960, yet by then Thomson had conquered the world, beating such luminaries as Bobby Locke, Henry Cotton, Ben Hogan and Sam Snead. Thomson was far more at home in Scotland, in fact he bought a house in St Andrews and would return their every year until his health prevented him.
Thomson never played in the US PGA championship because it simply was not a big event in his prime. The US Masters came onto his radar and he played it several times, his best finish 5th. The US Open, his best finish T4th in 1956. In total, Thomson played the US Open, the US PGA and the US Masters, collectively, 13 times. There was a hole missing in his resume and the American media made everyone aware of it. Thomson had won The Open in the 1950s during a period where some of the best American players were not in the field. Thomson silenced any critics in 1965 at Royal Birkdale. The scene of his first Open victory became the scene of his finest hour, where he held off the leading money winners of the 1965 season in Nicklaus, Palmer and Player to claim his fifth and final Claret Jug. As if to remind the Americans of his prowess, Thomson chose to return to America in 1985 to play the Senior PGA Tour. He was 55 and in that year he won nine times, a record he still holds with Hale Irwin.
Thomson played golf with presidents, prime ministers and royalty. His love of the game shone across regions and territories, ensuring golf becomes a way of life in countries where golf was previously unimagined.  He won the Open championships of Australia, New Zealand, Britain, India, Hong Kong, Philippines, Italy, Spain and Germany.
"One of Thomson's visions, to his credit, was that he felt there should be a Pacific tour that would stand beside the European and American Tours," said Graham Marsh. "He envisioned us in Australia combining resources in the region and hip-hopping between countries in relatively the same time zones. The future would then dictate that the stronger tournaments in America, Asia and Europe would then join forces to create a super F1 golf tour. Truthfully, that is where it is kind of headed now."
There is hardly a feather missing in the cap of Peter Thomson; from the ABC Sportsman of the year (1956) to a member of the Order of the British Empire and later a CBE (1979), Thomson's name is littered across clubhouses the world over on honour boards and in esteemed locations like his spiritual home, St Andrews.  A member of the World Golf Hall Of fame and officer of the Order of Australia and in 2016 inducted as an immortal of the PGA of Australia, the very association he was president for 32 years. Peter Thomson did it all. He will forever be the first Australian to hold the claret jug trophy as the winner and forever known as one of the greatest links players of all time.