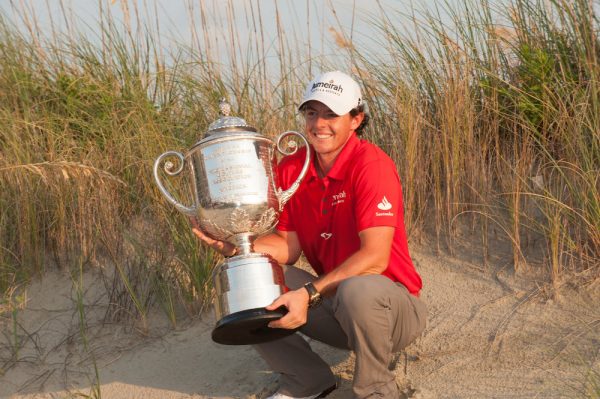 DON'T be surprised if a player from outside the top-30 or top-40 in the world rankings wins US PGA Championship at Oak Hill Country Club in New York from August 8-11.
Predicting the winner of golf's fourth major has always been a challenge – more so, perhaps, than the other majors.
But you knew that already.
In 2011, the unlikely winner of the Wanamaker Trophy was debutant Keegan Bradley.
Wielding a long putter, Bradley started at long odds but triumphed becoming only the third player in the past 100 years to win a major on debut. He joined Francis Ouimet and Ben Curtis, who won the 1913 US Open and the 2001 Open Championship respectively.
Put your hand up if you picked 2009 US PGA Championship winner Yang Yong-eun or 2003 champion Shaun Micheel.
Bet you didn't pick Bob Tway, who chipped in from the bunker to deny Greg Norman in 1986, or Rich Beem (2002), or Jeff Sluman (1998), or Mark Brooks (1996), or John Daly (1991) or Wayne Grady (1990).
This year, most punters again will put their hard earned on all the usual suspects – Tiger, Rory, Phil, Ernie, Adam, Charl, Justin or Luke.
Who will you choose?
Perhaps you will kick the favourites into touch and go with Ken Duke, Harris English, Sang-Moon Bae, Derek Ernst, Billy Horshel, John Merrick or Russell Henley?
Most of them will probably say, "don't pick me, I'm not one of the favourites", but why not?
All these men have won a tournament on the US PGA Tour this year. They have as much chance as anyone.
Still, it's a lot more fun trying to predict a major golf winner than a tennis grand slam winner.
In tennis, if you stick with one of the Big 4 – Roger Federer, Novak Djokovic, Rafael Nadal or Andy Murray – you'll be correct most of the time.
If you don't believe me just look up the statistics. The stats tell us the quartet has won 36 of the past 40 grand slam titles.
The top-four ranked golfers at the time of writing are Tiger Woods, Rory McIlroy, Justin Rose and Adam Scott, who between them have won 10 of the past 40 majors thanks to Tigers six and Rory (2).
There's some pedigree there.
Still, when Tiger, Rory or Phil haven't triumphed it's meant men like Keegan Bradley, Geoff Ogilvy, Adam Scott, Justin Rose, Webb Simpson, Darren Clarke, Yang Young-eun, Angel Cabrera, Padraig Harrington, Martin Kaymer, Louis Oosthuizen and others have been able to bask in major glory
Of course, in decades past the Big 3 – Jack Nicklaus, Gary Player and Arnold Palmer – dominated the majors winning 34 between them, but those days are long gone.
While Tiger Woods remains a major threat, he no longer is a dominant force. Remember, he won 13 of his 14 majors in two three-year stretches.
He won his first major in 1997, but after that his next seven arrived between August 1999 and June 2002 and the next six between April 2005 and June 2008.
His last major victory was the 2008 US Open – five years ago – but he'll start favourite again and rightly so, especially since he has won four tournaments on the US PGA Tour this year.
So, Tiger aside, who's your pick?
Do you think the winner will be one of the top-20 players in the world?
At the time of writing the top-20 players were Woods, McIlroy, Rose, Scott, Matt Kuchar, Phil Mickelson, Luke Donald, Brandt Snedeker, Graeme McDowall, Louis Oosthuizen, Steve Stricker, Lee Westwood, Charl Schwartzel, Ernie Els, Sergio Garcia, Keegan Bradley, Bubba Watson, Jason Day, Webb Simpson and Ian Poulter.
If you can't make up your mind, go to the dart board, close your eyes and go with the number you hit that corresponds with the world rankings.
That means you'll have to ignore Jason Dufner, Hunter Mahan, Peter Hanson, Nick Watney, Bo Van Pelt, Jim Furyk, Bill Haas, Rickie Fowler, Martin Kaymer or Nicolas Colsaerts.
Of the top-20, Jason Day now looks like he has the muscle to lift the Wanamaker Trophy.
The 71-centimetre trophy is the heaviest (almost 20kgs) for the major tournaments. Little wonder Vijay Singh struggled to hoist the thing in 2004.
Anyway, what's not to like about Day?
He's an Aussie, he's in great form so he's your man – maybe.