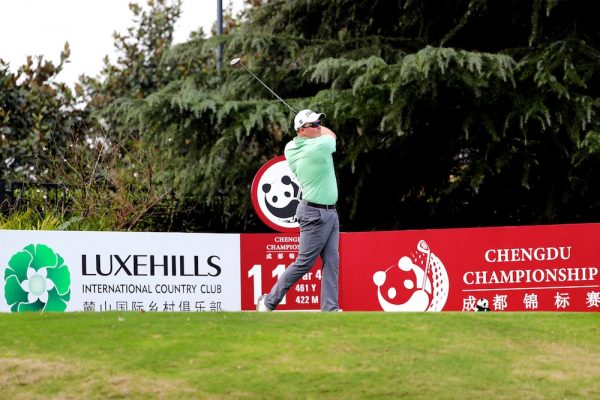 Sydney's Michael Pearce shot a 4-under 68 at Luxehills International Country Club to win the Monday qualifier and join James Marchesani and nine other Australians in the field for the RMB 1.5 million Chengdu Championship, the opening event of this year's PGA TOUR Series-China.
After making the turn at 1-over in the 18-hole qualifier, Pearce shot 5-under on the back nine to finish one ahead of England's James Maw, while New Zealand's Campbell Rawson, Korean Woojin Jung and Americans Patrick Colburn and Shotaro Ban all shot 70.
Singapore's Jesse Yap, China's Huawei Zhou, England's Mathew Webb and South Korea's Minjun Park carded 71s to round out the 10 qualifiers.
Sydney-based Pearce, who plays out of Twin Creeks Golf and Country Club, said, "I'm really happy with that. I played good, had a good back nine, so hopefully I'll play like that during the week. The course is nice, with good bunkering and good, firm greens, so it will be tricky, but hopefully I will have a couple more low rounds."
Marchesani won last year's Clearwater Bay Open in Hong Kong to earn a full PGA TOUR Series-China card this year, and he is among the pre-tournament favourites at Luxehills—along with American Charlie Saxon, who finished second on the 2016 Order of Merit and played 2017 on the Web.com Tour and PGA TOUR Latinoamerica.
Marchesani—playing in mainland China for the first time—agreed with Pearce that Luxehills could offer a hard test this week but one that's to his liking.
"My form's pretty good, so I'm excited to come up here for the first time and give it a run. The course is good and actually really firm. I didn't expect that at all. We all hit a few shots on the first green and watched them bounce over the back. It was a bit of a shock, but it was nice to see it play that way," Marchesani said.
"Compared to Hong Kong, I'll see a lot of new players this week that have come through Q-School and the [2016] money list, so I'm just excited to play and put my best out there. If it's good enough to win again, that will be great, but I'm just excited to be out here."
A former U.S. college player, Marchesani finished ninth on last year's PGA TOUR of Australasia Order of Merit after a breakthrough season.
In the second half of the year, the Lleyton Hewitt lookalike tied for second in August's Fiji International—co-sanctioned by the European and Asian Tours—fifth at the WA Open, seventh at the Queensland Open and 10th at the Emirates Australian Open.
"I've been playing the Australasian Tour, but now I'll try and play the full season here if I can. I think I'll be able to do that because there's a break in the middle of the year back home. I've got full status in Australia and some status on Asian Tour but probably won't see starts there till the second part of the year," Marchesani said.
"I know a few Aussie guys who came through [PGA TOUR Series-China] qualifying at the start of the year, and others are back after playing in previous years, so there will be a few of us around, which will make it feel a little bit like home."
Every tournament on this year's PGA TOUR Series-China will offer RMB 1.5 million, a 25-percent increase over purse levels from 2016. The second event is the Chongqing Championship at Poly Golf Club from March 22-25.
The PGA TOUR established PGA TOUR Series-China in 2014 as its third international developmental tour, following in the footsteps of PGA TOUR Latinoamerica and the Mackenzie Tour – PGA TOUR Canada. Since its inception, PGA TOUR Series-China players have received Official World Golf Ranking points for top finishes at official tournaments.