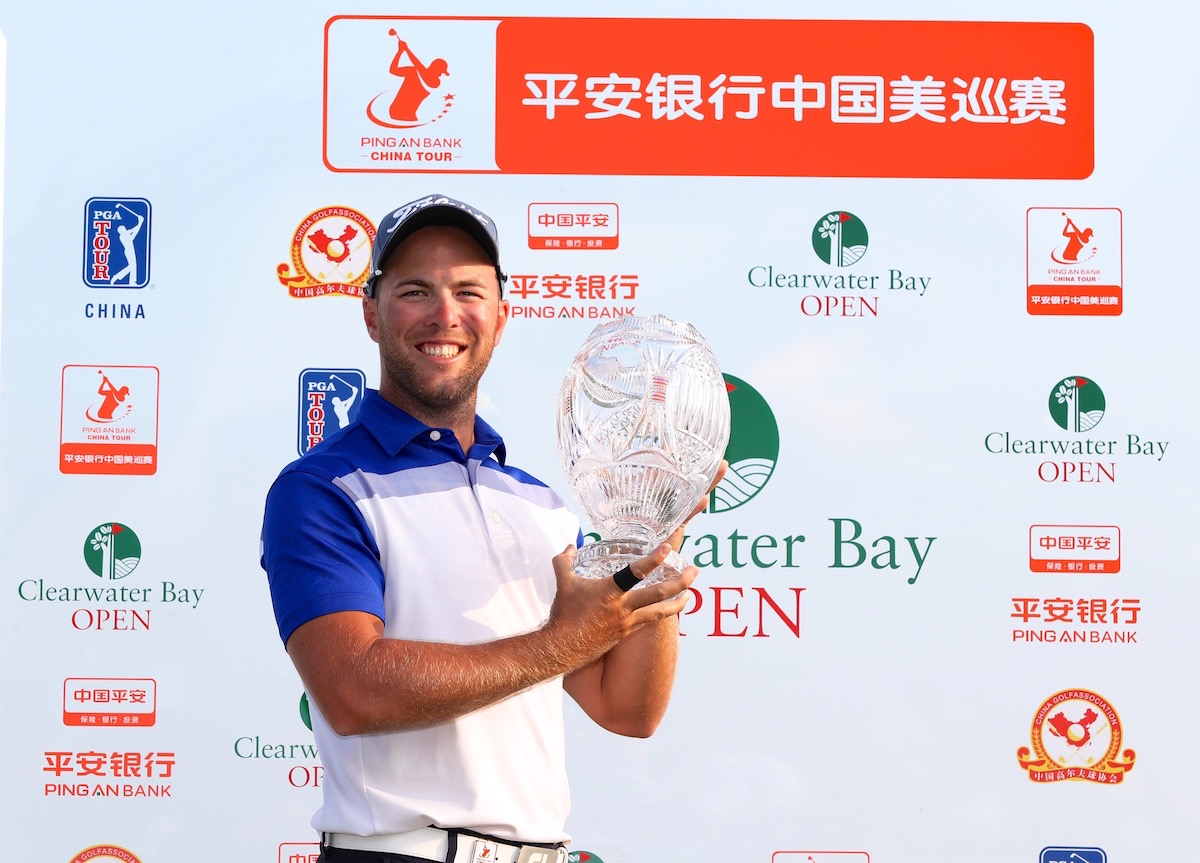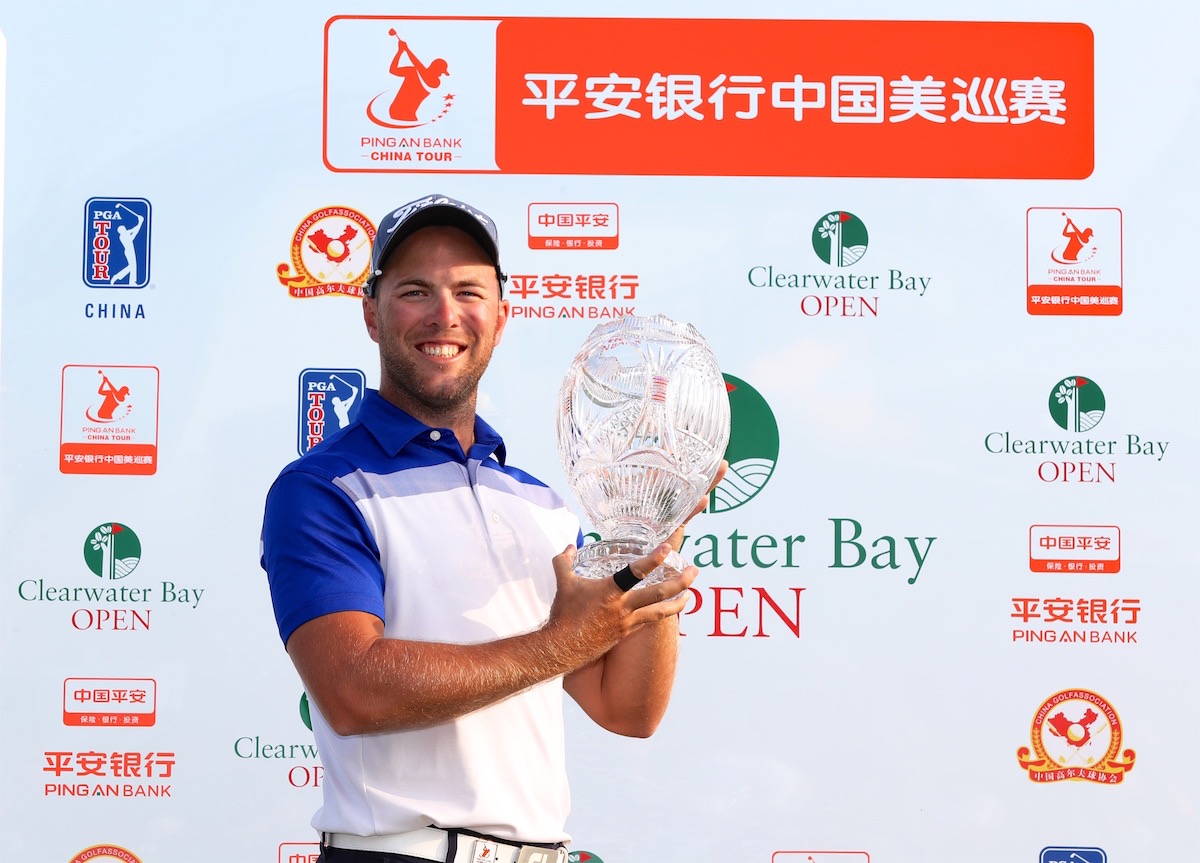 Newly married Daniel Nisbet sank a 10-foot eagle putt to beat third-round leader Alex Kang in a playoff for the RMB1.2 million Clearwater Bay Open, Hong Kong's first Ping An Bank China Tour – PGA TOUR China Series event.
Playing in the penultimate group, the Australian carded a six-under-par 64 for a 15-under-total of 265, a figure matched by Kang after the Californian birdied the par-five 18th for a 69. American Charlie Saxon, second on the Order of Merit, shot a second successive 65 to finish alone in third at 14-under.
Nisbet, 26, had also prevailed in a playoff to win his only other pro title, the PGA of Australia's Morobe Open in Papua New Guinea in April 2015, but admitted that his dramatic victory at The Clearwater Bay Golf & Country Club was the highlight of his burgeoning career.
"That's the fastest my heart has ever been beating on a golf course. It was just so exciting," said Nisbet, who celebrated his eagle putt with a passionate fist pump.
"I knew that if I controlled the speed of the putt that it would go in. I was a little bit excited as I put a good score together and then found out I was in a playoff, so there were a lot of emotions running through my body.
"When I was on 18 again for the playoff, I was calm, but my tee-shot started out left and I knew it had to be a little bit longer to be good. Luckily it hit the cart path and then bounced over the bunker and I probably got an extra 30 yards out of it as well. A little bit of luck went a long way for me today."
Nisbet, who won RMB216,000 (about HK$248,000), clawed back a five-shot deficit to catch Kang, who started the day with a four-shot lead. Prior to this week, Nisbet had only one top-10 finish on the PGA TOUR China Series – a tie for sixth in Nanjing in June – after competing in six events in 2014 and eight events this year.
"This is by far the largest event that I've won and it's my wife's birthday tomorrow so I guess she'll be expecting a much bigger present now," laughed Nisbet, who was married last month.
"It's probably the most enjoyable week I've had on a golf course, with the scenery and the condition of the course. It's the most breathtaking course I've ever played.
"The greens out here are brilliant, very similar to what I grew up on, so I felt very comfortable on them. It's hard to play bad golf when you've got such a good course and such a great atmosphere. It's just a wonderful city as well."
Nisbet spent most of the week under the radar after rounds of 69, 67 and 65. Kang, 26, started the final day at 14-under, four ahead of Zhang Xinjun and Lee Dai-han, and remained in the lead until a double bogey at 12 and a bogey at 13 left him 13-under.
Nisbet had also moved to 13-under at 13 after sinking his sixth birdie of the day, offset by two bogeys. Nisbet birdied the par-five 15th to move into the lead, but Kang then matched him, and the pattern was repeated at the 18th, where Kang missed a 12-foot eagle putt for the win.
"Last night I said to myself that Alex was playing really well so I thought that if I shot 63 I was in with a chance. I thought that my eagle putt on my 72nd hole would have been crucial, but even with a birdie I was still one ahead," said Nisbet, who turned pro in 2012.
"On my past results, I guess I was a bit of a dark horse coming into this event so I'm so thrilled to play four good rounds back to back. It has been a while since I've been in this position so I had to just keep myself calm and not let my emotions get in the way of playing as good a round as I could."
Kang, who also led after the first round, was downbeat after missing an opportunity to add to his win in Chengdu in June. After a bogey at the par-three first, Kang seemed in control as he maintained a buffer with birdies at three, seven and eight, but a double at the par-four 12 gave the chasing pack hope.
"I calculated the wind wrong. I thought there was more downwind and I put it in the water. I hit a good shot and I was surprised it went in. I'll learn from it and play better next time and hopefully not make the same mistakes again," said Kang, elder brother of LPGA Tour star Danielle Kang.
"It will stay with me a day or two, but I'll move on. I putted well and I'm driving the ball well right now. I'll be able to contend the next three weeks if I keep playing this way. It's just a matter of putting for me."
Nisbet followed Rohan Blizard as the second Australian champion on this year's PGA TOUR China Series, while other champions hail from China – Order of Merit leader Marty Dou Zecheng has won four events – USA (Alex Kang, Charlie Saxon), Thailand (Gunn Charoenkul) and South Korea (Kim Tae-woo).
The Clearwater Bay Golf & Country Club has a three-year agreement to title sponsor and host the Clearwater Bay Open as part of the Ping An Bank China Tour – PGA TOUR China Series.
Since 2003, Clearwater Bay has raised almost HK$80 million for charity through its Community Outreach Program. The initiative is aimed at strengthening neighbourhood ties, preserving the environment and upholding family values, while working with charity partners to organise and raise funds for different sectors of people in the community.