"They're going to make a movie about that round."
That was caddie, coach and mentor Col Swatton's take on Jason Day's almost unbelievable achievement today as he defied all the odds to take a share of the US Open lead a day after collapsing midway through his second round.
After intense treatment and diagnosis with benign positional vertigo, Day only arose from bed less than two hours before his 1.55pm tee time.
And for much of one of the most extraordinarily gutsy rounds in modern memory, Swatton feared his charge would be forced to retire.
But in what Greg Norman described as "fantastic theatre that probably nobody could ever match", Day reeled off five breath-taking back-nine birdies for a two-under par 68 he'll never forget.
Norman ranked it the equal or better of Tiger Woods winning the title while hobbled in 2008 and Ken Venturi in 1964 when he nearly collapsed from heat exhaustion in a 36-hole marathon finale – the two most revered physical feats in US Open history.
It took him into a four-way tie with South African Branden Grace and Americans Jordan Spieth and Dustin Johnson, the latter of whom will share the final tee time with Day tomorrow.
"I didn't feel that great coming out early, and then … I felt pretty groggy on the front nine just from the drugs that I had in my system," Day admitted after his round.
"(I) kind of flushed that out on the back nine. But then it kind of came back — the vertigo came back a little bit on the 13th tee box, and then I felt nauseous all day.
"I started shaking on 16 tee box and then just tried to get it in, really.
"I just wanted to get it in."
Day spent more than five minutes prostrate on the fairway of his closing hole in the second round receiving treatment after collapsing.
He told those around him he was desperate to finish out that hole, just to give himself the slight hope that he could resume today.
He bravely did that despite needing Swatton's help out of a greenside bunker and having clearly wobbly legs.
But all that paled, Swatton said, into what he managed today.
"That was a super-human effort. That was the greatest round I've ever watched. I've watched a lot of golf and to watch it live is pretty special," Swatton said.
"They're going to make a movie about that round. It was pretty impressive, it was up there with Tiger Woods playing with a broken leg at the US Open.
"He nearly quite three times … he's such a gutsy bloke.
"He was in trouble on the 4th going up the hill, and on the 7th going up again.
"He looked at me and said, `Oh man'.
"I just said put one foot in front of the other, mate, and he gutted it out and it was really, really impressive."
Throughout the round, and increasingly as its significance dawned, the huge crowds roared their approval of Day's efforts.
They offered rousing ovations around the course, particularly on the 18th hole as he birdied to join the lead.
"That was pretty impressive. Almost every hole someone would yell out—they were just genuinely happy to see him out on the golf course and I think that spurred him on," Swatton said.
"And he didn't want to let the fans down.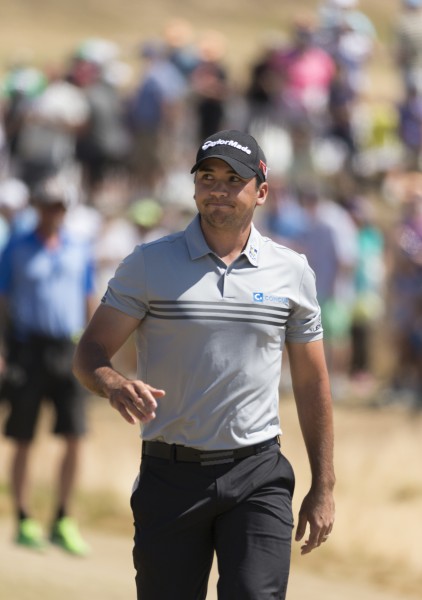 "It was a really cool reception … if tomorrow was anything like today, he'd almost feel as though he's the favourite, even though he's not American."
The Queenslander, three times in the top four in four previous attempts at the US Open, almost certainly wouldn't have played today had it not been a title he covets so much.
But Swatton said he had no doubts that if Day wakes up fit tomorrow morning, he'll give it his utmost despite the obvious potential pitfalls.
"Of course he can win. To win a major healthy, is difficult enough, to win one not 100 per cent is even more difficult … but you've seen what he's capable of.
(via Golf Australia)