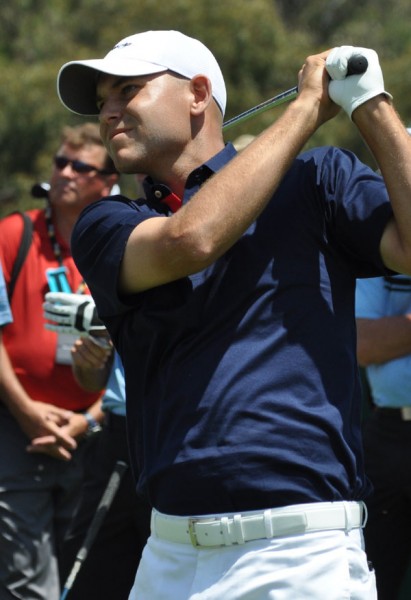 2010 Fedex Cup champion Bill Haas again reigned supreme by defeating Phil Mickelson and Keegan Bradley in a three-way playoff that went two holes to win The Northern Trust Open played at Riveria Country Club, Los Angeles.
In a thrilling finish Mickelson and Bradley both had to birdie the 18th to catch Haas at -7 and force the sudden-death playoff. Mickelson, who had failed to drop a putt longer than 5 foot all day, sunk a knee knocker from 30ft, downhill. Bradley had a more regulation putt, however it must have felt more like a 100ft than 12ft considering what was on the line. He drained it, and the crowd went wild.  All three players took par on the first playoff hole, the 18th, and then with all players missing the green on the second playoff hole–the driveable par 4 10th–it was Haas who was able to get up and down from the Kikuyu rough, including dropping a magnificent 45 foot putt to take the title.
"I've got 40 feet thinking, don't screw this up and three-putt," Haas said candidly. "I'm trying to grind on what I have to do, and after Keegan hit a nice shot, I remember thinking, he can easily make this to win, let's just make 4 and make him beat me."
"You're looking at speed, you're looking at break," he said. "It was kind of in the shadows. If I hit 30 putts, I maybe make five of them. I hit it just like I wanted. I hit the line. …
"God, there's so many thoughts running through your mind. But to beat a guy like Keegan and also Phil, guys of their calibre, in a playoff is amazing, something I'll never forget," said Haas with a beaming smile.
Shepparton Boy Jarrod Lyle was the best finishers of the Aussie Contingent. A late qualifier for the event, Lyle posted -5 under for the event to tie for 4th with Jimmy Walker, Dustin Johnson and Sergio Garcia who shot the round of the day, a remarkable 7 under 64 which included 2 eagles in his opening 9 holes.
"It's probably the first time I have been in this position on this tour and I haven't gone backwards on Sunday," he said. "That's been a real problem for me in the past but, for some reason today, I felt a lot calmer.
"It might have been all of the gum trees but it just felt a little bit easier.
"I guess it's really about experience. The more times I can get into contention, the more it's proving to myself that I really belong out here. I felt like I belonged today" Lyle told the Age Newspaper.
Lyle is now headed to Mexico for this week's PGA event, however he will be headed back to Australia soon to be with his wife Briony who is expected a child at any time.
"As hard as it is to have Briony sitting at home by herself, with the form there I have to play as much as I can and just hope the baby stays in there long enough for me to get the job done and secure our future a little more."
Other notable Aussie finishes included defending champ Aaron Baddely who finished T11 at -4 and Adam Scott and Marc Leishman T17 at -1.