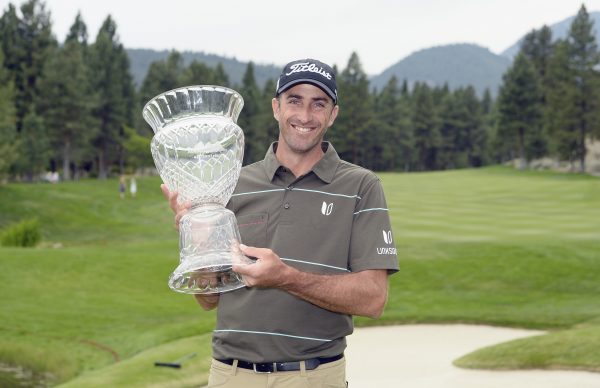 Inside Golf's prediction that 2014 would be the "Year of the Roo" has gained further momentum,  with  former U.S. Open Champion Geoff Ogilvy becoming the sixth Australian to win on the PGA TOUR this year.
Ogilvy took top honours in this week's Barracuda Championship (formerly the Reno-Tahoe Open), with a five point victory in the PGA TOUR's only modified stableford tournament.
The win is Ogilvy's eighth career PGA TOUR title, and is his first since 2010.
With the win, Ogilvy secures his status on the PGA TOUR through the 2015-2016 season and ensures his place in the playoff series which begins in three weeks. He also grabs a spot in the field for the year's final Major, the PGA Championship which tees off next week at Valhalla Golf Club. Ogilvy will join fellow 2014 PGA TOUR winners Adam Scott, Jason Day, John Senden, Matt Jones and Steven Bowditch in the field with an in-form Marc Leishman rounding out the Australians.
While Aussie golf is on a high with Ogilvy's win it unfortunately says goodbye to claiming the World Number 1 player.
With Rory McIlroy winning the World Golf Championships – Bridgestone Invitational, Scott has been relegated to the World Number 2 position despite his own top-10 finish.
However Scott can regain the top spot as early as next week with a good performance at the PGA Championship.
Marc Leishman continued his great form finishing outright third at the WGC – Bridgestone which comes on the back of his T5 finish at The Open Championship.
BARRACUDA CHAMPIONSHIP
———————————————-
Final scores and prize money
Geoff Ogilvy $540,000 +16 +7 +12 +14 — +49
Justin Hicks $324,000 +9 +6 +11 +18 — +44
Jonathan Byrd $174,000 +7 +6 +13 +11 — +37
John Huh $174,000 +12 +7 +7 +11 — +37
Rod Pampling $120,000 +11 +5 +9 +11 — +36
Martin Laird $104,250 +13 -4 +14 +12 — +35
Jason Allred $104,250 +7 +11 +14 +3 — +35
Ricky Barnes $84,000 +5 +6 +12 +11 — +34
Kyle Stanley $84,000 +5 +11 +6 +12 — +34
Tim Wilkinson $84,000 +16 +5 +1 +12 — +34
Nick Watney $84,000 +18 +8 +6 +2 — +34
Hudson Swafford $66,000 +9 +9 +6 +9 — +33
Eric Axley $66,000 +11 +4 +3 +15 — +33
Bryce Molder $54,000 +10 +10 +6 +6 — +32
Chad Campbell $54,000 +13 -1 +7 +13 — +32
Robert Streb $54,000 +10 +4 +9 +9 — +32
George Coetzee $43,500 +11 -1 +11 +10 — +31
Miguel Angel Carballo $43,500 +10 +1 +7 +13 — +31
Tommy Gainey $43,500 +11 +10 +3 +7 — +31
Joe Durant $43,500 +9 +1 +14 +7 — +31
David Lingmerth $32,400 +9 +7 +12 +2 — +30
Morgan Hoffmann $32,400 +6 +3 +13 +8 — +30
Wes Roach $32,400 +12 +10 0 +8 — +30
Steve Flesch $32,400 +1 +9 +11 +9 — +30
Brendan Steele $25,200 +9 +11 +10 -1 — +29
Retief Goosen $25,200 +5 +8 +6 +10 — +29
Lee Janzen $20,400 +8 +7 +13 0 — +28
Doug LaBelle II $20,400 +11 +1 +13 +3 — +28
Billy Mayfair $20,400 +3 +9 +11 +5 — +28
Johnson Wagner $20,400 +10 +8 +4 +6 — +28
Derek Ernst $20,400 +11 0 +5 +12 — +28
Woody Austin $20,400 +11 +8 +3 +6 — +28
Andres Romero $20,400 +7 +7 +4 +10 — +28
J.J. Henry $15,480 +5 +4 +12 +6 — +27
Jamie Lovemark $15,480 +6 +5 +10 +6 — +27
Kevin Chappell $15,480 +12 -1 +6 +10 — +27
Kent Jones $15,480 +5 +11 -2 +13 — +27
Brice Garnett $15,480 -2 +10 +15 +4 — +27
Patrick Rodgers $12,900 +11 0 +11 +4 — +26
D.J. Trahan $12,900 +2 +6 +9 +9 — +26
John Mallinger $12,900 +4 +5 +19 -2 — +26
Greg Chalmers $11,100 +3 +13 +10 -1 — +25
Jeff Overton $11,100 +7 +13 0 +5 — +25
Kevin Tway $11,100 +8 +1 +5 +11 — +25
Mark Wilson $9,600 +8 +9 +2 +4 — +23
Oliver Goss $9,600 +6 +3 +9 +5 — +23
Padraig Harrington $7,810 +10 +7 +2 +3 — +22
Troy Matteson $7,810 +5 +3 +11 +3 — +22
Marc Turnesa $7,810 +6 +5 +6 +5 — +22
Thorbjorn Olesen $7,810 +10 +5 -2 +9 — +22
Michael Putnam $7,810 +8 +3 +16 -5 — +22
Kevin Lucas $7,810 +11 +2 +3 +6 — +22
Tim Petrovic $6,980 +10 +2 +4 +5 — +21
Danny Lee $6,980 +11 +4 0 +6 — +21
Arjun Atwal $6,980 +7 +10 +6 -2 — +21
Nicholas Thompson $6,840 +10 +5 -1 +6 — +20
Trevor Immelman $6,750 +7 +1 +6 +4 — +18
Andrew Loupe $6,750 +8 0 +6 +4 — +18
Bronson La'Cassie $6,630 +6 +3 +2 +6 — +17
Jim Herman $6,630 +10 +2 +5 0 — +17
Ryuji Imada $6,420 +4 +5 +4 +3 — +16
Cameron Beckman $6,420 +7 +2 +4 +3 — +16
Charlie Beljan $6,420 +6 +5 +5 0 — +16
Ben Curtis $6,420 +7 +5 +6 -2 — +16
John Merrick $6,420 +3 +5 +8 0 — +16
John Rollins $6,180 +12 +2 +1 0 — +15
D.H. Lee $6,180 +11 +5 -1 0 — +15
Tim Herron $6,180 +4 +8 +3 0 — +15
Len Mattiace $6,000 -1 +9 +7 -1 — +14
Mike Weir $6,000 +4 +10 0 0 — +14
Rory Sabbatini $6,000 -3 +13 +2 +2 — +14
Brian Stuard $5,880 +4 +9 -2 0 — +11
Chris Smith $5,820 +8 +3 0 -1 — +10
Chad Collins $5,760 +7 +4 +3 -5 — +9