It's easy to say Bubba Watson's weekend on the golf course went just a little bit better than his weekend on the hardwood.
Less than 24 hours after scoring just two points in the NBA's All-Star Celebrity Game—and going viral with his dubious blocked shot at the hands of Tracy McGrady—Watson flipped the script Sunday, where his 2-under 69 gave him a two-stroke win at the Genesis Open. The victory netted him his 10th win all-time on TOUR and third at Riviera.
"This day and age, to get 10 wins on the PGA TOUR, the greatest tour in the world, people from all over the world are trying to get on this TOUR. Double-digit wins?" he said. "I don't know about you guys, but I am thrilled. I never thought I could get there."
There was a time when that elusive 10th win seemed in doubt.
It had been nearly two years to the day since the 39-year-old last won on the PGA TOUR. Since his victory Feb. 21, 2016 at the Northern Trust Open, he has battled through not only an undisclosed medical condition but struggles that left him ranked No. 117 in the world and confidence issues that had him contemplating retirement.
"I've mentioned it about 10, 12 times to my wife, we've sat down and had many talks about it," he said. "Physically I wasn't where I needed to be to keep continuing to play. I have a car dealership, a candy shop and a baseball team. So we would have had something to do."
But Watson won't have to worry about any other hobbies for now. His win gave him a significant bump in FedExCup points—from 166 to 18—and moved him from No. 117 in the world to No. 31, making him eligible for the World Golf Championships-Mexico Championship in March.
Maybe that means it's finally time for him to hang up his basketball shoes. Forget the air ball from the top of the key at the Celebrity Game. He has a tee time at Mexico City's Club de Golf Chapultepec to worry about.
"It was OK; I was trying not to get hurt," he said of his short-lived professional basketball career. "My wife was texting me non-stop, telling me to take it easy. I scored two points, that's all I wanted to do, was just score some points.
"It was fun," he added. "I think I got a blocked shot. It was a blast. I'm so thankful that I got to do it, and it worked out that we were in [Los Angeles] at the same time. It was a light workout with the running and jogging around."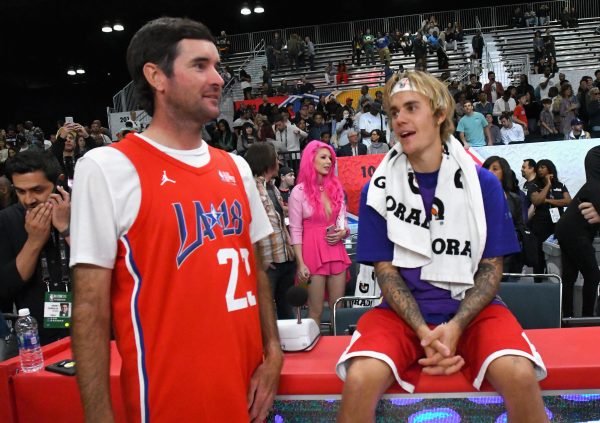 After his performance on the hardwood Saturday night at the Staples Center, Watson rallied the following day at Riviera.
After vaulting into the lead the day before with a 6-under 65, he maintained his position during the final round, thanks to a bogey-free back nine and a chip-in for birdie at the par-3 14th to cement his place at the top. He edged Kevin Na and Tony Finau for the win. Patrick Cantlay had a one-stroke lead going to the back nine before bogeys on Nos. 12 and 13 dropped him from contention.
With the title, Watson joined World Golf Hall of Fame members Ben Hogan and Lloyd Mangrum as the only three-time winners at Riviera.
Not bad for a basketball player.
"It's unbelievable," Watson said. "To do it twice was amazing, and then have a chance on the back nine on Sunday to do it again and then pull it off; very special. I'm not sure how many people have won three times here, but I'll take it."
Story by Chris Cox/PGA Tour