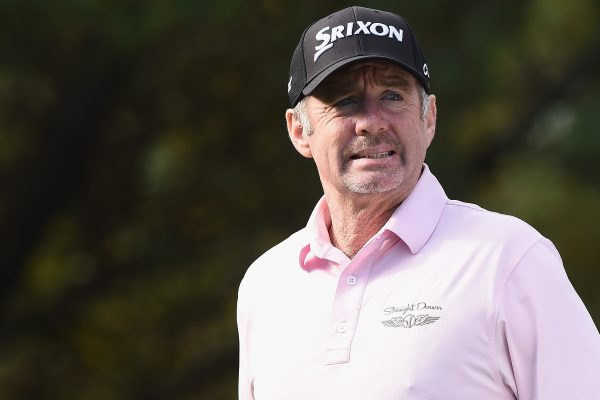 Rod Pampling's mood was less sentimentality and more realisation.
As he walked the ninth fairway at Sedgefield Country Club in Greensboro, North Carolina, for his final hole during the second round of the Wyndham Championship, his fate had already been decided. He was 1-over par after two rounds, putting him well off the cut line for Sunday's championship finale.
After 403 events on the PGA TOUR, Pampling's final go as a full-timer on golf's premier circuit was ending a round early.
Missing the cut is part of life for a pro golfer. It's happened to Pampling before. He would've relished one last loop on a championship Sunday. It simply wasn't meant to be.
What it did allow was for a moment of reflection, and, as much as he tried not to, the veteran journeyman couldn't help but soak in the moment.
"(That feeling) sort of came around a few times, but I was still trying to play the game. It wasn't all the time, but there was definitely sometimes, especially when I knew I wasn't going to make the cut, that you kind of just have a look around a little bit just to see and think about what you've accomplished over the years," Pampling said. "There was some disappointment of not playing great, but also it's been a long journey. It's been a good journey."
Finding the game
Around 35 years ago, there wasn't much to do in Caboolture, Queensland.
Pampling's family relocated to the then-rural dairy town when he was a child. In those days, the population didn't clear 8,000. The high school he attended was so small and new that it only featured one grade level above him at the time. Team sports were difficult to find because there weren't enough kids to form an actual team.
Pampling's mother, Marge, played golf. With little else to do in the tiny community, she began bringing her son to the course.
"She just basically dragged me out there to start playing the game," Pampling said with a laugh. "There was a lot of, I guess, love-hate early on with the game. It's kind of interesting – I enjoyed playing the game and the social side of it, but I never thought about being a professional golfer."
An appreciation eventually developed to the point where golf become a passion and a career goal. Not as a player, but as a greenskeeper.
Pampling went to college to study about course maintenance, doing apprenticeships at his home course in Caboolture and another at Bribie Island Golf Club.
During his time at Bribie, the club's head pro invited Pampling out for a weekly tradition. On Mondays, a group of locals would play a sort of pro-am event, consisting of a round before lunch and another after.
"It cost you $20 to play and as an apprentice you're making $69 a week. So, every Monday it cost you $20 in the morning and $20 in the afternoon, so there wasn't a whole lot of money left over," Pampling recalled.
His first time out, he came away a winner.
"To win the first one, I think it was like $210 I won, I was just like, 'Wow, I like this,'" Pampling said. "That was kind of it. That was kind of the starting point that go me hooked into the game. Thankfully it kept getting better."
Hitting the road
The flight from Australia to Los Angeles takes a little under 13 hours, if there's no connecting stops along the way.
Ironically, the drive from L.A. to Shreveport, Louisiana, is about 10 hours longer.
Pampling couldn't say for sure where his first stop on the Korn Ferry Tour was in 1996, but for some reason he felt like it was the Shreveport Open. Play more than 400 events over a two-decade span and it all starts to the blend together.
What he does remember is getting in the car with a friend and driving from one town to the next, following the Tour throughout the U.S. for months. Financial sponsors back home kept him afloat if there was no prize money coming in. For several years it was a back-and-forth sojourn over the Pacific and throughout the American countryside.
"Every year, we'd get our ass handed to us and we'd go home after getting beaten, but you'd go back confident and you'd play well in Australia and make some money there to sort of refill the bank and then come back again," Pampling said.
Pampling and his wife, Angela, married in 1999 and spent two years traversing the United States, allowing him to pursue his dream. Through his time on the Korn Ferry Tour, Pampling befriended New Zealand golfer Phil Tataurangi. Both men had similar international backgrounds, with Tataurangi already playing in America for several years.
During his first few years in the states, Tataurangi, who lives outside Dallas now, had been fortunate enough to have a friend offer him space in his home to store essentials, basically serving as a home base during the long months on the road.
"My wife and I were so lucky to have people offer for us to stay with them and treat their home like ours.  We were and still are incredibly grateful for those experiences and to those families for making our 'coming the America' and playing the Tour, being on the road in those early days that little bit easier," Tataurangi said. "We didn't think twice to offer that to Rod and Ange to do the same thing—passing on the same opportunity to get your feet on the ground when everything seems so foreign."
Every time they passed through, the Pamplings would stop to reload. After a few years as guests in the neighborhood, they decided to relocate full-time and become neighbors.
Following a runner-up finish on the Aussie Tour in 1999, Pampling qualified for qualifying school, giving him a shot at earning PGA TOUR status. He missed out in 2000, but earned his card in 2001 by finishing fourth in the standings—without ever actually winning an event that year.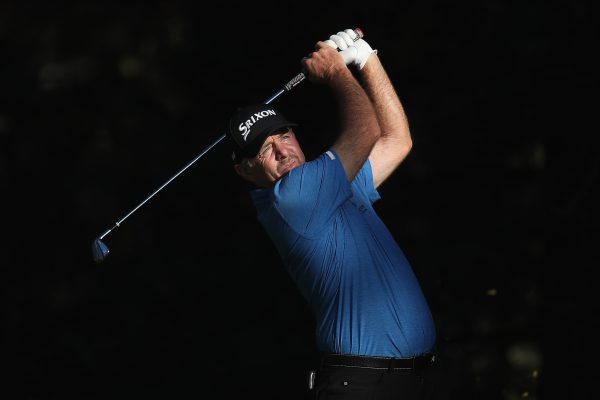 The scenic route
After 403 events, what still stands out?
Pampling doesn't hesitate when answering the question.
His 121st start as a member of the PGA TOUR came in March 2006 at the Arnold Palmer Invitational.
The field was loaded, with the likes of Vijay Singh, Sergio Garcia, Jim Furyk, Bubba Watson and other household names making Sunday's final round.
Plus, that guy who dominated golf during the better part of a decade was there as well.
"To be one of the guys who actually won in that period (when Tiger Woods was at his peak), that's a nice accomplishment to have," Pampling said with a chuckle. He won the title with a 274, one stroke better than Greg Owen. Wood finished tied for 20th at 284. "That was one of the tournaments he just dominated (during that span). Coming up and playing in Tiger's era, it's nice to win an event when he was in the field and he was in his prime. It's definitely special."
During his career, Pampling earned a top-five finish at The Masters and top 20 marks at the PGA Championship and U.S. Open. He picked up a European Tour win at the Australian Masters and took home a Korn Ferry Tour win at the BMW Charity Pro-Am in 2015, a victory which helped him regain his full-time PGA TOUR status after losing it in 2013. Following that victory at API, it took more than 10 years for Pampling to notch his next TOUR win, at the 2016 Shriners Hospitals For Children Open.
Along the way, he's seen golf's evolution.
The days of a pastime becoming a career don't seem to exist anymore. Youth golfers are cultivated from childhood. They're coached by longtime professionals and play on television in college. Drives off the tee are longer and higher. Established courses have been reshaped to fit the game's new style.
When Pampling started to play, 30 was the beginning of golfer's prime. Now, it's almost the backside of a career.
That doesn't make it any less fun.
"The game's finally catching up to every sport in the world with youth being a major factor. But the great thing with golf is I can still compete against these guys at my age," Pampling said. "Where a lot of other sports, guys have stopped at 30. That's the great thing about this game—you can play as long as you want really. It wasn't that long ago (Tom) Watson almost won the British Open at 59. That's the great thing about this game, is anyone can still win out there. It's just a lot harder than it used to be for the older guys to have a realistic chance."
The next step
On Sept. 23, Pampling turns 50 years old.
Four days later, he will play in the PURE Insurance Championship at Pebble Beach Golf Links, his first round as a member of PGA TOUR Champions.
Or, as Pampling labels it: He's leaving the junior tour for the senior tour.
"A little more relaxed. A bit more social. That's what everybody keeps saying—it's a lot more social," Pampling said of his new home. "The young guys are all very serious in what they're trying to do. The Tour, from my understanding, is a little more laid back."
Pampling pauses, just for a moment, and quickly adds: "But come Sunday, the winning vibes come back and everybody gets a little more serious, which is completely understandable and the way it should be."
And that's something he's looking forward to.
At a PGA TOUR event, Pampling estimates he might have a 20 percent chance of being in contention. Youth dominates these days, and at nearly 50 it's just harder to keep up.
On the Champions Tour, he'll be competing with golfers his own age. His goal is to be in mix 100 percent of the time now.
Long before his 50th birthday, Pampling had already mapped out what he needed to do to make the Charles Schwab Cup Playoffs. To qualify, he must be the best finisher among the top 10 at the SAS Championship in October not already sitting in the top 10 of the Schwab Cup standings.
"His longevity is very respected.  No, I didn't expect that he would have as long a career when he first started out but that had nothing to do with his game. The Tour is such a highly competitive environment and continuing to earn your stripes each season is a tough task," Tataurangi said of his friend. "His persistence and perseverance through some ups and downs is very commendable.  He's still fit and healthy and loves playing so I wish him every success on PGA TOUR Champions."
For Pampling, this is just another leg of the journey. It'll be new and different, but it's a transition he's excited to make.
After 400-plus stops on the PGA TOUR, Pampling jokes there probably aren't that many outings left for him on the Champions, but he does hope his body will hold out for a few more. And by a few he means another 200.
Pampling turned pro in 1994. Along the way, he's experienced just about everything the game has to offer. And for the journeyman, the journey isn't over.
"It's quite amazing. As we all get older, we look back and think, 'Man, it didn't take long to get here,'" he said. "A lot of great memories in amongst all that and there's plenty more good memories to come."
Story and photos courtesy of the PGA Tour