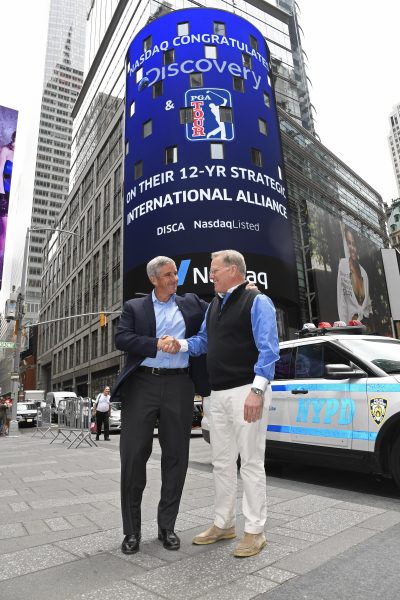 PGA TOUR Commissioner Jay Monahan has had a front-row seat to watch Australia take over the sport of golf. Jason Day and Marc Leishman themselves in contention week after week, and 21-year-old Curtis Luck—the former amateur world No. 1—will soon be knocking on the door.
Golf, now more than ever, is an international sport. And as the PGA TOUR's presence expands into new markets across the globe, it is vital for the sport to find unique, modern ways to reach its audience. Enter Discovery, which has announced partnership with the PGA TOUR to form a pioneering strategic alliance to create a new international multi-platform home for golf, delivering the sport's most exciting moments, players and championships to passionate fans around the world on every screen and device.
"This is an exciting next step for the PGA TOUR, which presents a tremendous opportunity to accelerate and expand our media business outside the United States, better service our international broadcast partners, and drive fan growth with a deeply experienced strategic global partner," Monahan said. "This partnership aligns very well with the opening of PGA TOUR offices in London, Tokyo and Beijing in recent years and will support our long-term objectives of growing the game of golf. It also will deliver more value to our sponsors as it presents a tremendous opportunity to engage new and diverse audiences around the world."
The unprecedented 12-year alliance, set to begin next year and go through 2030, will include global TV and multi-platform live rights, outside the United States, to all PGA TOUR media properties. Approximately 2,000 hours of content will be available each year, including the six Tours operating under the PGA TOUR umbrella and nearly 150 annual tournaments, including THE PLAYERS Championship, the FedExCup Playoffs and the Presidents Cup.
In addition to live linear rights in 220 markets and territories, the alliance will include the creation of a dedicated, PGA TOUR-branded, OTT video streaming service that will capitalize on Discovery's direct-to-consumer product and platform expertise as home to the Eurosport Player. Discovery expects to invest more than U.S. $2 billion over the course of the alliance, including licensing of the PGA TOUR's international media rights and building a global OTT platform available outside the United States, with a gradual increase of annual investment during the term.
Building on a heritage of world-class coverage and storytelling, Discovery will broadcast the PGA TOUR on its portfolio of pay-TV and free-to-air channels, digital and short-form platforms, and will work with the PGA TOUR on how to capture all access to the action its extensive non-live and library rights for all media platforms.
"There is no sport that's more global than the PGA TOUR," said David Zaslav, Discovery President and CEO. "There's no sport that's more loved than the PGA TOUR. There's no sport that's more local than the PGA TOUR. And there's no sport that has a demographic that's voraciously hungry to consume content.
"So when we looked at the PGA TOUR, 43 weeks a year of content, four days a week, we looked at the fan base, and we said, 'This is an extraordinary opportunity to build a global platform, an ecosystem around golf that will nourish and excite every golf fan everywhere in the world.'"
The TOUR began looking into the future of its international business at the end of 2016, Monahan said, when "more and more top international stars (came) forward." Discovery, with its vast experience in managing global sports rights—including the Olympics and localized sports coverage through Eurosport—emerged as the clear favorite to market players like Day in their home countries.
"When you look at the Presidents Cup and you look at the World Cup, those are important elements to what we're going to do internationally in terms of being in big markets and being there with the best players in the world, and you're starting to see the international side," Monahan said. "Look at Joaquin (Niemann) this weekend. Every week it seems like there's three to four inside the top 10 to 12 on the international side, and that event is still young in its life cycle. But there are a lot of markets, some of the biggest in the world, we haven't been to yet with both that and the World Cup, so that's also an area of focus for us."
The PGA TOUR has negotiated all of its non-U.S. broadcast rights deals on its own since 2007. But the alliance with Discovery, and its rich expertise and relationships in local media markets worldwide and vast marketing and promotional platforms globally, made it clear that the organization no longer had to work on its own.
And as a result, Australian stars like Day, Leishman, Luck and Adam Scott should expect to only see their popularity grow from here.
"Coming together with the largest international media company in the world with its demonstrated experience is going to help us grow our TOUR and grow the profile of all of our players and to continue to lead the game of golf forward from  a professional tour standpoint, and that's something that players can bank on," Monahan said.
PGA TOUR Marketing Deals at a Glance
The PGA TOUR's 12-year partnership with Discovery, worth U.S. $2 billion, is one of the largest in the history of the TOUR since it first organized roughly 50 years ago. The TOUR has had countless partners since its formation in 1968, and below is a complete list of its current corporate partnerships and official title sponsors.
Corporate Partnerships
Ace Hardware
Alfa Romeo
Anheuser-Busch
Arby's
Ascension
Astellas (Myrbetriq)
Avis
Bank of America/FIA Card Services
Bacardi (Grey Goose)
Bridgestone Tire / Golf
Carey
CDW
Charles Schwab
Citigroup
Cobra Puma
Cologuard
Coca-Cola
Deere & Co.
DIRECTV
Dow Chemical
ETS
FedEx
Fortune
Gallo (William Hill Estate Winery)
Getty Images
Golf Digest / Golf World
Grant Thornton
Hawaii Tourism Authority
IBM
Jani-King
Konica Minolta
KPMG
LifeFitness (Cybex)
MacKenzie Financial Corporation
Massage Envy
MassMutual
Mastercard
MD Anderson
MetLife
Microsoft
Mitsubishi Electric
Morgan Stanley
NetJets
New Era
Nike
Oakley
Optum
Quicken Loans
Rolex
SERVPRO
Sirius XM
Skechers
Southern Company
Stryker
Tiffany & Co.
Titleist
Topgolf
Travelers
Under Armour
United Airlines
United Rentals
USA TODAY
Web.com
Workday
ZTE
Title Sponsors
Safeway
CIMB
CJ Corporation
HSBC
Shriners
OHL
Sony
CareerBuilder
Waste Management
Genesis (Hyundai)
Honda
Grupo Salinas
Dell
Greenbrier
Wyndham
THE NORTHERN TRUST
Sanderson Farms
RSM
Farmers Insurance
AT&T
Valspar
Puntacana
Puerto Rico Tourism
RBC
Valero
Zurich
Wells Fargo
Nationwide
Barbasol
Barracuda
BMW
Sentry Insurance