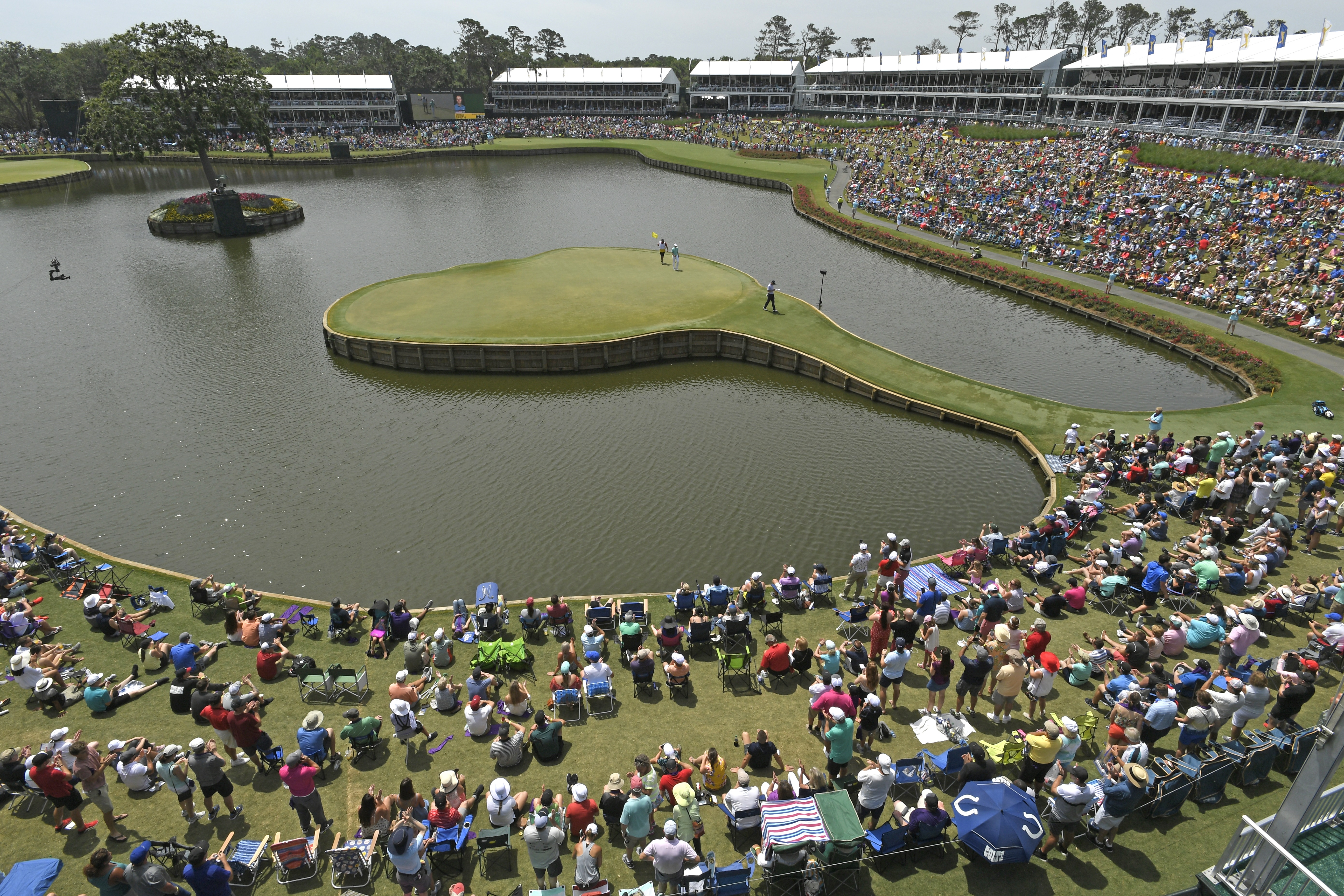 The pressures of the famed 17th hole at TPC Sawgrass begin long before players make the first walk from tunnel to tee box.
The jitters often start once players make the turn near the clubhouse. And then, in the 16th fairway, the thousands of nearby roars truly come into focus. The butterflies set in shortly thereafter.
"Especially when you're coming, playing that back side," 2016 winner Jason Day said, "you come into 16, you start to walk to 16 and you start hearing the crowd, you start getting a little bit nervous on trying to hit that tee shot."
The island green is one of the most notorious holes in golf. Players Championships have been both won and lost here, where an innocent-looking par-3 can turn from a dream into a nightmare in mere seconds.
"Seventeen is really tricky," Steve Elkington said in 1997. "You never know what to do there."
Elkington understands as well as anyone about the dangers of No. 17. The two-time Players champion has played it 63 times in his career, where he's a lifetime 13-over par. He recorded six birdies there compared to 14 bogeys or worse, good for a 3.21 scoring average.
In his second victory on the Stadium Course, in 1997, Elkington went par-par-bogey-par on the hole. In 1991, his first triumph on the 10th anniversary of the course's opening, he won in part thanks to the double bogey co-leader Phil Blackmar made on the hole after putting his ball in the water that surrounds the green.
"Once I got to about 16, I (thought), 'All I've got to do is touch land at 17, and I'm in,'" Elkington said of his second Players victory.
Thirty-six different Australians have taken on the island green, with a cumulative score to par of 95-over and a scoring average of 3.18. Across 870 total rounds, Aussies have carded 137 birdies and 139 bogeys or worse.
"The atmosphere is one of the great ones in golf," 2004 champion Adam Scott said. "Some guys don't like that hole being 17, but I do. I think that it makes some of this tournament what it is. The atmosphere is rowdy, to say the least, especially late on the weekend.  You can feel the energy out there, and you can't block out what's on the line if you're playing in that kind of position."
Scott is a lifetime 2-under on No. 17, carding an impressive 15 birdies to just eight bogeys or worse across 62 rounds, good for a 2.97 scoring average. The year he won, he recalled turning his back to the hole while he waited to tee off said he didn't "have to think about it anymore than (he) had to."
"As far as the approach to playing it, I think conditions determine that a lot, but the middle of the green is a pretty good spot to go at any point," Scott said. "I think that we would all walk off there pretty happy with four 3s from the middle of the green and go to the 18th tee. It's a good risk‑reward hole, though, because there are slopes that help you funnel it into the pin, and it is a big green overall. I think they did a good job with that hole, and I think it's an exciting finish to this event."
Day, meanwhile, is 2-over, having played it 26 times with four birdies, four bogeys or worse, and a 3.08 scoring average. And most surprising of all might be 1994 winner Greg Norman, who over 71 career rounds is 16 over (13 birdies, 15 bogeys or worse, 3.23 scoring average).
"It's so small, and on any given day, it doesn't matter how hard the wind is blowing, if there's no one there, you'd get it on the green," Day said. "But when there's, I don't know how many people, like 10,000 people around that hole, it makes it a lot tougher. Especially if you're playing to win, it makes it even tougher."
So, who's the best Australian on No. 17? That would be Robert Allenby, at 8 under, followed by Marc Leishman at 6-under. Ian Baker-Finch and Wayne Grady are all 5-under for their careers on the island hole.
As for the highest score to par, that dubious honor belongs to Aaron Baddeley, at 19-over, with six birdies and 12 bogeys or worse over 40 rounds. Though his 3.48 scoring average is far from the worst.
Australians on No. 17 at TPC Sawgrass
| | | | | | |
| --- | --- | --- | --- | --- | --- |
| Player | Score to Par | # of Rds | Total Birdies | Bogeys or Worse | Scoring Avg |
| Steve Allan | 2 | 4 | 0 | 1 | 3.50 |
| Robert Allenby | -8 | 62 | 16 | 5 | 2.87 |
| Stuart Appleby | 11 | 45 | 7 | 11 | 3.24 |
| Aaron Baddeley | 19 | 40 | 6 | 12 | 3.48 |
| Ian Baker-Finch | -5 | 24 | 6 | 1 | 2.79 |
| Steven Bowditch | 2 | 8 | 1 | 2 | 3.25 |
| Greg Chalmers | -2 | 30 | 3 | 1 | 2.93 |
| Rodger Davis | 0 | 8 | 1 | 1 | 3.00 |
| Jason Day | 2 | 26 | 4 | 4 | 3.08 |
| Bruce Devlin | 2 | 2 | 0 | 1 | 4.00 |
| Steve Elkington | 13 | 63 | 6 | 14 | 3.21 |
| Mathew Goggin | 0 | 14 | 1 | 1 | 3.00 |
| Paul Gow | 2 | 2 | 1 | 1 | 4.00 |
| Wayne Grady | -5 | 38 | 10 | 3 | 2.87 |
| David Graham | 6 | 28 | 3 | 4 | 3.21 |
| Nathan Green | 2 | 15 | 1 | 2 | 3.13 |
| Richard Green | 0 | 4 | 1 | 1 | 3.00 |
| Mark Hensby | 3 | 10 | 1 | 2 | 3.30 |
| Bradley Hughes | -1 | 8 | 1 | 0 | 2.88 |
| Matt Jones | 3 | 16 | 2 | 3 | 3.19 |
| Stephen Leaney | 8 | 12 | 0 | 3 | 3.67 |
| Marc Leishman | -6 | 30 | 7 | 1 | 2.80 |
| Peter Lonard | 1 | 20 | 2 | 1 | 3.05 |
| James Nitties | 0 | 4 | 0 | 0 | 3.00 |
| Greg Norman | 16 | 71 | 13 | 15 | 3.23 |
| Geoff Ogilvy | 13 | 43 | 6 | 12 | 3.30 |
| Brett Ogle | 4 | 10 | 2 | 4 | 3.40 |
| Nick O'Hern | 0 | 22 | 2 | 2 | 3.00 |
| Rod Pampling | 3 | 33 | 5 | 6 | 3.09 |
| Craig Parry | 5 | 60 | 5 | 7 | 3.08 |
| Adam Scott | -2 | 62 | 15 | 8 | 2.97 |
| John Senden | 2 | 42 | 7 | 6 | 3.05 |
| Peter Senior | 0 | 4 | 0 | 0 | 3.00 |
| Bob Shearer | 1 | 4 | 1 | 1 | 3.25 |
| Cameron Smith | 5 | 4 | 0 | 3 | 4.25 |
| Andre Stolz | -1 | 2 | 1 | 0 | 2.50 |