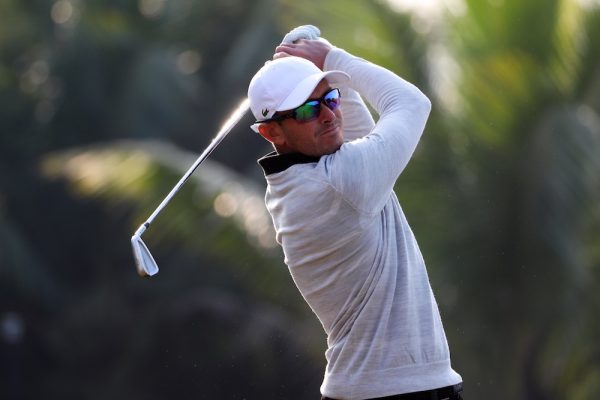 Australia's Scott Arnold is targeting a top-15 finish at this week's PGA TOUR Series-China International Qualifying Tournament No. 2 in Hainan with a view to eventually progressing to the Web.com Tour, where his elder brother Jamie is playing a second successive season.
The younger Arnold, a former European Tour player, is among 13 Australians competing at Mission Hills Haikou where the Sandbelt Trails Course is hosting a second successive 72-hole, no-cut qualifier.
The top-15 finishers will earn full cards and the next 25 and ties will be conditionally exempt for a Series that rewards the top-five money winners with places on the Web.com Tour, the path to the PGA TOUR.
The world's top-ranked amateur before turning pro in May 2009, Arnold won his first pro title in 2012 at the PGA Tour of Australasia's Victorian Open. He held a full European Tour card in 2013, but didn't retain it and played on the European Challenge Tour from 2014. In 2015, he tied for 40th at The Open Championship in July and won the Challenge Tour's Cordon Golf Open in France in September.
However, in July 2016, a year after his major championship debut, Arnold had an eye operation in Australia and didn't return to full-time tournament golf until May 2017 when he began a run of six missed cuts on the Challenge Tour that drained his resources and self-belief.
"Because of the eye, I was out for 10 or 11 months. I still had conditional status on the Challenge Tour but only went back in May and just played a few events. I wasn't enjoying it, sort of ran out of money, so I packed my bags and went home to Australia. I'd had enough," said the Sydney-based 32-year-old who still holds a PGA TOUR of Australasia card.
"I'm now looking for a different avenue, trying to get to America, and PGA TOUR China looks probably the best way to get there at this stage. Hopefully I'll get through this week and play in China this year, and then move to America and start making my move up there."
Arnold admits that he's also hoping to reignite his passion for golf in China, where his brother Jamie, now 34, played the PGA TOUR Series-China in 2014 and for much of the following year. Jamie secured his Web.com Tour card for 2017 through Q-School, retaining it by finishing 52nd on the money list.
"My brother played PGA TOUR China and liked it, and if I'm going to be at home in Australia, it's convenient for me to play up here. The money's good and there are five Web.com Tour cards up for grabs. The bigger picture is the top-five and moving on from there," said Arnold who said he won't be trying to get back on the European Challenge Tour.
"I was travelling for eight years and in the bubble of just playing and practicing, so it was hard being out for 11 months and not being able to touch a club. When you have that much time away from golf, you think about yourself and whether you really want to do it. I've been playing okay, so maybe a fresh scene and something different will get the spark back."
The other Australians in the field are Jerram Chudleigh, Jordan Cooper, Theodore Coroneo, Mitchell Davis, Jichul Jung, Murray Lott, Peter Martin, Michael Pearce, Jonathan Pepper, Sean Underwood, Simon Treeby and amateur Sam Earl.
Australia-based Campbell Rawson, who holds a finance degree from the University of Auckland, is the tournament's lone New Zealander and looking to emulate compatriot Luke Toomey, who earned a full card last week.
Two years ago, Rawson finished 25th at Q-School No. 2 and played all 13 events on the 2016 PGA TOUR Series-China, tying for ninth in Wuhan in the season's second event before finishing 70th on the Order of Merit.
Having moved to Adelaide eight years ago to play Aussie Rules semi-professionally before focusing on golf from 2014, Rawson turned pro in February 2015 and played on the Asian Development Tour in his rookie season before focusing on the PGA TOUR Series-China the following year. This year, the Kiwi has full status on the PGA Tour of Australasia after progressing through Q-School.
"I've already played a few events in Australia and New Zealand and I've got four events in a row coming up. I'm then hoping to be able to play on this Tour in the middle of the year. Like a lot of people on PGA TOUR China, or Latinoamerica or Canada, the main goal is to get to the Web.com Tour," said the 29-year-old, who became a scratch golfer at 16.
"Web.com Tour is the goal for me because I think my game's more suited to the US than anywhere else. I hit the ball relatively long and that's an advantage I've got over a lot of guys here in China. Obviously the first goal is to get through this week, finish top 15, and then try to win an event on Tour and set myself up nicely to break that top five."
This week's field comprises 120 players from 21 countries and territories including the U.S. (29 players), South Korea (27), Chinese Taipei (13), Australia (13), Japan (11) and U.K. (six).
After a one-year hiatus, PGA TOUR Series-China resumes in March with a 14-tournament schedule that starts with the Chengdu Championship at Luxehills International Country Club (March 15-18) and the Chongqing Championship at Poly Golf Club (March 22-25). Every tournament will offer RMB 1.5 million, a 25-percent increase over purse levels from 2016.
The Mainland China Qualifying Tournament for China passport holders will be held at Wolong Lake Golf Club in Liuzhou City in Guangxi from February 27-March 2 (Tuesday-Friday).
The PGA TOUR established PGA TOUR Series-China in 2014 as its third international developmental tour, following in the footsteps of PGA TOUR Latinoamerica and the Mackenzie Tour – PGA TOUR Canada. Since its inception, PGA TOUR Series-China players have received Official World Golf Ranking points for top finishes at official tournaments.
International Qualifying Tournament Winners
Year      Tournament           Winner                  Score      Site
2014       No. 1                       David Lutterus       -11          CTS Tycoon GC (D&Y)
2014       No. 2                       Alex Hawley           -9            Mission Hills Haikou (Sandbelt Trails)
2015       No. 1                       Justin Shin             -9            CTS Tycoon GC (D&Y)
2015       No. 2                       Kyle Souza             -4            CTS Tycoon GC (D&Y)
2016       No. 1                       Sungpil Park          -5            Kunming Wind Valley Club
2016       No. 2                       Bio Kim                   -7            Kunming Wind Valley Club
2017       No. 1                       Jeffrey Kang           -13          Mission Hills Haikou (Sandbelt Trails)