HE turned 50 in October, but for now Nick O'Hern is content.
Melbourne's frustrating Covid-19 lockdown of the past few months means the West Australian left-hander won't be rushing off just yet to try his luck on the US PGA Tour Champions.
A winner of multiple titles in Australia and at one time among the top-20 players on the official world rankings, O'Hern has setup a home-base in the Victorian capital.
With his two teenage daughters about to enter crucial years of schooling, O'Hern is forging a career path that, at the moment, is away from the tournament arena and the travel that goes with it.
"I wrote a book (Tour Mentality – Inside the Mind of a Tour Pro), and I have a new one coming out at the start of next year as a follow up," O'Hern said. "It's based around strategic golf and the stuff I've been helping golfers with.
"I do mentoring and coaching, but it's more about strategy and the mental game and how to hit certain shots.
"I also do tour pro experiences where I take corporate and private clients out on the golf course and give them the full tour pro experience.
"My youngest daughter is in Year 9 and once she finishes school I'll look at playing or we might go and play a bit in Europe during school holidays and when we're allowed to travel again," O'Hern added.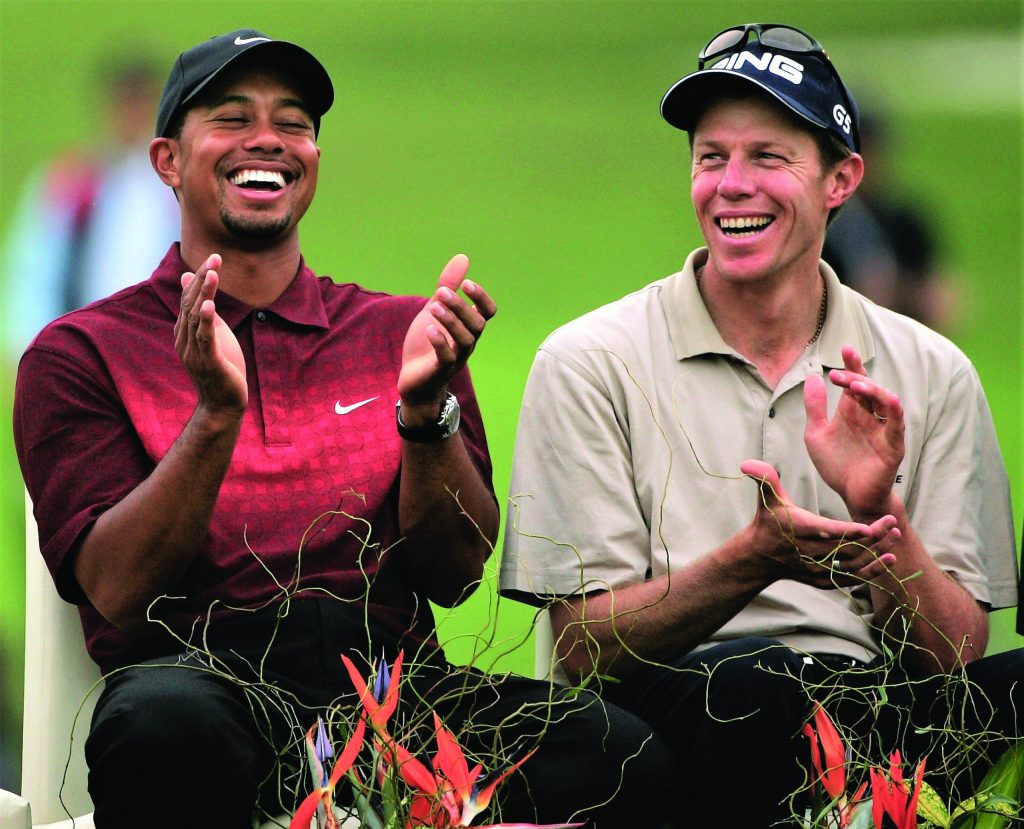 As for the US, with O'Hern boasting two wins over Tiger Woods in the prestigious WGC World Matchplay event (2005 and 2007), but without a tournament victory on the PGA Tour and the automatic qualification that comes with it, he is under no illusion as to how difficult it is to become a fully-fledged member of the PGA Tour Champions.
"The US is a hard one to get onto, but never-say-never," O'Hern said.
"It's probably the toughest tour to get on, because they only give about five cards a year unless you have status."
For now, he will carry on as an author in completing book number two and look after those aiming to use his words of advice to take their golf game to the next level while trying to enjoy the many brilliant golf courses of Melbourne and its surrounds.
At age 50, all is good for O'Hern – one of Australia's most popular and highly-credentialed tournament professionals of the past 20 years.
MEANWHILE, Stuart Appleby, a nine-time winner on the PGA Tour, has changed his tune about playing on the Champions Tour.
Twenty years ago he said he had no intentions of playing on the Champions Tour, but at 50 he is older and wiser and has joined the seniors tour.
"I said that (would not join Champions Tour) maybe in my late 20s, early 30s," Appleby told the PGA of Australia's Tony Webeck . 'What would you do that for?' I was young and dumb obviously because here I am.
"If you're in that 50-years-and-older category, you probably have got a fair call in saying that time sped up, especially if you've got a family.
"Time has flown by for me from my first year wondering whether I could play on the PGA Tour to now wondering whether I can play on the Champions Tour."
Prior to joining the PGA Tour Champions he suffered from back issues.
"I'm just doing a bit of a dry run this week, see how it all feels," the 2001 Australian Open champion said in the lead up to the Pure Insurance Championship at Pebble Beach Golf Links last month.
"(My) body's feeling better, but it's not like riding a bike.
"As a top athlete, there's not much left for you once you fall out of the top leagues but hopefully we can bring something to the tour.
"It's a long-distance reunion for me, being first week out. This is only week one, hopefully there are many more."
Appleby joins fellow Aussies Rod Pampling, Stephen Leaney, Robert Allenby, John Senden, David McKenzie and Mark Hensby as PGA Tour Champion players.
One man who was happy to see Appleby join the tour was Allenby, who has had his own struggles in recent years.
"It's great to have Stuey out here again," he said. "It's like picking the old team back up again and having a bit of fun, bit of bantering – it never ends.
"I know everyone out here on this tour is very excited and super happy to have 'Apples' out.
"We've had our careers, our careers have been great. In any career you can say I could have done better here, I could have done better there but it's done. It is what it is and we are where we are.
"For Apples and myself, we're fortunate that we've had a great career on the PGA Tour and we're very fortunate that we can come out here and still compete and play a profession that we've loved for 30-something years."