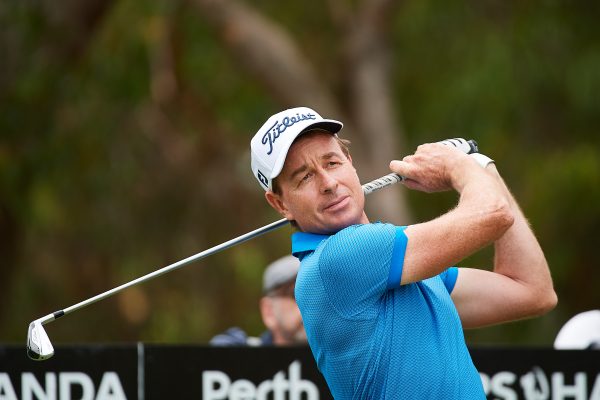 Inaugural ISPS HANDA World Super 6 Perth champion Brett Rumford is showing no signs of nerves ahead of his title defence at Lake Karrinyup Country Club this week.
His cool, calm and collected demeanor remained stoic as ever when he was asked if he felt the pressure of defending.
"I think pretty much your name goes from Rummy to defending champion.  Everyone just seems to give you that title for the week, which is pretty cool," said Rumford.
"Maybe they're just trying to put a bit more pressure on me, but it feels good.  It's always nice coming back to defend a title. Unfortunately, I haven't done it enough in my career.
"I feel good, I just played a couple of nine holes the last couple of days.  The golf course is looking great,  winds up, which is good, makes for an interesting test of golf, I think. I just had the last week off, so I'm good to go."
Rumford was an emphatic winner last year leading all three rounds ahead of Sunday's match play, the Lake Karrinyup Country Club clearly suits his eye.
"There's been some changes to the front-9, but all the match play's on the back so essentially we've got the same golf course as last year in the same conditions.
"It's quite physically demanding as well as mentally when you're trying to play for a championship, so it's quite a unique tournament in that respect.  But last year was definitely a challenge, it was great to overcome it and take my first win in my home city, so it would be great to replicate it."
Holes 10, 11, 13, 14, 12, 18, in that order, will be used for the Super 6 matches on Sunday, and Rumford says they will yield plenty of scoring opportunities for the top-24.
"They're all great match play holes, they're all 'birdie-able', and there are lots of troubles always that lurk amongst every hole, so I think they picked some great holes.  And yeah, obviously setup on Sunday will determine how hard they play," added Rumford.
He said given the second cut made in round three on Saturday, there's no point focusing on Sunday early in the tournament, the first step needs to be qualifying inside the top-24.
Leading after 54 holes in 2017, Rumford was the top seed which gave him a bye in the first round of Sunday's match play. A top-8 result after three rounds will be crucial to his title defense.
"Just like last year, you've got to finish top-24, ultimately finishing inside that top-8 is ideal, but outside of that you've just got to get your foot in the door," added Rumford.
"Once the match play rounds again, it's a bit like tennis; you're not playing 154 other players all of a sudden, you're just playing five rounds and you've got a championship.
"And it's five individual players as well, so you've just got to take one match at a time, one player at a time and just chip away at it.
"I'm not taking anything from last year,  I played great golf, and if I can replicate what I did last year in terms of my form coming into this event, then I'll give myself another good chance of winning."
The win last year went a long way to Rumford being crowned the 2017 ISPS HANDA PGA Tour of Australasia Order of Merit champion, he now has a place in the The Open Championship, World Golf Championships – Mexico Championship and HSBS Champions tournament this year.
He also retains his European Tour card and is aiming to climb the Race to Dubai rankings in 2018.
"It's still same old, same old really from the European Tour side. Back to Europe and obviously playing a fairly busy schedule, but obviously with the WGC, The Open Championship and the HSBC at the end of the year, they're some great events that I got into.
"So it's really just focusing on the European Tour and obviously the Race to Dubai first and foremost, and this game, it's a crazy game. Winning opens up doors and you've got a fairly cemented schedule, but playing well and winning changes that dramatically. I'm just playing it as it comes."
For just a $25* general admission fans can watch Danny Willett, Brett Rumford, Andrew 'Beef' Johnston, Lee Westwood and others in action in the innovative ISPS HANDA World Super 6 Perth. While children aged 16 years and under enter free of charge.
Tickets are available from Ticketmaster.com.au.
The ISPS HANDA World Super 6 Perth will once again be live on Fox Sports from 8-11 February, check local guides for details.
The ISPS HANDA World Super 6 Perth event is proudly supported by the Western Australian Government through Tourism WA.