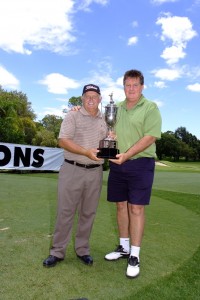 PETER Senior's trophy cabinet is starting to get a little crowded after he picked up another trophy when he was presented with the Queensland PGA Championship cup.
The 51-year-old was awarded with the Charles Bonham Trophy two days after being presented the Joe Kirkwood Cup for winning the Australian PGA Championship.
And he picked up the Queensland PGA trophy without even hitting a drive or sinking a putt.
Confused?
Well, the championship was lasted played in November 2009 and when organisers were unable to find a suitable date in 2010 it was rescheduled to be played from February 24-27, 2011.
So, without an actual winner in 2010, it was decided the winner of the 2010 Australian PGA Championship at Coolum would also be given the title of Queensland PGA champion.
Senior was delighted to have his name etched on the prestigious trophy.
"You look at the names on this trophy from Greg Norman to Ian Baker-Finch – not to mention up-and-coming players like Steven Bowditch, who won last year and it's not hard to see why this is the most sought-after trophy we have in Queensland," said Senior, who won the title in 1987.
"To have my name back on here 24 years after my first Queensland PGA win is indescribable and, to be honest, if someone had told me a few years ago that it was possible I probably would have laughed at them."
Queensland PGA tournament chairman and former Queensland PGA champion Peter McWhinney said Senior was a Queensland legend.
"I can't think of another player throughout history that is more iconic in Queensland than Peter Senior," he said.
"His bulldog-like competitive nature and his ability to get the job done down the stretch is something that the entire golfing public here in Queensland and, in fact, throughout Australia can appreciate."