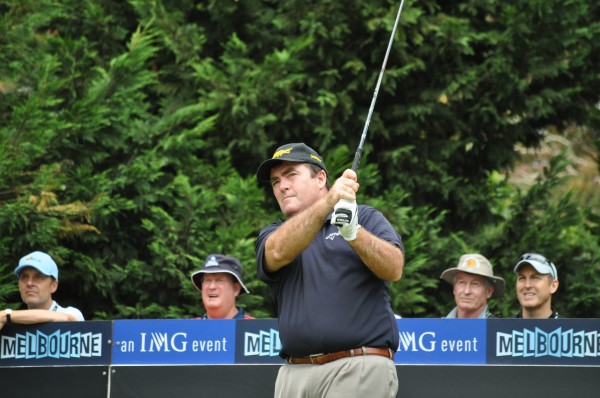 Two of Australia's most successful and respected golfers Craig Parry and Peter O'Malley are headed to Natadola Bay to contest the Fiji International golf tournament.
Between them, the two golfers have collected more than 30 international titles around the world, adding further firepower to the tournament field in its inaugural year.
Since turning Professional in 1985, Craig has been one of Australia's most noted golfers.
Parry, the holder of 23 international career victories, has previous wins on the world's biggest golf Tours, the PGA TOUR and European Tour.
He has a string of victories from his home country, including two Australian Opens, the Australian PGA Championship and three Australian Masters titles.
Having played in all corners of the world, Parry says he's looking forward to experiencing Fiji's renowned hospitality.
"We're very lucky as Professional golfers that we get to visit some great places," said Parry.
"It's going to be a strong tournament. There's some great players in the field and the course will be a tough test."
Likewise, O'Malley needs no introduction in the world of golf.
A multiple winner on the European Tour and the PGA Tour of Australasia, throughout his career O'Malley has captured significant titles in Scotland, England, New Zealand and Australia.
Well-regarded internationally, O'Malley has proudly represented his country three times in the prestigious World Cup of Golf.
"Since it was announced, we've all been looking forward to this tournament and supporting it in its first year," said O'Malley.
"Fiji is renowned as a great holiday destination but I've also heard some really good things about the golf course at Natadola. I'm looking forward to getting over there."
Parry and O'Malley will join a talented PGA Tour of Australasia and OneAsia field which will be highlighted by Major Champions Vijay Singh and Nick Price.
Also confirmed to be competing is Fiji's Dinesh Chand, India's best golfer Anirban Lahiri, former Fiji Open champion and multiple OneAsia and PGA Tour of Australasia winner Matt Griffin and one of the Japan Tour's most prolific winners, Brendan Jones.
With the field set to be finalised in the coming weeks, further player announcements are still expected.
"We're currently finalising entries from the OneAsia players, but from all indications we'll have a talented, international field for the inaugural tournament so we couldn't be happier," said Brian Thorburn, Chief Executive Officer of the PGA of Australia.
"The reputation of the Natadola Bay Championship Golf Course is already growing internationally and we're looking forward to showcasing the tournament to the world in a few weeks time."
The Fiji International will be played at Natadola Bay Championship Golf Course from 14-17 August and will be Fiji's first internationally broadcast golf tournament.
Boasting a US$1 million prize purse the Fiji International will be co-sanctioned by the PGA Tour of Australasia and OneAsia.
Proudly supported by the Fijian Government, the Fiji International is expected to produce a multi-million dollar boost for the Fijian economy, in addition to flow on benefits including the growth of the game in the region.
Further information on the Fiji International is available at www.fijiinternational.com.