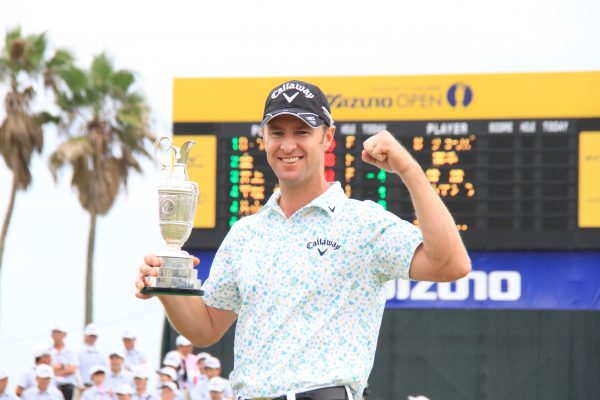 Australia's Brendan Jones added to his already impressive string of victories in Japan, clinching his 13th Japan Tour title at the Mizuno Open.
Jones' four-under-par final round saw him finish atop the leaderboard at 19-under, three shots clear of the nearest competitor, KT Kim, whose final-round of 69 saw him finish at 16-under.
"I played great. I putted well, felt like I knew where all my shots were going and felt like I was in control of the tournament all weekend and that does not happen very often!" said Jones.
For his efforts the 38-year-old New South Welshman earned ¥22,000,000, and nabbed a coveted spot in last month's Open Championship at Muirfield. It was Jones' second Mizuno Open title, after claiming the 2004 version in a playoff.
With the win, Jones set records for the lowest winning score in event history (19-under); career wins on the Japanese Tour by a foreign player (13) and most money earned by a foreign player on the Tour, with a whopping ¥830,054,000 (over A$9 million) in his 12-year career in Japan.
"I never imagined I would be able to do something like that," Jones said.
Last year, Jones was one of Australia's most successful professionals, winning more than $1m in prizemoney courtesy of two victories on the Japan Tour.
IN THE BAG: BJ used the Callaway X Hot Driver and fairway woods, Legacy irons, the HEX Black Tour Golf Ball and an Odyssey putter.
www.mizunoopen.com
FINAL LEADERBOARD
Position
Player
Prize
Score
WIN
Brendan JONES
¥22,000,000
-19
269
2
Kyung-Tae KIM
11,000,000
-16
272
3
Makoto INOUE
7,480,000
-13
275
4T
Tetsuji HIRATSUKA
4,840,000
-11
277
Shingo KATAYAMA
4,840,000
-11
277
6T
Jung-Gon HWANG
3,265,166
-10
278
Ji-Ho YANG
3,265,166
-10
278
Dong-Kyu JANG
3,265,166
-10
278
Michael HENDRY
3,265,166
-10
278
Daisuke KATAOKA
3,265,166
-10
278
Hidemasa HOSHINO
3,265,166
-10
278