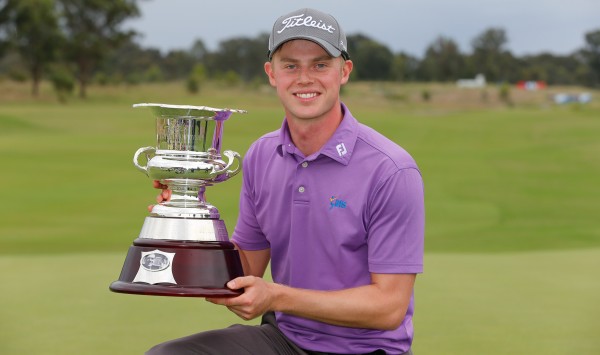 Victorian amateur Ben Eccles claimed the 2015 NSW Open Championship yesterday, securing the title after a week that delivered challenging weather conditions at Stonecutters Ridge Golf Club.
Eccles started the final round with a four-shot lead ahead of New South Welshmen, Peter Lonard and Clayton Bridges.
Eccles, who hit the ball solid all week, fired a final round even-par 72 to end his week on 19-under 269 to secure a three-shot victory over Rohan Blizard and Matthew Millar.
"I'm absolutely over the moon," Eccles says. "I've never led from start to finish – it's a pretty amazing feeling to be honest!"
This was Eccles' first win on the PGA Tour of Australasia as an amateur. As he was ineligible for the prize purse, it went to Blizard and Millar as the leading Professionals.
The 20-year-old's performance on the Greg Norman-designed layout had been nothing but consistent, appearing calm and comfortable during every round.
And despite his outward calmness all day it was always likely to be the nerves of Eccles that would be his biggest challenge.
"I didn't get much sleep last night. There were plenty of nerves this morning."
It was a quiet chat with Professional Andre Stolz prior to teeing off this morning that helped put things into perspective for the young man from Torquay.
"I asked Andre for a couple of tips," Eccles says. "He's been in that winning circle before."
Born in the United Kingdom, the Victorian surf coast resident has played a number of Professional events this season on the PGA Tour of Australasia, with his best finish coming at the Oates Vic Open in February where he finished tied for third.
The last amateurs to win on the PGA Tour of Australasia were Jake Higginbottom, who made history in 2012 when he became the first amateur since 1956 to win the New Zealand Open, and Oliver Goss, who won the WA Open the same year.
In 2013 Eccles won the New South Wales Amateur Championship and earlier this year captained the Victorian Men's team to interstate victory; going through the series undefeated.