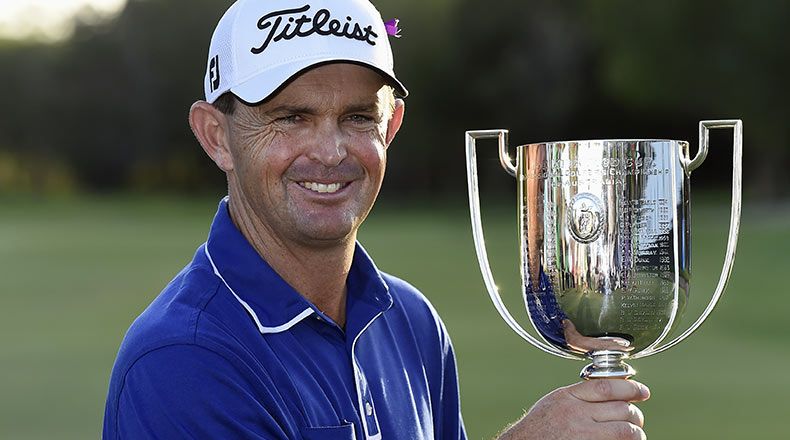 Greg Chalmers has won the Australian PGA Championship after a seven-hole playoff at RACV Royal Pines Resort on the Gold Coast.
Starting the day seven shots off the lead, Chalmers fired a final round 8-under 64 to end regulation play tied for the lead with Adam Scott and Wade Ormsby on 11-under 277.
"It was an epic day, I honestly didn't think I'd be sitting here at this point today with the quality of the guys leading the tournament and doing well," said Chalmers.
The trio headed down the 18th hole three times before South Australian Ormsby dropped out of the race.
It took another four holes before Chalmers emerged victorious with a par over Scott who made bogey.
"I just wasn't sure Scotty was ever going to hit a loose shot," said Chalmers.
"I was trying to drive it in the fairway; I kept driving it in every bunker."
"I thought if I'm going to lose this, I want to lose to a birdie."
"It's a shame sometimes that that doesn't work out that way, that someone makes birdie and makes something spectacular but I'm very pleased to be the champion again."
The key for Chalmers in the playoff was not to panic.
"My style of golf is never going to be an Adam Scott style of golf," added Chalmers.
"I hit it off line, I don't panic. I'm going to hit it off line, I did it all week and I did it sometimes today, but I have a short game that I hold in pretty decent regard."
"I thought just keep making someone win it and today it turns out that a mistake was made and I'm on the trophy."
With his win Chalmers also sealed the PGA Tour of Australasia Order of Merit earning him starts in the World Golf Championship – Cadillac Championship, Nedbank Golf Challenge and The Open Championship, which he was already exempt into.
The timing couldn't be better with Chalmers having only conditional status on the PGA TOUR for 2015.
"I lost my status in the States this year, I don't have full status next year so I think this, winning the Order of Merit in Australia helps me," added Chalmers.
"I'm forever thankful to our Tour here for those kinds of exemptions, it's very important for players and gives us a lot of chances."
"I like to come back because I love Australia and I'm conscious of the idea that every career has a pathway."
"My pathway started right here. So I think it's somewhat, not an obligation but just something, I think it's the right thing to do."
Adam Scott was disappointed to have finished the year without a win on home soil acknowledging his failure to capitalise on his opportunities today.
"I just didn't hit good enough shots in the play-offs and it's frustrating to not win when I hit so many good drives and had so many wedges and only made one birdie," said Scott.
"I'm ready for a break. I'm certainly going to enjoy this one."
"Unfortunately not exactly how I wanted to end the year, but you know, hopefully onto bigger and better things next year."
The least experienced of the playoff trio, Ormsby looked at the positives in his round including a brilliant chip in birdie on the last regulation hole to earn a place in the playoff.
"It was nice to get in the play-off there. I didn't think I was going to get in and I got myself in it but yeah, a little bit disappointed," said Ormsby.
The Australian PGA Championship caps off another successful year for the PGA Tour of Australasia which has seen 15 tournaments contested, in four countries for more than AU$7.8million in prize money.
2014 saw 15 individual Professionals from four countries win titles which included eight first time champions.
The PGA Tour of Australasia will next week host more than 180 hopefuls at first stage Qualifying School as they look to earn status for the 2015 season.
For all final results from the Australian PGA Championship please click here.
For the final PGA Tour of Australasia Order of Merit please click here.
Visit the Australian PGA Championship website at www.pgachampionship.com.au for further details.
The tournament is proudly supported by the Queensland Government, through Tourism and Events Queensland, Gold Coast City Council, Gold Coast Tourism, RACV Royal Pines Resort, RACV, Emirates, Coca-Cola Amatil, Stella Artois, Amadio Wine, APN Outdoor and Srixon and will be broadcast domestically by the Seven Network.
The Championship is managed by the PGA with the assistance of TRP Sports.