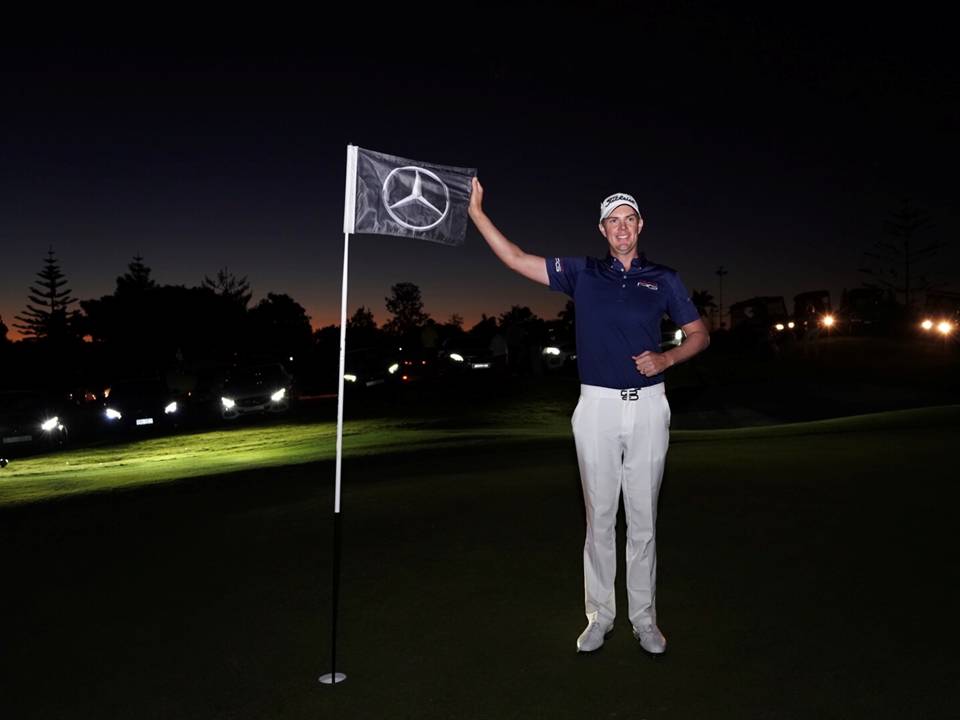 Adam Blyth held his nerve on the final hole in near darkness to be crowned the Inaugural 2018 Mercedes-Benz Gold Coast Sanctuary Cove Shootout.
The members of the Sanctuary Cove Golf and Country Club were out in force to show their support for this exciting new format, and they were not disappointed as the 19 competitors treated the crowds to some incredible golf around the challenging Pines Golf Course.
With $40,000 on the line, the Pines Course at Sanctuary Cove was presented in unbelievable condition with some on the quickest greens many have played on in their careers.
Rockhampton's Adam Blyth was the last professional into the 19 competitor field courtesy of a last minute withdrawal on Thursday evening, and has made the most of the opportunity beating a quality field including Travis Smyth on the last hole.
"When I got the call during the week I was thrilled to be given the last position into the field", said Blyth.
"I was really excited to have the chance to play a different style of event and to be honest, I am not sure I have ever been as nervous as i was on the first tee this morning".
"My strategy heading into today was to make sure I beat just one person each hole to ensure I remained in the field".
"I did have to endure the two chip offs to progress on the 7th and the 17th holes though was fortunate enough that my short game held up under the pressure".
"The crowd support out there for the whole day was incredible. There must have been a couple of hundred Members watching, that's what made the day for me".
23 year old Travis Smyth was the first competitor to secure his place for the final hole after going for the green on the par 5 17th hole for two. A solid up and down from the back of the green resulting in a birdie.
Unfortunately for Smyth his tee shot down the 18th found the water which left Blyth in control to win the inaugural event.
"It was tough to see as darkness was closing in and my ball found the water", said Smyth.
"It is a real confidence boost though given my title defence at the NT PGA next week and all of us professionals are extremely thankful for the opportunity to play this unique event."
The majority of professionals will be heading to the Northern Territory ahead of this week's MMC Northern Territory PGA Championship.
The next stop on the Ladbrokes PGA Pro-Am Series will be the Murwillumbah Golf Club for the Murwillumbah Pro-Am to be held Thursday 23rd August 2018.
Final results below:
| | | |
| --- | --- | --- |
| Professional | Knocked out on hole | Prizemoney |
| Adam Blyth | Winner | $14,000 |
| Travis Smyth | 18th | $6,500 |
| Brad Kennedy | 17th | $3,950 |
| David Bransdon | 16th | $3,000 |
| Steven Jeffress | 15th | $1,950 |
| Anthony Quayle | 14th | $1,200 |
| Terry Price | 13th | $950 |
| James Nitties | 12th | $900 |
| Daniel Nisbet | 11th | $750 |
| Robbie Hogan | 10th | $700 |
| Simon Hawkes | 9th | $650 |
| Ray Beaufils | 8th | $600 |
| Michael Sim | 7th | $550 |
| Michael Wright | 6th | $500 |
| Quinton Howe | 5th | $450 |
| Nick Russell | 4th | $400 |
| Sam Brazel | 3rd | $350 |
| Cooper Eccleston | 2nd | $300 |
| Cory Crawford | 1st | $300 |