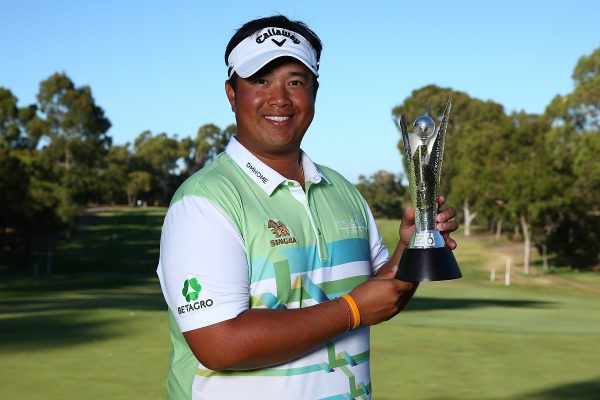 Thailand's Kiradech Aphibarnrat won his fourth European Tour title after a 2 and 1 victory over James Nitties in the final of the ISPS HANDA World Super 6 Perth.
The Thai golfer only entered this event seven days earlier on an invite and arrived having not played any practice rounds at Lake Karrinyup Country Club.
He needed four trips up the 18th in a play-off on Saturday night to claim the last of the 24 spots in the Super 6 and then had to come through five rounds of match play and 35 holes on Sunday.
After wins over Ben Eccles, Yusaku Miyazato, Sean Crocker and Lucas Herbert, he produced one final push to beat Nitties and move back into the top 50 in the Official World Golf Ranking.
The victory is the 28 year old's second in a match play event after his win at the 2015 Saltire Energy Paul Lawrie Match Play and now moves him to tenth position in the Race to Dubai Rankings presented by Rolex.
After 54 holes of stroke play, the players were facing off against each other over the tenth, 11th, 13th, 14th, 12th and 18th, with the 90-yard shootout hole used to separate those still all square.
Nitties had defeated Nick Cullen, Dimitrios Papadatos, Callan O'Reilly and Sam Horsfield en route to the final, with Englishman Horsfield finishing fourth after losing 3 and 1 to Herbert in the play-off for third and fourth position.
"It's just been an awesome week. I don't know how to explain but I'm so happy," Aphibarnrat said. "I'm working so hard. The last few months I've been getting really close and finally I've done it. It means a lot. When you focus on something, you try this hard, then I kept finishing second and then I'm not giving up. I'm trying so hard until I get it.
For Nitties, the playoff loss was agonising, but the Australian found some positives in the week.
"It's a sad way to go down considering another win might have got me some playing rights somewhere in the world because I currently have no status but it was a great week. Considering I was a four-footer away from losing the first match, it was pretty positive stuff getting to the finals."
WHAT'S IN THE BAG
Here's what Callaway staffer Kiradech Aphibarnrat used to win:
GBB Epic Sub Zero Driver (9*) – Mitsubishi Kuro Kage 60x Shaft
Rogue Fairway Wood (15*) – Kuro Kate 70x shaft
Epic Pro 2-iron – Project X 6.0 Shaft
X Forged 13 Irons (3-5) – Project X 6.0 Shaft
Apex MB Irons (6-PW) – Project X 6.0 Shaft
Mack Daddy Forged (52*) – Project X 6.0
Mack Daddy 4 Wedge (58*) – Project X 6.0
Odyssey Versa White #7 Putter
A Chrome Soft X Golf Ball
Final Scores and placings
 211 K Aphibarnrat (Tha) 67 72 72,
210 J Nitties (Aus) 66 76 68,
206 L Herbert (Aus) 68 69 69,
208 S Horsfield (Eng) 68 72 68,
206 S Crocker (USA) 70 69 67,
208 B Kennedy (Aus) 69 72 67,
211 C O'Reilly (Aus) 72 71 68,
210 M Lee (am) (Aus) 69 70 71,
204 P Meesawat  (Tha) 67 70 67,
206 T Olesen (Den) 70 67 69,
208 D Papadatos (Aus) 69 73 66, Y Miyazato (Jpn) 70 70 68,
209 M Fraser (Aus) 68 74 67,
210 M Millar (Aus) 73 70 67,
211 Y Chang (Kor) 67 73 71, A Pavan (Ita) 73 66 72,
209 G Forrest  (Sco) 69 68 72,
210 B Eccles (Aus) 72 69 69, P Tangkamolprasert (Tha) 70 71 69, N Cullen (Aus) 72 68 70,
211 P Saksansin (Tha) 71 73 67, S Kodaira (Jpn) 70 71 70, S Leaney (Aus) 69 72 70, Z Lombard  (RSA) 68 70 73, A Quayle (Aus) 71 68 72,
212 R Fox (Nzl) 70 73 69, W Ormsby (Aus) 67 73 72, J Scrivener (Aus) 67 73 72, J Edfors (Swe) 71 73 68, D Bransdon (Aus) 71 70 71, S Vincent (Zim) 73 71 68, A Rai (Eng) 71 73 68,
213 R Allenby (Aus) 72 72 69, J Guerrier  (Fra) 74 67 72, S Yongcharoenchai (Tha) 71 71 71, M Schwab  (Aut) 71 72 70, N Fung (Mas) 67 76 70, J McLeod (Aus) 72 70 71, R Evans  (Eng) 70 74 69,
214 T Pilkadaris (Aus) 71 72 71, L Westwood (Eng) 66 70 78, D Kataoka (Jpn) 67 75 72, J Janewattananond (Tha) 68 74 72, P Angles  (Esp) 71 73 70, C Crawford (Aus) 73 70 71, R Green (Aus) 69 73 72, S Gros (Fra) 67 77 70, B Rumford (Aus) 64 72 78,
215 J Todd (USA) 73 71 71, S Brown (Eng) 72 70 73, G Paddison (Nzl) 67 76 72, J Wilson (Aus) 73 67 75, J Zunic (Aus) 72 71 72, L Canter (Eng) 72 72 71, C Mivis  (Bel) 71 73 71, J Higginbottom (Aus) 74 70 71, J Marchesani (Aus) 73 71 71,
216 A Blyth (Aus) 73 66 77, C Koepka (USA) 70 74 72, J Felton  (Aus) 69 74 73, R Wannasrichan (Tha) 72 70 74, M Griffin (Aus) 70 72 74, S Han (USA) 68 73 75, P Fowler (Aus) 74 70 72,
217 C Ford (Eng) 69 73 75, H Tanihara (Jpn) 74 70 73, D Fox (Aus) 69 72 76, R Cho (Kor) 73 71 73, A Knappe (Ger) 75 68 74, J Girrbach (Sui) 72 72 73, A Dodt (Aus) 71 73 73, J Fahrbring (Swe) 68 74 75,
218 T Sinnott (Aus) 72 72 74, J Dantorp (Swe) 71 73 74, A Price (Aus) 72 72 74, A Bland (Aus) 73 70 75,
219 B Neil (Sco) 71 73 75, D Lipsky (USA) 68 76 75,
220 M Foster (Eng) 71 72 77,
221 A Connelly (Can) 69 74 78,
145 S Jeffress (Aus) 71 74 0, T Macdonald (Aus) 69 76 0, V Perez (Fra) 74 71 0, J Kruger (RSA) 72 73 0, M Guyatt (Aus) 72 73 0, A Da Silva (Bra) 71 74 0, P Peterson (USA) 74 71 0, M Brown (Nzl) 69 76 0, B Ritthammer (Ger) 71 74 0,
146 M Stieger (Aus) 76 70 0, G Bhullar (Ind) 71 75 0, S Fernandez  (Esp) 72 74 0, M Hendry (Nzl) 71 75 0, J Veerman (USA) 72 74 0, T Lewis (Eng) 73 73 0, B Coletta  (Aus) 73 73 0, P Lonard (Aus) 72 74 0, M Armitage (Eng) 74 72 0, T Kaewsiribandit (Tha) 71 75 0, T Murray (Eng) 71 75 0, D Stewart (Sco) 74 72 0, A Sandhu (Ind) 73 73 0, A Saddier (Fra) 73 73 0, L Gagli  (Ita) 71 75 0,
147 S Hawkes (Aus) 75 72 0, D Boonma (Tha) 73 74 0, C Syme  (Sco) 76 71 0, A Vongvanij (Tha) 72 75 0, D Pearce (Nzl) 75 72 0, S Heisele (Ger) 75 72 0, J Geary  (Nzl) 74 73 0, B Henson (USA) 74 73 0,
148 G Stal  (Fra) 73 75 0, C Bezuidenhout (RSA) 73 75 0, C Blomstrand (Swe) 75 73 0, N Geyger (Chi) 73 75 0, J Younger (Aus) 74 74 0, B Evans  (Eng) 75 73 0,
149 A Johnston (Eng) 73 76 0, M Schneider (Ger) 77 72 0, S Kapur (Ind) 75 74 0, M Nixon (Eng) 71 78 0, D Smail (Nzl) 77 72 0, B Rankin (Aus) 79 70 0, J Colomo  (Esp) 72 77 0, D Nisbet  (Aus) 73 76 0, N Kimsey (Eng) 75 74 0, A Townsend (Aus) 75 74 0, R McEvoy  (Eng) 73 76 0,
150 J Thomson  (Eng) 75 75 0, G Moynihan (Irl) 73 77 0, G Porteous (Eng) 74 76 0, N O'Hern (Aus) 76 74 0, N Srithong (Tha) 70 80 0, A Meronk  (Pol) 75 75 0, A Cañizares  (Esp) 73 77 0,
151 P O'Malley (Aus) 76 75 0, B Campbell (Nzl) 73 78 0, M Baldwin (Eng) 74 77 0, J Heath  (Eng) 79 72 0, D Willett  (Eng) 76 75 0, J Norris (Aus) 74 77 0, L Yanwei (Chn) 81 70 0,
152 D Brandt-Richards (Aus) 73 79 0, D Beck (Aus) 71 81 0, D Lawson (Aus) 71 81 0, M Long (Nzl) 79 73 0, P Widegren  (Swe) 73 79 0, D Jordan (Aus) 72 80 0, P Wilson (Aus) 73 79 0, S Yates (Sco) 79 73 0, F Aguilar (Chi) 73 79 0,
154 T Smyth (Aus) 80 74 0,
156 B Leong  (Mas) 77 79 0, N Holman  (Aus) 79 77 0,
** S Rahman (Ban) 80 WD  0,