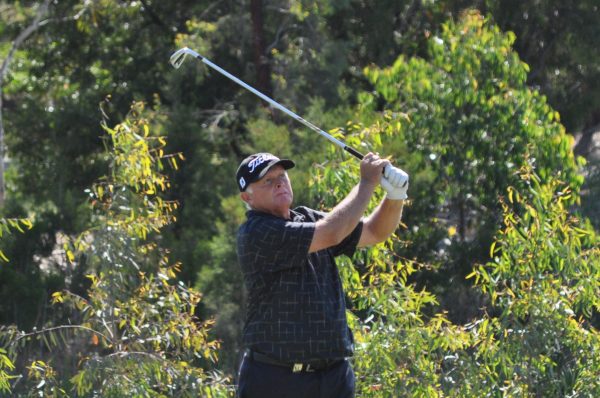 Peter Senior's wonderful golfing career is over.
The 57-year-old two-time Australian Open champion withdrew from the 2016 championship after five holes of his second round today, and immediately declared he was finished with the game. Near the 18th green, he hugged wife June and spoke with a quivering voice.
"I did my hip last week at the NSW Open on the Monday. I battled through the tournament last week, didn't do much practice on Monday, Tuesday, Wednesday, played the pro-am," he said after taking a cart back to the clubhouse from the 16th fairway.
"Yesterday I played the pro-am but not today, it's just horrendous. I can't hit a golf shot out there. It's no good me being out there annoying the other guys because they're playing pretty well so this is it for me. I'm not playing any more golf."
Senior had already announced his pending retirement, but he was intending to complete his career with an appearance in his home state of Queensland at the Australian PGA Championship. But he says he cannot play that tournament now because of the pain in his right hip.
"It's a tough pill to swallow. The last two years, I've had that many injuries. I'm just sick of it. It's a game you can't play with injuries. I've had a great run, a great career. I've enjoyed every minute of it. People have been fantastic, you just can't play like that. I don't enjoy playing like this. I can't hit a shot. Every time I hit the ball I get a bolt of pain through my hip."
Senior has won 34 career titles all over the world including 23 on the PGA Tour of Australasia, four on the European Tour and three on the Japan Tour.
Senior is the only player to have won the Australian PGA Championship in his 30's, 40's and 50's.
In 2012, at the age of 53 he stunned the field to win the Emirates Australian Open as wind gusts blew over TV towers at The Lakes.
Just three years later, Senior won the Australian Masters; he is the oldest winner of both Championships.
Turning Professional in 1978 Senior is the only player in PGA Tour of Australasia history to have won in five different decades; 1970s, 1980s, 1990s, 2000s, 2010s.
For all his accolades, Senior's fondest memories from his career will be of the people he has met along the way.
"The golf's fantastic no matter where we play.  It's the people surrounding the golf who have been fantastic," added Senior.
"The PGA guys and girls, all the tournament directors I have got to know, it's sad that we won't be getting together again."
While this is a sad day for Australian golf, Senior believed the future of the game is in safe hands.
"There is always going to be good young guys coming through.  You know I've always said sport runs in cycles and we've got three or four really good guys coming through at the moment," added Senior.
"So I think in the next three or four years of Australian golf will be pretty good."
In a final word from Peter Senior, he thanked his fans.
"I really appreciate all the support," added Senior.
"I cannot believe how many people come down to see me in the later years of my life and the wins I have had recently on the Australian Tour."
He is set to be honoured by the Australian Golf Writers Association at their annual dinner tomorrow night, which will now become a highly-emotional occasion.
(Story courtesy of Golf Australia and PGA of Australia)