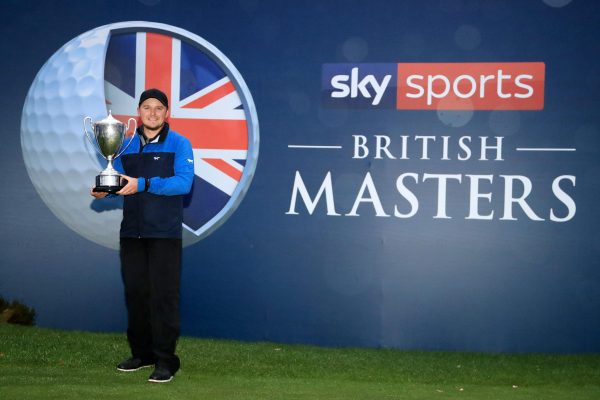 Eddie Pepperell provided a moment of pure magic on the way to winning the Sky Sports British Masters wire-to-wire, holing out from the heavy rough for an eagle two before battling to a second European Tour title of the season.
The victory, which came courtesy of a level par final round 72, means the Englishman is close to rubber-stamping a debut at the Masters Tournament in 2019, and the 27 year old moved to seventh position in the Race to Dubai after an eventful week.
Pepperell produced another remarkable shot on the opening day at Walton Heath Golf Club, holing an ace on the ninth hole which came after the ball bounced straight into the hole, popped back out and rolled back in again for the first hole-in-one of his professional career.
Having been top of the leaderboard after every round – sharing the lead after day one before breaking clear at the top – Pepperell battled bravely in the testing, wet conditions at the Surrey venue.
A steady front nine was followed by a spectacular hole-out eagle on the tenth, and although he stumbled on the difficult closing stretch, he overcame playing partner Alexander Björk by two shots to add to the Commercial Bank Qatar Masters title he won in February.
Australian Lucas Herbert stormed home in rounds 3 and 4, firing rounds of 67-69 to finish T3 on 283, just four shots behind Pepperell.
The tournament host, World Number Two Justin Rose, finished strongly as a two under par 70 earned him an eighth place finish on three under par.
Final results (Australians in bold):
279 E Pepperell (Eng) 67 69 71 72,
281 A Björk (Swe) 69 73 68 71,
283 J Smith (Eng) 71 69 70 73, L Herbert (Aus) 72 75 67 69,
284 S Horsfield (Eng) 71 70 74 69, T Lewis (Eng) 70 73 71 70, J Suri (USA) 70 71 69 74,
285 J Rose (Eng) 74 72 69 70,
286 G Green (Mas) 69 78 68 71, A Sullivan (Eng) 69 72 73 72, L Bjerregaard (Den) 74 67 72 73, T Fleetwood (Eng) 67 77 70 72, H Li (Chn) 73 74 69 70, R Gouveia (Por) 76 70 72 68, O Farr (Wal) 73 73 71 69,
287 M Wallace (Eng) 67 72 73 75, M Fitzpatrick (Eng) 69 73 71 74, E Molinari (Ita) 74 72 71 70, C Sordet (Fra) 69 77 70 71, A Pavan (Ita) 73 72 67 75, S Brown (Eng) 69 73 72 73,
288 J Guerrier (Fra) 70 70 70 78, M Manassero (Ita) 72 72 76 68, G Havret (Fra) 75 70 70 73, P Harrington (Irl) 73 74 71 70, R Sterne (RSA) 71 74 70 73, M Southgate (Eng) 69 76 76 67, M Schwab (Aut) 70 74 72 72,
289 J Wang (Kor) 69 75 70 75, J Lagergren (Swe) 68 78 71 72, W Ormsby (Aus) 72 71 71 75, R Rock (Eng) 72 74 73 70, D Fichardt (RSA) 73 73 72 71,
290 S Lowry (Irl) 75 71 72 72, R Karlsson (Swe) 69 73 73 75, D Lipsky (USA) 68 78 73 71, A Saddier (Fra) 73 73 67 77, M Warren (Sco) 74 73 71 72, G Bourdy (Fra) 74 73 75 68, T Immelman (RSA) 69 73 71 77, R Fisher (Eng) 69 72 74 75,
291 A Levy (Fra) 67 78 72 74, P Dunne (Irl) 70 73 74 74, S Kjeldsen (Den) 73 74 74 70, G Fdez-Castaño (Esp) 72 72 71 76, A Connelly (Can) 73 73 69 76, M Siem (Ger) 72 73 71 75,
292 C Hanson (Eng) 75 69 73 75, L Slattery (Eng) 70 74 72 76, M Kinhult (Swe) 71 74 71 76, M Fraser (Aus) 72 74 76 70, D Burmester (RSA) 74 72 74 72, M Korhonen (Fin) 70 74 76 72, M Lorenzo-Vera (Fra) 68 79 73 72, A Johnston (Eng) 72 72 73 75,
293 R Wattel (Fra) 73 73 74 73, A Rai (Eng) 73 74 72 74, P Larrazábal (Esp) 70 77 74 72, F Molinari (Ita) 73 73 75 72, P Waring (Eng) 70 77 73 73, R Ramsay (Sco) 74 72 72 75, H Porteous (RSA) 77 70 76 70,
294 S Jamieson (Sco) 73 72 72 77, D Drysdale (Sco) 69 73 80 72, A Dodt (Aus) 73 73 76 72, C Pigem (Esp) 71 72 76 75,
295 Z Lombard (RSA) 72 72 75 76,
296 B Rumford (Aus) 71 75 76 74, T Aiken (RSA) 75 72 74 75,
297 S Gallacher (Sco) 72 73 77 75,
299 J Morrison (Eng) 72 71 77 79,
301 R McEvoy (Eng) 68 77 78 78