OneAsia's Anthony Summers is playing in the U.S. Open at The Olympic Club. In his OneAsia diary, he shares his thoughts following his opening round:
June 15
Awesome! That is pretty much the best word for how it felt out there today!  The whole place was buzzing from the time I got there, around seven a.m., and didn't stop until we left at six-thirty. From our vantage point in the players' hospitality section we watched Tiger, Phil and Bubba tee off, and the number of people there at time was amazing. Even more amazing was Phil losing his ball off the ninth tee with so many people in the gallery. Crazy!
My golf was a mixed bag. A nervous start on number nine (because of the layout, you either start on the first or ninth hole) with a pull into the rough, and then a flyer over the back that I didn't get up and down, so it was a bogey. I hit eight of the next nine greens, but struggled with the pace of the surface and had three three-putts as well as missed some good chances for birdie in that stretch.
The front nine (my back nine today) was a scrambling effort with lots of up-and-downs for par or bogey. I was happy with the way I toughed it out despite not having my best stuff out there. I made my only birdie of the day on the par five 17 that included a ripped hybrid from the right rough to just off the front edge, It wasn't a Nick Watney shot in there (he made an albatross) but I was more than happy with it.
I played with two great guys in Marc Warren of Scotland and Michael Allen, who is leading the money list on the Champions Tour and a member at the Olympic Club. Both guys were good value on the course and easy company during our five-and-a-half hour round. Michael had great support being a local and I found myself hoping he would hole every putt because the cheers were so loud and gave off a great vibe. He holed his second shot on the par-four 14th and the crowd went nuts. It made for a lot of fun — even if I was having my three-putt run at the same time.
We ran across Tiger's group a few times today and I stood and marveled at how many people were out there. Number 16 is a 670-yard (613-metre) par five, and the crowd lined the entire length — and they were packed deep too. The eighth is a par three with a natural amphitheater and the crowd assembled there was easily the biggest I have seen on a golf course. We were on the fourth tee, which looks over it, and I commented to other guys that this is where I would love to be able to take a photo, as it was a fantastic sight with not a blade of grass to be seen between the packed people. I'd love to have that picture on my wall, as it will long be a great memory for me.
When we got to eighth there was plenty of grass to be seen, but I still got a great roar for my par saver to finish off the round, and I started smiling a couple of feet from the hole when I knew I had it! I'm pretty sure the smile didn't come off my face all day — and probably wont again tomorrow. It is a whole lot of fun out there, and I'm enjoying every minute of it (well maybe not the three putts so much, but they rolled beautifully — just 10 feet too long. Oops!)
The pin positions were like nothing I had seen before. They were nearly all around three paces from the side! Tight and tucked and on super-slick greens, it made for a tough day and hats off to leader Michael Thompson for his 22 putts for a 66.  I'm 10 back and had 10 more rolls than him . Despite my official stats saying I hit nine greens, I actually made 10, and had 32 putts not 31. Our scorer lady was so nervous she walked outside the ropes for a large part of the round. A great effort too by Alistair Presnell for his even-par round. He struck it great in our practice round together, so hopefully he can keep that form going throughout the rest of the week.
Off course there has been plenty of fun stuff with my team. We are holding Warwick responsible for the facilities in the locker room being made off limits to non-players as we think security are still trying to track him down for taking a shower after my practice round on Tuesday. Nothing wrong with a bit of a freshen up, I thought, but apparently that's not part of the player-guest package here this week.
It was a long day out there as we made an early start due to not wanting to get caught in any traffic jams that might have been present getting to the course. After the round I did some media stuff, grabbed lunch and headed back to the range with coach John for some tidy-up work. It was a good session and hopefully things will be neater tomorrow. I finished up with some fun stuff, hitting a variety of shots with my six iron to various pins on the range — including one about 100 metres away with a 30 metre slice. It was good to mess around a bit after such a draining day.
Some much-needed pace work on the green next, and then finished up with a massage before joining the traffic queue on the way back to town. It is a 20 minute drive that takes about an hour in the afternoon. Not a lot of fun there, but that's life in a big city.
Tomorrow will be an exciting day as I'm sure the Friday afternoon crowds will be even bigger. Hopefully I can add to my one shot that made it onto TV today — an eight iron into the 12th green to six feet. Missed the putt though, bugger!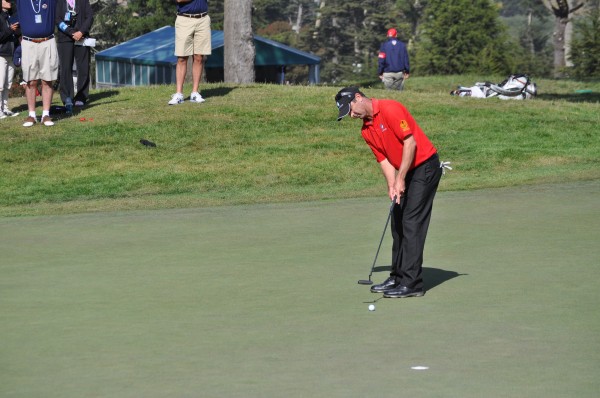 ———————–
JUNE 14 – My final preparation is now done and its all systems go for round one tomorrow.
I finished up my prep with an easy day and lots of work on my body. I was able to get some treatment in the caddy tent, where the medical team is much friendlier and way more helpful than in the players' locker room. I saw the physio this morning who helped out with my super-tight hip flexors, and at the end of my day I went in and had a massage to help keep everything moving freely.
Between treatments there was a bit of work to be done on the range. There were no super stars flanking me today as I went down the far end to get away from the crowds and get into some drills to help straighten things out, but as is the way the range thinned out and the crowds came and watched anyway while I worked on a few things with my coach, John Serhan, in preparation for some of the things I will face out on the course the next four days. Afterwards a few of the crowd come over and asked what I was doing with certain drills, and I had a bit of a chat and explained what each one was for. I always ask a lot of questions, so I'm happy to answer them from interested and inquisitive people.
Now was the chipping/bunker green and some work from the rough. The rough here isn't as severe as on course — probably due to the constant trampling down from players practicing all week. Its much thicker on course, and in my practice out there hardly two shots in a row have come out the same way, so it will be a battle to get it up and down. Best I just stick to fairways and greens!
The putting green was the final stop and they are rolling pure! Super quick and reasonably sloped on course, it will be in my best interests to keep it under the hole  — but that's always easier said than done. I did most of my work on distance and pace control today, and was pretty happy with things when I left.
Two of my team took the day off and went cycling/running around the Bay area and up and down some of the hills that San Francisco is famous for (yep, they are crazy!) while John and David came out to the golf. John was on the autograph trail and did quite well with Luke Donald and Rory, his major collects on the day. No luck from the most recent major winner, who just brushed him off. Can't win them all I guess.
The locker was again full of things to take home including my players gift.  I do it no justice in calling it "a box", but it's a nice one that I'm sure will come in handy at home somewhere). The player spouse gift bag is so full of stuff I haven't even begun to go through it. No doubt lots of things to keep the girls happy.
Given the recent success of the Irish in the U.S. Open, we headed out for dinner at the local Irish Pub in the hope that maybe a bit of their luck might come our way! Actually that's not really how it happened. We went to the Italian place first, but they were closed for a private function and the Irish Pub was just down the street and the nearest option. It's a better story with the first version!
Now I'm off to bed with a bit of relaxation/visualization work and sleep before the first round tomorrow. No doubt I will be nervous, but if I can keep the butterflies in formation like I did in qualifying it should be a fun day!
—————
JUNE 14 – I was working at a corporate day event a couple of years ago and the guest speaker, who had worked at the Australian Institute of Sport,  was recounting how the elite athletes model was a very simple one: if its good for me I do it, and if its not I don't. Simple indeed.
He then spoke of the great swimmer Alex Popov and how he was always so relaxed and chilled and how nothing bothered him, and he told the story of how Alex as a kid was completely different. One day, after yelling back at his coach, the latter dragged him out of the pool by the hair, marched him into his office, and detailed all the things stress does to your body. Alex absorbed the lesson and then simply said:  "I don't do stress anymore!"
I wish I could be as chilled as Alex, but the nerves are growing as the week goes on. It impacts us all in different ways, but with me my body gets tight and it affects my rotation — and my shots start coming out either low left or high right.  Yesterday I had them in abundance. It wasn't much fun, but thankfully I was out on the course with some great guys — Alistair Presnell, Bill Haas and Martin Laird — and as the round progressed, and we chatted, I eased up and found my own rhythm, and even managed to win a fiver off Bill on the back nine (for a birdie, not overall score). They were quality guys and made my day very enjoyable despite not playing anywhere near my best.
The day started with much better striking on the range and at one stage the line up there went (from right to left) Westwood, McIlroy, Summers, Furyk and Stricker, so in terms of highest-ever world ranking the order was 1, 1, 485, 2, 2 (and in current order 3, 2, 830, 36, 11). That said, my golf ball was unaware of the discrepancy and my shots were coming out great. The difference I did notice was how much higher those guys hit it, particularly Rory, and how much further it went —  about a third higher again and  20 yards longer.
The crowds are building at a far greater rate than my nerves, and on several holes lined the entire length of the fairway, which is a pretty cool sight–  if only a little intimidating. Thankfully I enjoy interacting with the crowds, and with my wayward driving I had plenty of chance to get up close and personal. The vibe from the crowd is super-positive, so I will take that onboard as I continue.
I got some good advice from my mate Andrew Tschudin who had played the U.S. Open at Shinnecock a few years back and he said carry a sharpie for all the autographs you will sign. He was right, there have been hundreds on them! I like doing it though, especially for the young kids in the crowd, as I was one of them once and I was always disappointed when a player gave you the brush off.  Bill Haas was particularly good with them yesterday too.
Crowds are not the only difference to events back home and in Asia, but the locker room — and in particular the medical teams — are of a way different order. In Australia we have a physio (Paul Trainor), a chiro and a massage therapist, while in Asia we have one or two physios for the entire field. Totally different story here. I asked around for the tour massage therapist or a physio and got the run around from about 10 different guys who all said they were private and worked exclusively for their guys! The attitude was a little high-and-mighty from a few of them, in my opinion, and so my trainer had to resort to becoming a massage therapist as well. Ouch! Today I will head out early and try my luck in the caddy tent, where the same set up we have in Australia is provided by the tour for the them.
Before leaving the course we did a not-so-quick shop in the biggest merchandise tent I have ever seen! No sign of a recession in the States from what was going through the cash registers here, but we all did our bit to end any downturn to the economy as even with my 20 percent  player discount it was still a pretty fair spend!
Last night the team headed to the ballpark to see San Francisco Giants versus the Houston Astros for a fun night out. We sat down near the fence for the last couple of innings, right next to the Giants bullpen, and it was interesting to watch how they used and rotated their pitchers — as well as note the size of the guys (all big)!  The Giants ended up having a comfortable win and that makes it 2-0 for the home team in my visits to the ballpark — which also means 0-2 for the Astros, as they were also the away team at the game I went to in Chicago.
The guys from the tour said they would get me up on the scoreboard, but I doubt the cameramen could have found us hidden in the back of the stands. Still, Steve Stricker and David Toms got some time up there as part of the "faces in the crowd" thing they do. It would have been cool to have joined them, but one obstacle would have been knowing who I was or what I looked like! I'm not sure my profile has grown nearly enough for that … yet!
The ballpark is actually visible from my hotel room, but as we were running late we jumped in a taxi for the trip there. On the way back we walked, and boy was it cold.
Well that brings to an end another exciting and eventful day at the U.S. Open. Hopefully tomorrow will be a bit more chilled as we add any final touches to my preparation.
———————————-
JUNE 12 – The first official day of practice is done and dusted and I'm ready for more action! It was a real buzz out there and the crowds grew as the day went on. I can only imagine what they'll be like later in the week.
I played with fellow Aussie Brendan Jones and a couple of his Japan Tour mates, and between the three of them they have 42 professional wins — including four this year. It was a pretty low-key practice round for me as I was seeing holes 11 to 17 for the first time and trying to work out how to thread it through the overhanging trees that line the fairways and approaches to the greens.
Staying out of the rough is a high priority. Even though its not really long,  the rough is very thick and I won't be able to reach many greens from off the fairways — especially with the rock-hard, slick surfaces here at Olympic!
The range set up is pretty cool! You can get any brand and type of ball that you play, and they put your name on a board behind you so people watching will know who you are. Even even then I'm sure most people wouldn't know who I am!
My locker is also filling up. My Titleist products were there when I arrived, and this morning there was a blanket from The Olympic Club. I gather tomorrow there will be a "players' gift" (as if playing wasn't enough!)
My team is having a ball wandering around inside the ropes, and to keep themselves amused they were having a few bets on the outcome of our practice shots. I cost Matt, my trainer, a few dollars with a birdie on the 14th and on several other occasions when they bet on three  out of the four of us hitting the green in regulation on a certain holes, or all of us being on the fairway. Often I was last off the tee and would be the deciding factor on the bet. As they say, every shot pleases somebody!
Matt put me through a long stretch after the round today as I have gotten quite tight with all the travel and golf I played last week in Chicago, and it wasn't a lot of fun. I had to give him a kick at one stage when working on my oh-so-tight hips, but it was beneficial as I moved much more freely on the range afterwards. Definitely a case of "no pain no gain" right there  — and probably payback for the birdie on 14 …
———————-
JUNE 11 – It is hard to describe my feelings today, but I'll do my best.
I arrived Sunday from Chicago and was given the keys to a new Lexus with 38 miles (about 60 kms) on the clock and waited for the rest of the crew to arrive from Sydney. Slowly we all gathered, and when David Epper (my sponsor and caddy this week) arrived, we were all set to go.
At The Olympic and I felt like Vinny Chase from Entourage with us all walking across the car park toward the putting green. First stop was registration and photo id credentials for David, John Serhan (my coach) and Matt Crowe (my fitness trainer). I think they are as excited as I am just being here and soaking it all up — even before official practice. A quick scout of the area, a few putts, and out to the course we ventured.
The course is magnificent to play and the greens are quick and firm already.  A couple of USGA guys came out late in the day to check the speed and the 17th green was running at 16 down the slope and 12 up it, while the 18th was just under 13.
From first look the hardest thing for me will be holding the greens as I'm far from being the longest off the tee and will be going in with some mid to long irons on several holes. Keeping it on the green and out of the thick collar over the back will be the key to a good week.
All the guys had a roll on the greens, and we had a great moment — even if probably highly inappropriate — when on the ninth green the other member of our group here, Warwick Burton, ducked into the players area and grabbed some ice creams.  We indulged while hitting a few one handed putts, which I rolled pretty well.  It's a great feeling to be surrounded by my team who have given me such unwavering support through good and bad times, and for them to be here and share in my first Major start is a pretty special thing.
We almost had a huge group highlight on the second fairway as we saw Tiger playing the first, so we were hoping he might catch up and play a few holes, but he only played two and disappeared. Maybe another time. I surprised myself in that I wanted him to catch up and have the chance to play a few holes with him. Previously I would have run to keep ahead for fear, I guess, of looking silly or being blown away by his game. Today I felt confident enough to take the opportunity if it presented.
My form was good out there. It is a long time until Thursday, but it was a positive start to the week and the course from the ten holes I played really suits my eye — which is important for me as I'm such a visual player. Tree-lined fairways are always something I like to see as they give the hole real definition — and give me something to aim at.
Afterwards we had a quick scout of the locker room. It is all in alphabetical order, so I'm camped next to Stricker and across from Watson, Watney and Westwood. It is pretty cool to be among these guys, and hope they are friendly neighbours! My balls and gloves from Titleist were already in my locker and a player gift and spouse gift will apparently be delivered Tuesday.
We finished up the night with me as last player to leave the course, and headed for a quick Japanese meal around the corner. The guys were all tired after their long flight and we have an early start in the morning with a 0645 pick up at their hotel. I'm the taxi driver for the team as well for the week.
It was a cracking start to the week, and I finished the round of in style with a birdie on 18. Hopefully a sign of things to come …
P.S. Chicago also finished up in style as we got a foul ball into the booth and it was neatly caught by co-host Darren Jackson. He presented me with the ball and both announcers signed it. And the White Sox won!
————–
CHICAGO, June 10 – Well my time in Chicago is drawing to a close and it has been an awesome 10 days so far. Qualifying was the obvious highlight, but the city has not let me down from the time I got here. I'm finishing my stay in style as a guest of play-by-play commentator and former White Sox pitcher Ed Farmer in the announcers booth this afternoon at the White Sox vs Astros game. I met Ed on the range at Cog Hill and he asked me to be his guest after a chat (everyone knows I love a good chat!).
I had two fantastic days out at Cog Hill and played the Dubsdread course, former home of the BMW Championship. I couldn't fathom what the PGA Tour guys don't like about the course. They must be massively spoilt with everywhere else they play, as it was fantastic and one I'd happily like to play again. Big thanks to Kevin Weeks and Garrett Chousard for their help in allowing me to play and practice out there. It was a great facility and Kevin's putting studio is something to behold — a simply amazing set up. I had a couple of solid days practice and am all set to head to San Fran tomorrow morning and see what the Olympic Club has in store for me.
That said, I'm out tonight for a farewell dinner with my mate Brett and his lovely wife Laura who have put up with me turning their lounge  into a bomb shelter for the week, and I'm sure it will be fun night. We have been out to dinner the last couple of nights — firstly with a good mate from home (Sydney Invitational team member Brad French) who took us to Tavern on Rush right in the middle of what's known here as the "Viagra Triangle", and then last night with a traditional Chicago Style Deep Dish Pizza. That was nothing to rave about, but it was filling before we headed up to the Observatory at the Hancock Building and its 1,000 ft high views. Heights don't do much for me and I was feeling a bit jelly legged at times looking down upon the city, but the views were spectacular at night and I have nothing bad to say about Chicago in the summer. Pretty sure I would be telling a different story about it in the winter, as I don't do cold!
My game is still in good shape and my numbers on Trackman at Cog were good numbers for me. I did OK in the putting lab and gained some useful information as well as a truck load of ideas for the indoor facility my coach John Serhan wants to set up at St Michaels, and also some great stuff for Glenn Whittle to use in his putting studio. The opportunities over here are massive and they do things well.
Time to jump on the red line and head off to the ball game. I will do my best to imagine what its like to be out in the middle there today with 20,000-plus people watching, as it might come in handy next week at some stage, hopefully!
——————————
JUNE  9 – It is kind of the antithesis of the old Talking Heads song As The Days Go By in which he asks "how did I get here? This is not my house, this is not my beautiful wife … ", but for me I remember every step of the way here and there have been many — and not all of them in a forward direction.
To cut a long long story short I will start at my impromptu car park meeting with my sponsor David Epper of Accident Health International  in which he was arriving at work the same time as I was leaving to go home from the gym after another missed cut in the Volvo China Open.
The year hadn't started well, and as we chatted I said I didn't think I would go over to the U.S. Open qualifying as I wasn't playing well. He said you should go, and if you don't make it then come to Vegas and play some golf with us and then join up on our U.S. Open tour (which included games at Pebble Beach, Spyglass Hill and Spanish Bay), so plan B sounded like a good back up plan. It was a fortunate meeting as two month later I find myself teeing it up in my first major at The Olympic Club in San Francisco after leading my qualifying in Chicago with rounds of 66, 67 for an 11 under total!
There were two spots up for grabs and Tim Herron — a multiple winner on the PGA Tour — grabbed the other spot. Third place was back at five under so there was a nice buffer, but I didn't know that while on the course and was doing all I could to keep the butterflies in formation — and there were plenty of them flying around!
Since qualifying its been a whirlwind of media interviews and a ton of emails, texts and Facebook posts to which I have tried to reply to most (sorry if I haven't got to you yet) and general well wishes from people far and wide.
I'm thankful for the week off between qualifying as the emotional high was massive, and its been nice to have Chicago as a distraction. The golfing community over here has been great, and I have been able to play some really nice courses with my mate, Brett Folkes, who I'm staying with (actually sleeping on his couch). I've been taking in Chicago in my own version of Ferris Bueller's Day Off. I didn't get to drive a Ferrari or impersonate any sausage kings, but did have a great day taking in what is a great city (highly recommend is the viewing area on level 16 of Trump Tower and if you are there before 2pm its empty so you can take as many pics as you like uninterrupted!)
It will be back to work tomorrow and time to start building the focus again for what lies ahead in San Fran. I spoke to my good mate Gavin Coles and asked him what to expect, and apart from course info he said there will be more people on the course than you have ever seen before — something like 45,000 to 50,000 per day!
I played the Masters at Kingston Heath when Tiger first came down and it seemed like there was no room to move with 20,000, so it will be something to behold.  I was in San Francisco last year visiting a mate after missing my connection to U.S. Open qualifying from the Nanshan China Masters where I finished seventh, so I am vaguely familiar with the city but have yet to set eyes on Olympic. From all reports it's a great course and should be a tough challenging week ahead.
I have a great team behind me with my sponsor David Epper, my coach John Serhan and my trainer Matt Crowe as the main components as well as a large support base across many fields helping with this opportunity. They have great belief in me and help me out in any way they can, and it will be great that they are all here to join in and soak up the U.S. Open atmosphere. David will caddy for me as he has done during several events over the Australian summer and Johnnie Walker in India, and is a great support on and off the course. The downside for him is that he now misses Vegas, Pebble Beach etc and gets to carry a bag up and down hills for seven days, but I know he will do a great job and hopefully enjoy being inside the ropes at a major (except for any wayward drives I hit!).
The tour he was on was run by other great supporters of mine in Matthew Laverty and Gary Dawson and those guys and the 32 others on the tour will be out on the weekend to watch, so here's hoping I can still be around.
As a mate of mine once told me, he doesn't know anyone happier than me to be working on weekends!