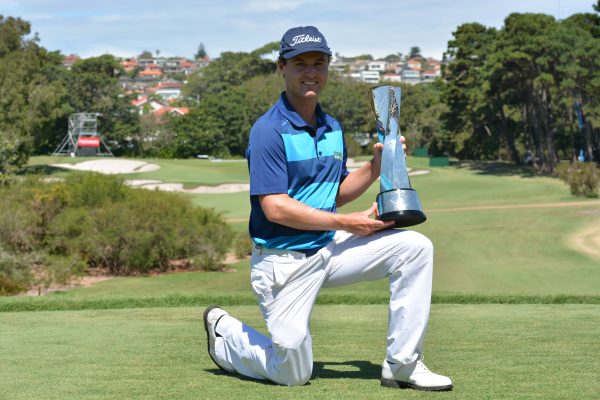 Two-time OneAsia winner Matthew Griffin has set his sights on new horizons after clinching the tour's 2013 Order of Merit Title at the season-ending Emirates Australian Open.
The 30-year-old from Melbourne has led the money list since winning the weather-shortened SK Telecom Open on Korea's Jeju Island in May and has been such a consistent performer that he hasn't missed a cut on OneAsia all year.
Griffin earned U.S. $257,480.20 in 2013, beating fellow season tournament winners Ryu Hyun-woo ($207,990) and Choi Ho-sung ($198,615) into second and third respectively.
The title gives Griffin a three-year exemption to OneAsia's lucrative million-dollar-minimum events including those co-sanctioned with the European and Japan Tours such as the Volvo China Open and Thailand Open.
"I always try to set myself goals and this year was to win the OneAsia Order of merit," Griffin said at the Emirates Australian Open where he finished joint 24th after closing with a two-under-par 70.
"My main goal for next year is to try to do well in the (European and Japan Tour) co-sanctioned events and try to get some status there as well."
He would be following a trail blazed by Korean OneAsia regular Choi, who parlayed victory at the Japan Tour co-sanctioned Enjoy Jakarta Indonesian PGA Championship this year into full status in the Land of the Rising Sun, where he is 37th on their money list.
Griffin's OneAsia breakthrough came at the Charity High1 Resort Open in 2012 almost a year after his maiden professional victory in New Caledonia on the PGA Tour of Australasia.
A natural "lefty" who plays right-handed, the Griffin joins an illustrious growing band of Order of Merit Title winners since OneAsia was founded in 2009.
Countryman Scott Strange won the inaugural title by capturing the Volvo China Open crown and finishing runner-up at the Australian PGA Championship presented by Coca-Cola. Strange was in the running this year too after strong performances at the Thailand Open and Enjoy Jakarta Indonesian PGA Championship, but had to settle for fourth with winnings of $189,232.
China's Liang Wenchong won the 2010 money race on the back of victories at the Luxehills Chengdu Open and Thailand Open. With wins at the 2009 Midea China Classic and 2012 Nanshan China Masters, Liang is OneAsia's most successful player, having so far banked $927,605.
Both Strange and Liang also have a foot on the Japan Tour where they are 49th and 50th respectively in the standings.
Andre Stolz, a past winner on the U.S. PGA Tour, the Japan Tour, the Nationwide Tour (now Web.com Tour) and the PGA Tour of Australasia, was crowned OneAsia Order of Merit champion in 2011 after claiming the Indonesian PGA Championship and Thailand Open.
The Australian struggled with injuries on OneAsia in 2013, finishing 50th, but retains full status by virtue of his Order of Merit Title.
Korean Kim Bi-o was the 2012 winner after back-to-back victories at the GS Caltex Maekyung Open and SK Telecom Open and finished 43rd on the money list this year.
Having played with a niggling wrist injury for the latter part of 2013, Griffin now has a date booked with the surgeon that he hopes won't thwart his new ambition.
"I've got to have some minor (left) wrist surgery which will put me out for a couple of weeks but hopefully if I can get that out of the way I can have a good year," he said.
"I had to limit my schedule a bit this year because of it. It really is just minor, but if I play too much golf it gets a bit sore and I've had to have some cortisone injections to get through to the end of the year.'
Before then, however, he will play OneAsia's Ryder Cup-style Dongfeng Nissan Cup in Shenzhen from December 12 – 15, where he will represent an Asia-Pacific Select side led by legendary five-time Major winner Peter Thomson against Team China.
"It'll be nice to play in the team especially with Peter Thomson in charge. He's one of Australia's best-ever golfers so it'll be nice to do that. I think it should be a fun week and it'll be nice to play a bit of golf with the Chinese guys.
"I played a bit of golf for the Australia national team — I really enjoyed that — so being teamed up with another player and getting into a bit of that team competition will be great."
Griffin's success has meant much more stability off the course too, and he has prudently invested his winnings.
"Yeah, I bought a house — the two wins on OneAsia really helped me get to that," he said.
"I got a nice little townhouse in Highett (a suburb of Melbourne) about 20 minutes outside the centre of the city, right near Royal Melbourne (Golf Club). Great location. It's a big thing in Australia to get your own house — they're so expensive.
"I've still got the little thing of a mortgage to pay off though."
Top 10, OneAsia OOM
| | | | |
| --- | --- | --- | --- |
| Pos. | Name | Total (US$) | Played |
| 1 | Matthew GRIFFIN (AUS) | 257,480.20 | 7 |
| 2 | RYU Hyun-woo (KOR) | 207,990.94 | 5 |
| 3 | CHOI Ho-sung (KOR) | 198,615.98 | 4 |
| 4 | Scott STRANGE (AUS) | 189,232.34 | 6 |
| 5 | LIANG Wen-chong (CHN) | 130,609.86 | 3 |
| 6 | Nick CULLEN (AUS) | 124,902.18 | 8 |
| 7 | KIM Do-hoon 753 (KOR) | 116,418.23 | 5 |
| 8 | SONG Young-han (KOR) | 106,466.70 | 5 |
| 9 | David McKENZIE (AUS) | 103,117.39 | 7 |
| 10 | Rhein GIBSON (AUS) | 97,870.29 | 5 |