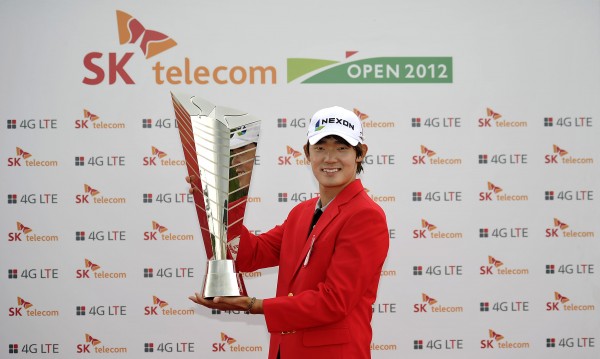 Kim Bi-o secured his second OneAsia victory in a row and leapt to the top of the Order of Merit on Sunday with a three-shot victory in the SK Telecom Open at Pinx Golf Club on the Korean holiday island of Jeju.
The 21-year-old home favourite fired rounds of 68-68-67-67 for an 18-under-par total of 270 around the tricky 7,361-yard (6,735-metre) course, beating a hard-charging Park Sang-hyun into sole second place.
He earned 200 million Korean won for the win (around U.S.$ 170,000), bringing his earnings on OneAsia, the Asia-Pacific's most lucrative regional tour, to nearly a quarter of a million dollars in 2012 alone.
It was his third title on the burgeoning OneAsia circuit following a five-shot triumph in last week's GS Caltex Maekyung Open, and a play-off victory at last year's Nanshan China Masters.
Only China's Liang Wenchong has won three OneAsia titles, although Greg Chalmers claimed back-to-back victories at last year's Emirates Australian Open and Australian PGA Championship, presented by Coca-Cola.
Bi-o had seen his two-stroke overnight lead evaporate when Park, playing in the group ahead, started like a bullet train to score three birdies and an eagle on his first four holes. He made the turn in just 30, and then eagled the 10th to move two strokes clear.
"I could hear a few roars up front, but I'm kind of glad I had no idea what was going on," said Bi-o.
"I think if I knew how he was playing, what he was doing, I would probably have tried to be a bit more aggressive — and that could have been dangerous."
The game turned on a half-hour spell over the closing holes where Bi-o showed the class that suggests it is only a matter of time before he is back playing on the U.S. PGA Tour.
After making birdie on the 14th, Bi-o hit an aggressive second shot on the par-five 16th behind a thick clump of grass, in deep rough, before pulling off a miraculous rescue that landed the ball four feet from the pin, which he converted for another birdie.
Ahead on the par-three 17th, Park put his tee shot in a greenside bunker and splashed out too far, making bogey for a two-shot swing.
A disconsolate Park saw any remaining hopes of victory evaporate with a bogey on the 18th, while Bi-o closed out with a routine par to claim the traditional red jacket.
"Its a great feeling to be playing so well," said Bi-o, who at 20 was the youngest player on the PGA circuit in 2011, but lost his card at the end of the year and is back playing the Nationwide Tour.
"I am delighted to have done so well on OneAsia. The rewards for the hard work have paid off."
Bi-o nevertheless looks like a veteran compared to 16-year-old amateur Kim Si-woo who closed with a two-under par round to share third place with Joo Heung-chol.
New Zealander Mark Brown shot a 69 to finish nine-under for the tournament in sixth place, the best of the non-Koreans, while Indonesian Rory Hie was a shot further back after finishing Sunday level par.
PGA Tour veteran K.J. Choi, arguably the best player Asia has produced and a three-time winner of this event, finished four under for the tournament in joint 13th place.
The OneAsia circuit now takes a break for two months, but many of its members are traveling to the United States as the USGA gives the top 25 on the Order of Merit exemption to final qualifying for the U.S. Open in June.
Several members have also qualified to play in The Open Championship in Britain in July.
The next event on OneAsia is the U.S.$1 million Thailand Open at Suwan Golf and Country Club from August 9-12.