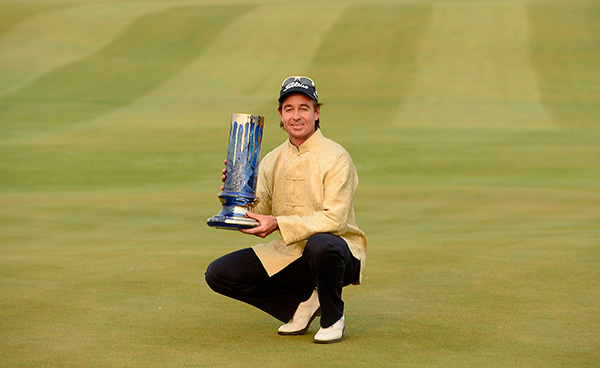 Brett Rumford became the first Australian to win back to back European Tour titles for more than 40 years with a short game masterclass at the Volvo China Open.
Jack Newton, in 1972, was the last Australian to achieve the feat, and Rumford followed in his footsteps by adding the Volvo China Open to his victory in last week's Ballantine's Championship.
The two wins were secured in contrasting fashion, as Rumford had to overcome a nailbiting play-off in Korea last week, but strolled to the title by four shots at Binhai Lake, in Tianjin.
Rumford surged clear with five birdies in ten holes to turn the final round into a procession, and a brace of bogeys late in his round were of little consequence as he signed for a four under par round of 68 and a 16 under par total to finish four clear of Finland's Mikko Ilonen.
Rumford was 138th in The Race to Dubai prior to his win last week, but now leads the way on €811,806, having won €775,406 in his past two tournaments.
"It's surreal," said Rumford. "I'm more than pleased, but its not my doing completely — I have a great team around me."
"It's the first time I've actually played the week after a win. It's hard to get my head around it at the moment.
"It was such a long wait for my last win, so to win again this week is beyond my wildest dreams. Pegging it up this week, the confidence was high and the course was really to my liking.
"Physically yesterday I was a bit flat, but I got myself up this morning, and got the job done. It was a tough day in that wind, and credit to Mikko [Ilonen], because he pushed me hard. But I managed to give myself some breathing space with the three birdies on the bounce. The bunker shot on the 12th was definitely the turning point, because I could so easily have dropped a shot there. After that, I was always pretty confident of not letting it slip, although those two late bogeys gave me a bit of a scare."
Ilonen's 71 saw him finish on 12 under, one ahead of France's Victor Dubuisson, with first round leader Robert-Jan Derksen taking fourth.
SCORES
After round 4 of the Volvo China Open 2013 being played at the par 72, 7,667 yards Tianjin Binhai Lake Golf Club course (a- denotes amateur):
272 – Brett RUMFORD (AUS) 68-67-69-68.
276 – Mikko ILONEN (FIN) 69-63-73-71.
277 – Victor DUBUISSON (FRA) 71-72-66-68.
278 – Robert-Jan DERKSEN (NED) 66-70-73-69.
279 – Ricardo SANTOS (POR) 70-72-68-69, Pablo LARRAZABAL (ESP) 71-66-69-73.
280 – Andreas HARTO (DEN) 72-71-70-67.
281 – Felipe AGUILAR (CHI) 71-73-68-69, Paul CASEY (ENG) 71-68-72-70, Thomas BJORN (DEN) 70-73-68-70, Joost LUITEN (NED) 73-67-68-73.
282 – Ricardo GONZALEZ (ARG) 73-71-67-71, Kiradech APHIBARNRAT (THA) 68-67-72-75.
283 – Raphael JACQUELIN (FRA) 68-72-75-68, Jeev Milkha SINGH (IND) 72-69-73-69, Andy SULLIVAN (ENG) 74-68-72-69, Aaron TOWNSEND (AUS) 69-70-74-70, Gregory HAVRET (FRA) 72-70-71-70, Lee SLATTERY (ENG) 69-68-74-72, Paul LAWRIE (SCO) 69-72-70-72.
284 – Emiliano GRILLO (ARG) 73-71-70-70, Paul WARING (ENG) 72-68-73-71, Steve WEBSTER (ENG) 73-67-71-73.
285 – Johan EDFORS (SWE) 73-69-73-70, Mark FOSTER (ENG) 70-69-75-71, Stephen GALLACHER (SCO) 70-71-71-73, Matthew BALDWIN (ENG) 70-71-70-74, PARK Sang-hyun (KOR) 69-70-71-75.
286 – Tommy FLEETWOOD (ENG) 71-70-72-73, Soren HANSEN (DEN) 72-69-72-73, Richie RAMSAY (SCO) 71-68-73-74, Damien McGRANE (IRL) 73-66-73-74.
287 – AN Byeong-hun (KOR) 73-68-74-72, Markus BRIER (AUT) 71-71-73-72, Moritz LAMPERT (GER) 72-72-71-72, Matthew GRIFFIN (AUS) 70-68-76-73, Soren KJELDSEN (DEN) 72-68-74-73, DOU Ze-cheng (am, CHN) 70-72-72-73, Branden GRACE (RSA) 74-67-72-74, Graeme STORM (ENG) 70-68-74-75.
288 – Nick CULLEN (AUS) 72-69-78-69, Eddie PEPPERELL (ENG) 75-68-75-70, Richard BLAND (ENG) 72-71-75-70, Estanislao GOYA (ARG) 70-74-74-70, Kristoffer BROBERG (SWE) 74-67-75-72, Edoardo MOLINARI (ITA) 75-68-73-72, Gaganjeet BHULLAR (IND) 74-69-72-73, Alexander NOREN (SWE) 70-73-71-74.
289 – Andrew DODT (AUS) 72-71-77-69, Magnus A CARLSSON (SWE) 71-73-72-73.
290 – Prom MEESAWAT (THA) 76-68-76-70, LIANG Wen-chong (CHN) 74-70-75-71, Fabrizio ZANOTTI (PAR) 71-69-77-73, Rafael CABRERA- BELLO (ESP) 72-70-72-76.
291 – Michael HENDRY (NZL) 74-67-75-75, Richard FINCH (ENG) 71-70-75-75, Terry PILKADARIS (AUS) 69-73-74-75, JB HANSEN (DEN) 73-69-71-78.
292 – Niclas FASTH (SWE) 73-68-78-73, Garrett SAPP (USA) 70-74-74-74.
293 – Joel SJOHOLM (SWE) 74-65-76-78, Peter WHITEFORD (SCO) 73-69-73-78.