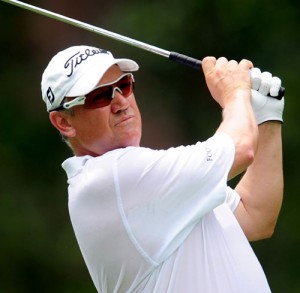 A unique opportunity to caddy for Australian golfing legend Peter O'Malley will go under the hammer this week to help flood recovery efforts in Toowoomba, in conjunction with the 2011 Cellarbrations QLD PGA Championship to be played from Thursday 24th to Sunday 27th February.
Despite severe flood damage, City Golf Club is well on the road to recovery and are committed to staging the PGA Tour of Australasia event and this week's auction will be one of many efforts to help raise additional funds to rebuild the local community.
As one of the headline players in the Cellarbrations QLD PGA Championship to be played at City Golf Club, Peter O'Malley is tipped to be among the contenders come the final round following great performances at the 2011 Cellarbrations Victorian PGA Championship and the 2011 Surf Coast Knockout.
But who will be carrying his bag around City Golf Club Toowoomba?
The auction to caddy for O'Malley in both the official tournament pro-am and the tournament proper is now open with the auction set to close at 5pm on Friday 19th February.
In addition to the main prize the highest bidder will also receive a framed memorabilia item to commemorate the occasion including an autographed caddy bib and photo from the Cellarbrations QLD PGA Championship.
The highest bidder will also receive Cellarbrations QLD PGA Championship merchandise and have the opportunity to rub shoulders with other high profile Australian pros including Craig Parry, 2011 Victorian Open winner Paul Sheehan and inaugural Surf Coast Knockout victor Scott Laycock.
"We are all really looking forward to the week's festivities and if this is a way that I can personally have both a moral and financial impact on those impacted by the floods, then I feel that is the least I can do," said O'Malley.
Money raised from the auction will directly benefit the local Toowoomba region with funds going to the Toowoomba Chamber of Commerce Flood Relief Appeal.
To bid on this chance of a lifetime opportunity go to www.ebay.com.au and search for 'Caddy for Peter O'Malley' or go direct to the page by clicking here.
The 2011 Cellarbrations QLD PGA Championship will be played at City Golf Club, Toowoomba from Thursday 24thto Sunday 27thFebruary.