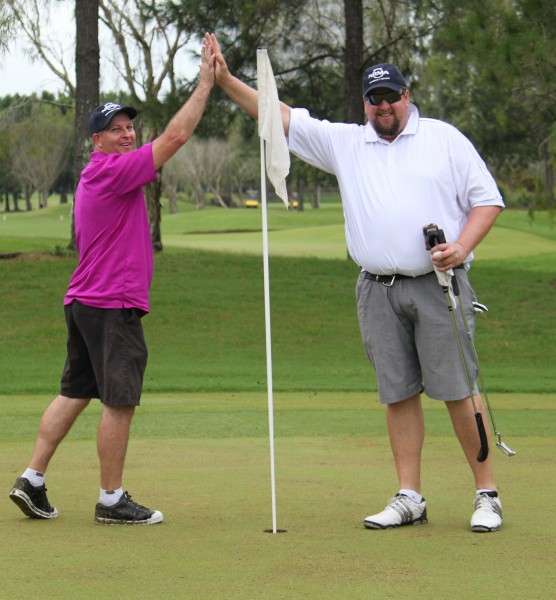 GARRY Roberts and Shane Hogan only had one thing on their minds after winning the 36-hole Auto Club Golf Championship final at RACV Royal Pines Resort on the Gold Coast – passports.
That's because the major winners' prize was a trip for four to Malaysia to play in the World Amateur Inter-Team Golf Challenge next month.
After a big night of celebrations at the gala presentation dinner, Garry arrived home to check if his passport was valid.
It was, but Shane didn't even have a passport and hurriedly had to apply for one to ensure he, too, would be on the plane to Malaysia.
The pair, representing Yamba Golf Club, won the event after carding a 36-hole total of 103 points for a remarkable come-from-behind win in wet and heavy conditions.
On day one, the duo returned 48 points to be in third place behind Southern Golf Club's Dexter Plack and Jack Miltos (51 points) and Mount Lawley's Travis and David Northey (50 points).
After a good night's rest, Shane and Garry fired up in round two scoring a massive 55 points to edge out Dexter and Jack (50 points) by two points.
Oxley Golf Club's Chris Bath and Barry Thoms (46-52 – 98) finished third.
"I couldn't believe it," said stunned winner Garry Roberts.
"We had 50 points walking up the last and I said to Shane 'that's a good score'.
"I made a seven for two points on the last hole and then Shane holed a monster putt for a birdie and five points … unbelievable.
"When the big fella got that five-pointer he couldn't stop smiling."
Shane was the team's rock on day one, according to Garry.
"Shane played really well and got most of the points to keep us in contention," he said.
"On Friday (day 2), we teamed together really well and one of us had a ball on the fairway most of the time.
"Shane has a new Titleist driver and he was really consistent off the tee.
"The guys we played in the second round (Peter Lambert and William Thomas Basan from Magenta Shores) were really nice blokes.
"They urged us on a bit even though they were in the top-four themselves."
Garry, who plays off a handicap of 33, and Shane, off 26, qualified for the final after winning the regional event at Yamba Golf Club.
"I found out about the event in Inside Golf magazine, which I pick up every month from the club," Garry said. "Shane and I are members at Casino Golf Club, but they didn't have a regional event so we entered at Yamba.
"I'm really glad we did because it's an unbelievably good event.
"It was such an enjoyable experience and the people we met from all around Australia and New Zealand were just the nicest people.
"There's definitely a wow factor to the Auto Club Golf Championship.
"Tournament director John Harriss and his team did a great job and the gala dinner, with Brett Ogle as emcee, was fantastic.
"We had a ball and would love to come back again next year."
More than 2500 golfers took part in regional qualifiers with 48 pairs from around Australia and New Zealand making it to the final.
As their prize, the regional winners each received a three-night trip to the Gold Coast for golf, fun and luxury at RACV Royal Pines Resort.
"This year we are hoping to attract 5000 competitors and in 2014 we are aiming for 10,000," Harriss said.
Still, Garry and Shane have a dilemma. They have to mull over who will join them at the World Amateur Inter-Team Golf Challenge.
"We talked about it in the car on the way home," Garry said. "There are so many people we can take, but whoever we choose we are bound to step on someone's toes.
"We will take someone whose company we enjoy and who we get along with.
"When I arrived home and broke the news to my wife Jackie she said, 'I have a passport, I'll go with you'.
"I said, 'yes, but you don't have a handicap'. Jackie's whole family play golf and she is a handy golfer, but she doesn't have a handicap."
Jackie might not make the "team", but the odds of her going as a member of the support crew and gallery are extremely good.
"Jackie's already been on the internet looking it up and is pretty keen to go," said father of four, Garry.
——————————-
Ace amateurs drive away winners
NO ONE could wipe the smiles off the faces of Aussie Nelson Delpledge and Kiwi David James at the Auto Club Golf Championship.
That's because both players drove away with a brand-new Suzuki motor vehicle – Nelson winning a Suzuki Kizashi for a hole-in-one in a regional event at Victor Harbour in South Australia and David a Suzuki Alto after winning a four-person shootout at RACV Royal Pines Resort.
David, from Wellington in New Zealand, edged out Grace Zabajnik, Garry Roberts and Warren Byrnes in the shootout.
Suzuki Australia general manager Tony Devers was at RACV Royal Pines to present Nelson and David with the keys to their new cars.
"How good was that," exclaimed excited gala presentation dinner emcee Brett Ogle from Fox Sports.
More than 200 attended the magnificent Scottish-themed gala presentation dinner.
A formal precession from the RAAF Amberley Pipe Band Guests ushered in the guests who enjoyed a sumptuous meal and entertainment by special guest, famous Scotsman "Sir Sean", flown in especially for the evening.
Ogle, too, ensured it was a fun-filled night by sharing his golf knowledge and adding a personal touch to the event.
Earlier in the evening, Ogle interviewed one of Australia's hottest golfing prospects Stacey Keating.
Keating was a tournament guest and spent the final day on the par-3 11th tee greeting players and hitting tee shots to the 11th green.
If a competitor's ball finished closer to the pin than Keating's they won a prize.
The two-time Ladies European Tour winner and Women's Victorian Open champion peppered the flag all day, but a few competitors did manage to claim a prize.
Of course, the major prizes went to inaugural champions Garry Roberts and Shane Hogan and car winners Nelson Delpledge and David James.