The Open Championship returns to historic Muirfield this month for the first time since Ernie Els' triumph on a late Sunday afternoon in 2002 following a rain and windstorm of immense proportions only the day before.
Located in the East of Scotland, Muirfield is a meaningful Open Championship venue for many reasons. It was built in 1891 by the Honourable Company of Edinburgh Golfers, the oldest organised golf club in the game. Muirfield was designed in a distinct way by the legendary Old Tom Morris and its initial Open Championship in 1892 was the first tournament staged over 72 holes. In its more recent history, Muirfield was the scene of Jack Nicklaus' first Open Championship victory in 1966. That year he won by a single stroke over Dave Thomas and Doug Sanders.
In 1972 Nicklaus had the extraordinary opportunity of attempting to win the third leg of the calendar grand slam at Muirfield. His charge came agonizingly close as Nicklaus posted the clubhouse lead that Sunday before Lee Trevino finished one stroke better to end the former's quest for glory.
Thirty years later in '02 Tiger Woods, at arguably the height of his best golf after winning seven of eleven majors, faced that same golden opportunity to notch the third leg of the slam at Muirfield. Trailing by two going into Saturday, Woods faced the teeth of a remarkable wind and rain storm that sent his chances at glory into the nearby North Sea with a career-worst 81.
However Woods' indomitable will to compete resurfaced immediately when he closed with a 5-under par 66 in his final round to finish six shots out of the four-man playoff between Thomas Levet, Steve Elkington, Stuart Appleby, and the eventual champion Els.
The defending 'champion golfer of the year' has the unique opportunity to make a double defense this year as the winner of the last Open Championship held at Muirfield as well as last year's championship at Royal Lytham and St. Annes.
"It's going to be great," Els said of his double defense. "I can't wait for it. It's one of those really special deals. To get an opportunity to do that, not too many guys have had that opportunity."
The two-time Open champion, who also lost in a playoff in '04 at Royal Troon to Todd Hamilton, has a strong sentiment toward Muirfield.
"It's going to be a really special week," Els said. "It's also one of my favorite links courses."
Els finished in a tie for fifth place at his other Open Championship appearance at Muirfield in 1992. So he will take a strong record indeed to this year's championship.
Last year's Open Championship may ultimately be remembered for the player who lost it as it will be for Els winning it. Australian Adam Scott, who is now the decorated US Masters champion, agonizingly let the claret jug slip through his grasp by bogeying the final four holes at Royal Lytham only a year ago.
However, Scott does embrace the mentality and challenges of taking on links golf.
"I love it," Scott said. "It's a tough adjustment because we don't play it enough. I wish I had more than two weeks or a week to do it. I think if I went to Scotland (for two months straight) and played just links golf I'd be a big favourite."
He'll be a favourite regardless as his form has continued strongly since Augusta with top twenties in the Players Championship in May and the Memorial in July at Jack Nicklaus' Muirfield Village, which hosts this year's President's Cup.
Scott missed the cut in '02 at Muirfield by only one shot but is relishing his chance to get back to a course that he seems to appreciate nonetheless.
"I just remember a great golf course," Scott told Inside Golf. "I'm excited to go back and play. I thought it was such a fantastic course."
Muirfield is a course that also is endearing to '09 Open champion Stewart Cink.
"It's one of the best golf courses in the whole world," Cink said. "I think what makes it so good is that Muirfield has a circular set of nines."
Cink refers to the layout of Muirfield, yet another distinct aspect of the course, which has its outward nine literally on the outer rim of the links as the inward nine is encompassed within it. It's a design feature by the witty Old Tom Morris that puts all the more into play what is historically one of the Open Championship's strongest defenses: the wind.
"With the variety of winds you'll get," Cink said, "You pretty much hit everything, all different types of wind direction, and the holes curve this way and that. It's just a thorough examination of each of your shots."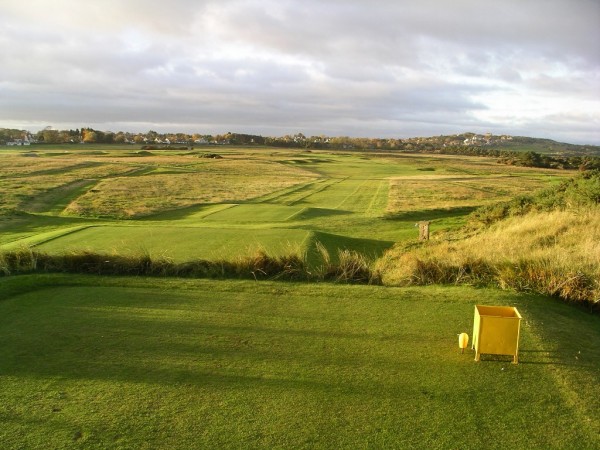 There is certainly a strong track record of American successes in the Open Championship, especially in recent years. Eleven of the past eighteen champions hail from the States. But what may seem a paradox here is that these links venues are almost never seen on a week in and week out basis by these American touring pros.
Many of them are only able to get to Great Britain and Ireland a week early such as Cink and Woods, and a few even play the week before in the States at the US PGA Tour's John Deere Classic and don't get to a links course until the Monday of championship week.
Regardless of what Americans are doing to prepare for golf's oldest championship they all must deal with the challenge of the time change from the States to the UK.
Most American PGA Touring pros live either in Arizona, which is eight hours behind Greenwich time, or in Florida, which is five hours behind.
Jim Furyk takes the more active approach with the inevitable jet-lag that ensues for Open Championship week.
"I think the key is being active and move around," Furyk said. "You're going to feel like crap the first couple days whether you like it or not. Just to get up and swing and hit and go play even if you're not playing that well just go do it."
Some players, including Zach Johnson, play at the US PGA Tour's John Deere Classic the week just preceding Open Championship week.
Johnson and a number of other Americans then take the provided flight from the Deere tournament that takes them straight to the Open Championship venue on Sunday night, arriving Monday morning.
Johnson has a huge passion for the year's third major.
"I enjoy it," Johnson said. "It's one of my favourite tournaments. It's my favourite kind of golf. Just because we don't have it here. We don't have true links here (in the States), anywhere."
Last year, the Open Championship was missing the year's US Open champion Webb Simpson. He skipped out on the championship because of the birth of his second child, Willow Grace.
However Simpson is pleased to be headed to the championship this time.
"I'm excited," Simpson said. "I've only played one British so I'm excited to get back."
His preparation will be on controlling his ball flight and envisioning his shots.
"I'm going to prepare how I normally would," Simpson said. "Just hitting certain flighted shots, make sure my imagination is running, and hopefully I can get some good bounces that week."
"07 and '08 Open Champion Padraig Harrington finally tasted major championship success at Carnoustie in '07 after coming close in previous attempts. He's learned over his many years of playing links golf and major championship golf that how one prepares is paramount.
"You've got to have good preparation," Harrington told Inside Golf. "And knowing what good preparation is for you. For so many years in my career I played great the following weeks of a major, so you try to figure out what makes you peak for that given week."
Harrington finished in a tie for fifth place in '02 finishing only one shot out of the four-man playoff. Not surprisingly, he views Muirfield in a very positive light.
"It's obviously one of the more favoured of the Open venues," Harrington said. "It's a very fair golf course, a solid golf course, it's not quite as tricky as some of the other links golf courses."
It is often said about Muirfield that it is more of a "what you see is what you get" golf course, which certainly serves as a contradiction to most links courses as Harrington alludes.
It could be an advantage to the American contingent as blind shots are more rare to their parkland and desert courses versus traditional links golf. Ideal course conditions are also more of an American staple.
"Out here we're so used the manicured condition of the courses," Cink said of golf in the States. "Anything less than an expected type of bounce and we get upset. Over there you can't do that, you've got to be expecting all different types of bounces and you've got to play for the percentages."
One player who is certainly used to the subtleties of links golf is Northern Ireland's Graeme McDowell.
McDowell has no experience at Muirfield yet but is taking a successful approach to competing at major championship venues he has yet to play. By getting there the Wednesday before Championship week McDowell says he'll avoid the crowds and other competitors, helping him to focus on the task at hand.
"I did that last year at Lytham and it worked pretty well," McDowell said. "I'll go in there the week before and get my prep down."
McDowell finished last year's Open Championship in a tie for fifth, he finished in a tie for second at the US Open, and played the other two major championships in a tie for twelfth or better.
With his intense competitiveness and innate ability to grind out final rounds in tough conditions it is no surprise that he embraces the challenges of a major. In fact, majors are duly valued highest by McDowell.
"When we get to (majors) we try not to put them up there," McDowell said of their importance. "We try to play them for what they are, just another event. But they're very important to us. Certainly we want to win them."
Certainly the players assembled this month at Muirfield would love to add their name to the distinguished list of past winners that include Vardon, Player, Nicklaus, Watson, and Faldo among others.
Who will be next?
The Australian contingent competing at Muirfield includes Stephen Dartnall, Jason Day, Marcus Fraser, Steven Jeffress, Geoff Marc Leishman, Geoff Ogilvy, Brett Rumford, Adam Scott, John Senden, Brendan Jones and Peter Senior. While Scott would be the odds-on favourite, Fraser has seen some fine form recently, while Ogilvy will look to build on his 9th place finish last year.
Muirfield scorecard

(Yardages to vary slightly for the Open)

| | | |
| --- | --- | --- |
| Hole | Yards | Par |
| 1 | 450 | 4 |
| 2 | 367 | 4 |
| 3 | 379 | 4 |
| 4 | 229 | 3 |
| 5 | 561 | 5 |
| 6 | 469 | 4 |
| 7 | 187 | 3 |
| 8 | 445 | 4 |
| 9 | 558 | 5 |
| OUT | 3645 | 36 |
| 10 | 472 | 4 |
| 11 | 389 | 4 |
| 12 | 382 | 4 |
| 13 | 193 | 3 |
| 14 | 478 | 4 |
| 15 | 447 | 4 |
| 16 | 188 | 3 |
| 17 | 578 | 5 |
| 18 | 473 | 4 |
| IN | 3600 | 35 |
| OUT | 3645 | 36 |
| TOT | 7245 | 71 |
DID YOU KNOW
The Honourable Company of Edinburgh Golfers, based at Muirfield, holds the claim of being the oldest verifiable organised golf club in the world. The club's records date continuously back to 1744, when it produced thirteen "Rules of Golf" for its first competition which was played at Leith Links for the "Silver Club".  The club played on the five holes at Leith Links for nearly a century, but overcrowding forced a move in 1836 to Musselburgh Old Course's 9-hole Old Course. In 1891, the club built a new private 18-hole course at Muirfield. The first Open held on the new course in 1892 was the first tournament anywhere contested over four rounds, or 72 holes.