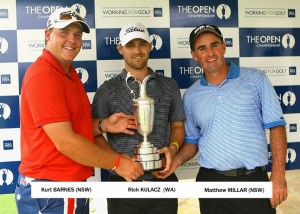 Matt Millar, Kurt Barnes and Rick Kulacz have qualified to play the 2011 Open Championship at Royal St George's after finishing at the top of the leaderboard at the International Final Qualifying (IFQ) Australasia.
Millar finished as the clear leader after a gruelling 36 holes at Kingston Heath today, the man from Canberra shooting a total of 10-under par to clinch his first start in a Major championship.
Barnes finished a shot back at 9-under par following 2 rounds, while the West Australian duo of Stephen Leaney and Rick Kulacz were forced into a playoff to decide the final Open spot after both finished at 8-under par.
The pair both parred the first playoff hole, but Kulacz prevailed on the second sudden death hole after Leaney missed a par-putt.
With the result Kulacz will also make his Major debut at Royal St George's later this year.
For Millar, the result tops off an incredible week in which his wife gave birth to their second child, a little girl Charlotte.
"My wife gave birth on Wednesday so I haven't had a chance to play much golf and practice so maybe that's the secret for me," said Millar.
"I can't wait, this has been a goal I set this year and it's good to achieve one so now I can move on to the next one."
"I've played a bit of golf over in Scotland when I was on Tour but never at Royal St George's so I'm really looking forward to the experience."
For Barnes, the result confirms his second Open start in as many years, and the New South Welshmen is determined to learn from the lessons of his 2010 experience.
"Kingston Heath has really suited my game over the last couple of years, I put in some hard work and its really paying off" said Barnes.
"I've got to call the family and tell them to put another mortgage on the house so I can take them all over there with me."
"No, seriously it's great. It was my aim to qualify and to put in some hard yards this year so I can get over there and play well and make the most of the opportunity."
The third of the qualifiers, Kulacz, said he was more than happy to take the result particularly as he hasn't been playing his best golf of late.
"I wasn't as nervous as I thought I would be on the first tee of the playoff, but I have been battling hooks so I wouldn't have been surprised if I'd hit it 70m left," said Kulacz.
"My first Major- it's going to be great. An Australian has won there (Royal St George's) before, so I'm really looking forward to what it's all about.
For the full leaderboard click here.