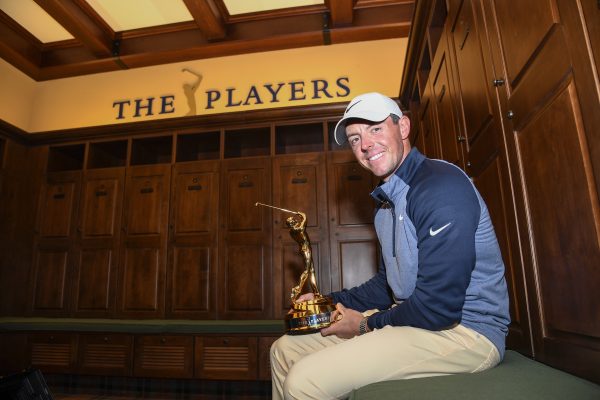 For all of the distraction, doubt and ridicule he endured throughout the past several months, Rory McIlroy always stayed true to himself.
That wasn't always the case. For far too long, the 29-year-old often let his poor play on the course define the round that followed. And, perhaps worse, he let it negatively impact his demeanor away from the game as he lived day-to-day life.
"It's maturity, I think," he said. "It's been having a focus over the last six or seven months on my attitude, especially my attitude to golf, and not letting golf define who I am as a person, trying to keep the two things very separate. Because one thing that I used to do in the past is let what I shot that day influence who I was or my mood.
"To try to keep those two things very separate is something I've worked hard on because who I am as a person isn't who I am as a golfer, and it took me a while to get to that point where I realised who those two people were."
Of course, any avid follower of the game understands that's probably been difficult of late, as golf statisticians and commentators pointed out—sometimes rather gleefully—that the Northern Irishman was on a stretch of nine straight defeats in which he started in the fourth round's final pairing. Three of those instances came since the calendar turned to 2019, though it would be hard to blame McIlroy too much for any of those failures.
First came the Sentry Tournament of Champions, where McIlroy opened with three consecutive rounds in the 60s only to drop into a tie for fourth with a final-round 72. It just so happened that Xander Schauffele dominated the field with a course-record, 11-under 62 to capture the victory.
Then came the World Golf Championships-Mexico Championship, where even though he appeared in the final group he was never in any legitimate contention as Dustin Johnson breezed to a five-shot triumph. McIlroy finished runner-up.
Finally, at the Arnold Palmer Invitational, McIlroy appeared primed to successfully defend his title only to shoot a closing 72, good for a tie for sixth with three others. Francesco Molinari ended up winning with an 8-under 64, four shots clear of the 2018 champion.
"I feel like I've managed the first six weeks or six tournaments of the year very well, even with some noise around me, whether it is, 'He can't close, he can't plays on Sundays, blah, blah, blah,'" McIlroy said. "I've just got to do my thing, and if I go and I concentrate on me, control what I can do, good golf and good attitude takes care of the rest."
That maturity, that control and that attitude finally came through for him at The Players Championship in mid-March, where McIlroy once again arrived for the final round within striking distance of a win. This time, he managed to seal the deal.
Despite a wild final round that saw a host of players take their shots at the TPC Sawgrass Stadium Course, it was McIlroy who stood tall at the end. He carded a closing, 2-under 70 to finish at 16-under overall, one shot better than local favorite Jim Furyk. It was his 15th career PGA Tour win and first since the Arnold Palmer Invitational exactly one year ago.
Coincidentally, both victories came on St. Patrick's Day weekend.
"I think all the experiences I've had over the last few weeks in terms of trying to win and not getting over the line definitely helped me today," he said. "Maybe if I hadn't had those experiences, I wouldn't be sitting up here with this trophy, so I'm thankful and grateful for those experiences I've had this year.
"Yes, it would have been nice to maybe get another win, but it sort of made it all worth it, the fact that this win has come at this golf tournament, a tournament where Sawgrass and I didn't have the greatest relationship starting off."
McIlroy's conflict with the Stadium Course wasn't all that different from the mental battles he has endured to begin this season. He missed the cut in each of his first three career starts at TPC Sawgrass and failed to card a sub-70 round until breaking through with a tie for eighth in 2013. He has for the most part mastered Pete Dye's creation ever since, carding a tie for sixth, another tie for eighth and a tie for 12th before this year's win.
"I came here as a 19-year-old in 2009, missing the cut, and getting kicked out of bars in Jax (Jacksonville) Beach for being underage, so I've come a long way in those 10 years," he said. "To think about that guy to where I'm at, it's beyond my wildest dreams that I'd be sitting up here with 24 worldwide wins and four majors and five Ryder Cups played. At that point I didn't know what to expect. I came on Tour, and all I wanted to do was keep my card, and from there, you grow and you learn and you become a better player, and you realize that there's a lot more that you can achieve."
And as for McIlroy's recent mental approach, he insists that he has remained disciplined in not reading any press clippings about himself—either good or bad—which has allowed him to leave each tournament pleased with his performance. When he has reflected on the 72 holes each week—rather than the final two, for instance—McIlroy has been content with his effort.
He's recounted reading several books on mental approach and worked with those among his inner circle on figuring out himself. It's been a long journey where those closest to McIlroy have helped point him in the right direction, he said.
"I've done everything I've wanted to do," he said. "I looked at my stats at the end of every week. I'm leading in strokes gained tee to green, I'm putting well, my around-the-greens is good. Everything was in a really good place, and that's why I was just preaching patience, and it was just a matter of time."
McIlroy would require every bit of that newfound patience over the final 18 holes at The Players, an event that annually features the deepest and best field in golf. He entered one shot behind Jon Rahm to start the day, and the Spaniard quickly conceded that lead with three bogeys over his first three holes. But McIlroy failed to capitalise, approaching the par-4 fourth at even-par only to see his approach shot go in the water. He settled for double-bogey on the hole, paving the way for a flurry of players to try their hand at the lead.
Eddie Pepperell and Jhonattan Vegas, each backed by birdie putts beyond 50 feet on the notorious island-green 17th, both carded 66s to take the clubhouse lead at 14-under. The latter missed a chance at the solo lead when he couldn't connect on an eight-foot birdie putt on the 18th, leaving the door ajar for McIlroy.
Instead, it was Furyk exploiting the miss, firing his approach shot at the last to three feet and eventually taking the lead among those finished, at 15-under, with a closing 67. It broke what had briefly been a five-way tie at the top.
"I think the toughest part is seeing yourself up there and seeing 10 or 11 guys with a chance," McIlroy said. "There's been a few times where I've been in positions like that, and I've taken the tournament by the scruff of the neck. I drew on those experiences today and the experiences over the past few weeks and stayed patient and stayed in the right frame of mind, especially being 2-over through 4.
"I guess that was the hardest thing, just getting yourself to the point mentally where you say, 'Well, why not me? This is my tournament, I'm going to finish it off.'"
Troubles and all, McIlroy never folded, the pressures of previous misses not factoring in this time around. He matched Furyk at 15-under, with a birdie at the par-4 15th, then took the lead for good on the ensuing hole with a two-putt birdie on the par-5.
"I don't feel any less pride for the way I played because I didn't win," Furyk said. "And because it was Rory, it probably doesn't take any sting out of it. I have a lot of respect for his game. I have a lot of respect for him as a person. But it still stings. I'm a competitor, and I want to win, and it pisses me off I didn't."
McIlroy called his second shot at the 15th by far his best of the day. Using a 6-iron, he stuck his approach shot from 180 yards to 13 feet, ensuring himself a birdie. It quickly erased the sting of bogeying the previous hole and set him up for the clinching birdie at the par-5 16th.
McIlroy then two-putted on the treacherous two closing holes to claim The Players, one of the elusive titles that has evaded him for so long. The win made him one of just three players to win the FedExCup, a major, a World Golf Championships event and The Players. The others? Tiger Woods and Henrik Stenson.
McIlroy's Patience paid off, something playing partner Jason Day noted.
"It's more so everyone else trying to be impatient for you," said Day. "He's had great finishes, and then he finally capitalized on it and won. Deep down inside you know that you want to do it, sometimes you can get in your own way and want it too much. But that wasn't a factor here, that wasn't him. He knew that he was playing some good golf, and it was just a matter of time for him to be able to take those opportunities and he obviously did it on a grand stage like he did today."
McIlroy has grown so much since those early teenage struggles at TPC Sawgrass. He plans on savouring this win for as long as he can, especially considering the negative whispers that surrounded him leading up to it.
"It's not just a win, it's a massive win," McIlroy said, staring at his new 24k gold Players trophy. "It's a win at a tournament I've never won before on a golf course that I've had mixed results on, so I feel like I'm going to take even more from that. I had to grind it out down the stretch, which I'll take a lot from.
"I don't want to look too far ahead. I really want to enjoy this. I've got a week off. I've actually got an interior-design meeting [Monday] morning to pick out some stuff for our new house, so that's the next port of call."
Meet the new Rory, mental strength and all.
(Story courtesy of The PGA TOUR)