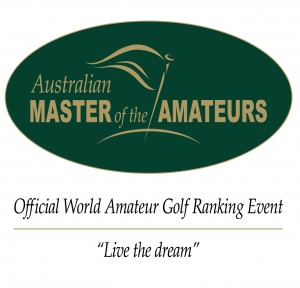 The Australian Master of the Amateurs is set to climb to new heights next week, with a world class international field battling for supremacy on Australia's premier golf course, Royal Melbourne.
Australia's top-ranked amateur title, which has been a proving ground for the likes of US PGA Tour stars Jason Day and Rickie Fowler, has once again attracted some of the best amateurs in the world to pit their skills against the cream of Australia and New Zealand.
A total of 54 players from 11 countries will compete over four days of stroke play – from Tuesday, January 11 to Friday January 14.
The Master of the Amateurs World Cup will also be decided between teams comprising two players from each country.
The countries represented will be  Australia, USA, New Zealand, England, Korea, Japan, China, Singapore, Italy, Fiji and Vanuatu.
The Am-Pro will be played on Monday, January 10 and feature top professionals playing alongside the amateurs and celebrities.
The tournament which is being played on Royal Melbourne's west course, will give
spectators a great chance to see up close some of the game's future stars and also get a  sneak preview of the venue for the 2011 Presidents Cup, which will be played on the composite course in mid-November.
Play starts at 8.30 a.m each day. Entry is free.
————————
Here's a selection of stars from the Master of the Amateurs field:
American DAVID MCDANIEL, who hails from Tucson, Arizona, is ranked in the world's top 10 amateurs, was runner-up in the prestigious 2010 US Public Links championship and winner of the 2010 Arizona Public Links title.
A top-flight performer in US ranks, he's a little different to your normal American product.
He never played college golf, preferring to hone his game at public courses while playing skins with his mates.
He's also pretty laid back when it comes to footwear – he wears tennis shoes on the course rather than spikes. "They are more comfortable," he says.
He joins Harry Rudolph III, Jordan Russell and Bhavik Patel in another powerful US combination.
—————————–
#US-based Queenslander TARQUIN MacMANUS brings to Royal Melbourne a game that has been finely-honed at the University of Arizona.
As with Australian PGA Tour star, Adam Scott, McManus chose early on in his junior career to improve his golf through the US college system.
He believes his decision to leave his home in Cairns three years ago and head to the toughest proving ground in junior golf was the best possible move.
Last season he led the stroke average in Arizona events and was the leading Arizona player in seven of 12 events.
His runner-up finish at the 2010 Asian amateur championship in Japan provided another glimpse of his burgeoning talent. His performance gave him a berth into final qualifying for the 2011 British Open at Royal St Georges.
————————–
Italian teenager DOMENICO GEMINIANI might be only 14 but already he's being tipped to follow the path of fellow-countryman, Matteo Manassero.
At 16, Manassero made the cut at the 2010 US Masters and then, having turned 17, became the youngest winner on the European PGA Tour, at the Castello Masters in Spain.
Geminiani, who was born on the Caribbean island of  Martinique and now lives in Florida with his family, is being guided by the likes of famed US-based coach, David Leadbetter and  has mental and fitness coaches on his team.
In physical stature, Geminiani is already a stand-out. At 185 cm (6ft. 1 in.) and 88 kg (11st. 8 lbs.), he strides the fairways in size 14 spikes.
He has racked up a formidable record in junior golf – winning and finishing in the top five regularly against older competition on the Florida Junior Tour.
Last year he also became the youngest player ever to compete on the European PGA Tour when he received an invitation to play in the Italian Open. Although he missed the cut, he received invaluable experience, playing in the same event as the likes of home-grown Italian stars, Edoardo Molinari and Manassero.
However, while big-time golf is his dream, he's been able to apply himself to his studies with great success.
He graduated from his high school, Edison Academics in Florida, more than two years ahead of the normal schedule. "He's an accelerated student, and he's just gifted, " said his father, Roberto Geminiani.
As part of his preparation for Royal Melbourne, Geminiani has been putting on the carpet at home at night. His lounge-room record is 601 consecutive eight-footers.
——————————
HARRY RUDOLPH III – now that's a name that simply sounds as if it belongs on a list of US golf stars.
For a while, it looked as if Rudolph was headed that way, especially when he was occasionally beating his regular San Diego junior rival, Phil Mickelson. "We were the no.1 and 2 recruits in the country, "Rudolph recently recalled.
A few years later, fame and riches appeared his for the taking when he was part of the same NCAA-winning college team at the University of Arizona with future US Open champion, Jim Furyk.
His name was also alongside, David Duval, Justin Leonard and Mickelson as recipients of all-American college first team honours in 1992.
Yet somehow, while Mickelson, Duval, Leonard and Furyk went one way, Rudolph took a detour which led him out of the game, and back to flipping hamburgers in his own restaurant in La Jolla, near San Diego.
After playing unsuccessfully as a pro for several years in Asia, Australia, South America and the US, he suddenly quit the game in 1999.
It was a decade before he wanted to play again, and now, at 40, having regained his amateur status in 2009, he's back playing top-flight golf, finishing runner-up in the California State Amateur and posting the best score at a local US Open qualifying event.
Rudolph returns to Australia this month, where he played professionally many years ago, this time with high hopes as a member of the US team competing for both the Australian Master of the Amateurs jacket and the World Cup trophy.
————————————
#Melbourne-based Korean JIN JEONG will have a two-fold purpose when he steps out at Royal Melbourne.
The reigning British Amateur champion is very keen to bring his winning form to the Australian Master of the Amateurs in his adopted home town as well as bring his game to a peak before heading off in April to play the US Masters at Augusta National.
Jeong set the amateur golf world alight in the middle of last year, winning the British
Amateur championship before finishing tied for 14th in the British Open at St Andrews, a phenomenal performance which brought him instant world-wide recognition.
Since then, Jeong has tested his game in several professional events and, although he has not performed as well as he would have liked, the experience has been invaluable.
——————————
Like many young Englishmen, 19-year-old TOM LEWIS came to Australia late last year to escape the British winter and already he's made his mark here, finishing runner-up in the NSW Open after losing a play-off to veteran Australian professional Peter O'Malley.
Lewis hails from the same part of the world as Nick Faldo – he's a member at Welwyn Garden City Golf Club in Hertfordshire and is clearly not fazed by playing out of his league.
Indeed, his stunning performance against the professionals in the NSW Open is not so surprising when you consider that, as a junior, he has performed very well in men's events in his homeland.
He finished tied for third in the 2008 Brabazon Trophy and was a key performer in the winning England team at the 2010 Sotogrande Cup of Nations.
He represented his country at the 2010 Eisenhower Cup in Argentina – finishing tied 13th in the individual trophy and tied 8th in the teams event — and is now part of a formidable England team, preparing to take all before it at Royal Melbourne.
———————
New Zealander BEN CAMPBELL has a lot in common with one of his country's most famous sporting exports – the Melbourne Cup winner, Kiwi.
Only a couple of years ago he was barely heard of outside his own patch, a town called Masterton, 100 km north-east of Wellington. Now, gaining momentum with every stride, he's overtaken his opposition in the blink of an eye.
Last year Campbell, at 19, became the first Kiwi to make the top 20 in the world amateur rankings since Danny Lee in 2008 and he is now rated as the best amateur in the Australasian region.
It's easy to see why he's vaulted to prominence so quickly.
His impressive recent record includes leading amateur in the 2009 Australian Open, a runner-up finish to Australian Matt Jager in the 2010 Australian Amateur championship and an impressive victory in the New Zealand pro tour event, the 2010 Tauranga Open, in which he shot a final round of 66.
He also finished fourth in the individual event at the 2010 Eisenhower Cup in Argentina and fourth in the 2010 Asian Amateur title in Japan.
Campbell has re-located to Melbourne to enhance his game under the tutelage of top coach Marty Joyce and, as a top 10 placegetter in the Australian Master of the Amateurs last year, he feels he's ready to go all the way in front of his adopted home crowd.
More information: www.masteroftheamateurs.com.au