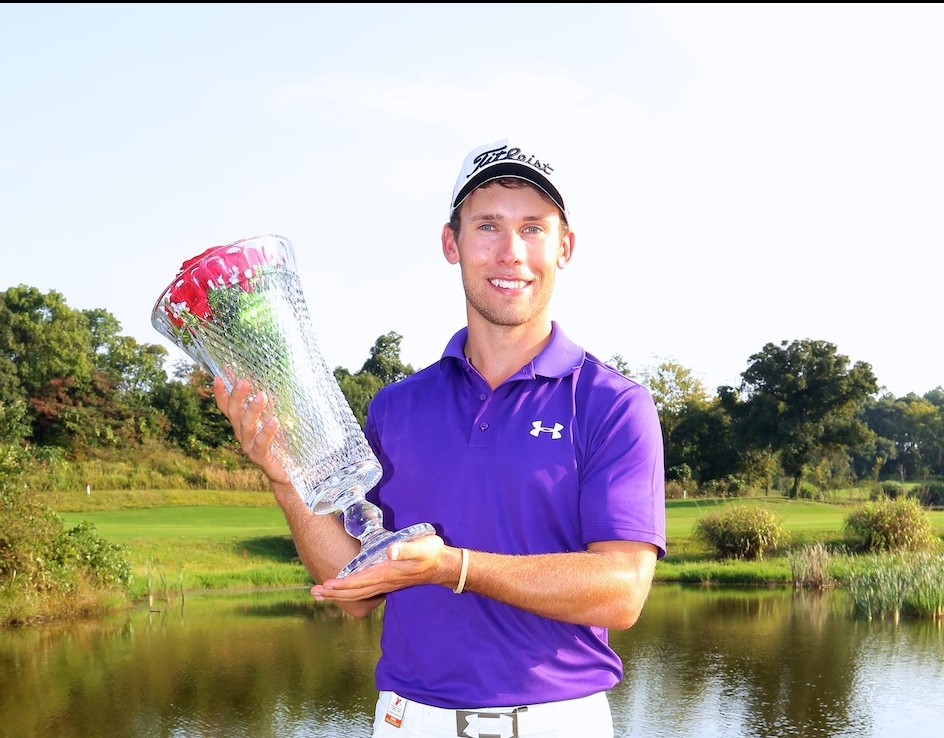 Even though he's only been back on the Ping An Bank China Tour – PGA TOUR China Series for a month, The Year of Bryden Macpherson continues. The Australian won the Lushan Open on Sunday at Lushan International Golf Club, picking up his second Series title in four weeks and moving to No. 2 on the Order of Merit. Macpherson, who began the final round trailing by a stroke, defeated T.K. Kim and third-round leader Sejun Yoon by two shots. Even a 72nd-hole double bogey couldn't slow him down.
Seven weeks ago, Macpherson was completing his Web.com Tour season in Portland, Ore., the final tournament in what turned out to be a disappointing year on that Tour. While he didn't earn a top-10 in any of his starts, finishing 126th on the Regular Season money list, Macpherson did show flashes of good form at various points during the year. Since returning to China, his game has come together, with his two victories and a tie for third in his four starts.
"Today was the first time since the start of the tournament that I felt good with my game. I didn't feel like I had all of my game early in the tournament, and I managed to still score pretty well, which is important. Today I felt it," Macpherson said following his round.
Trailing 54-hole leader Sejun Yoon by a stroke when the day began, Yoon quickly moved ahead by three when he birdied his first two holes. But a bogey at No. 3 and a double bogey at the fourth dropped Yoon into a tie with Macpherson, who parred his opening four holes. Macpherson then made his first birdie of the afternoon, at No. 5 and, as it turned out, that's where the pivotal shift took place, where Macpherson assumed the lead.
"I was just trying to stay patient, I hit [my approach] really close. Tap-in length," Macpherson explained. Macpherson led Yoon by one when he made the turn to the back nine, and a Macpherson birdie and Yoon bogey widened the Aussie's lead to three.
"Ten was a bit of a turning point for me. I struggled with that hole all week visually," he added. After two good shots, his second one, an "aggressive layup to get close to the green," Macpherson was in the middle of the fairway with about 95 yards to the par-5. "I hit a really good pitch shot into about three feet and made it. That hole has troubled me all week, so to make birdie there was really good.
"I wanted to keep attacking," he continued. "If you play to make pars, you can make bogeys. But if you play to make birdies, you probably can make birdies."
A Macpherson birdie on the 11th put him complete control—up by four—as would-be contenders Xinjun Zhang and Yi Keun Chang, who were also tied for second when the day began, faltered. Zhang had three double bogeys in his first 13 holes on his way to a 6-over 76 and a tie for 12th, while Chang never got his game going, turning in a 71 and tying for fourth. Yoon, too, could only manage a 71 Sunday.
"I think I played this well on the Web.com Tour in pieces," Macpherson said, assessing his play this year on that circuit. "I played really well on Thursday and Friday on the Web.com Tour, and sometimes Saturday morning. But by the ninth hole on Saturday, I would start to drop off. I didn't feel comfortable. I played here (PGA TOUR China) last year, and I felt comfortable because I knew how I could play for 72 holes. On the Web.com, I would sometimes get in my own way and stop myself because I didn't feel that comfortable. Now, I feel very comfortable about going back and playing the Web.com Tour next year."
Final-Round Notes
The win Sunday by Bryden Macpherson was his ninth top-10 in 14 career Ping An Bank China Tour – PGA TOUR China Series' starts. It was also his eighth in his last nine appearances. Macpherson's only non-top-10 was a tie for 13th at the Ping An Bank Open in his first start of 2015.
Two players enjoyed nothing but sub-70 rounds this week: Bryden Macpherson (68-68-68-68) and T.K. Kim (69-69-69-67).
Since returning to China from the Web.com Tour, Bryden Macpherson has yet to shoot an over-par score in 16 Ping An Bank China Tour – PGA TOUR China Series' rounds. He has three even-par 72s (second round, Ping An Bank Open; first round, Cadillac Championship; third round, Yulongwan Yunnan Open), and everything else has been under-par. His stroke average is 68.67 this year.
Order of Merit leader Josh Geary shot a second consecutive 69 to tie for 23rd. Eugene Wong, who relinquished his second position to Bryden Macpherson, on the Order of Merit, struggled to a 5-over 75 in the final round to tie for 42nd. He dropped to third on the earnings' chart.