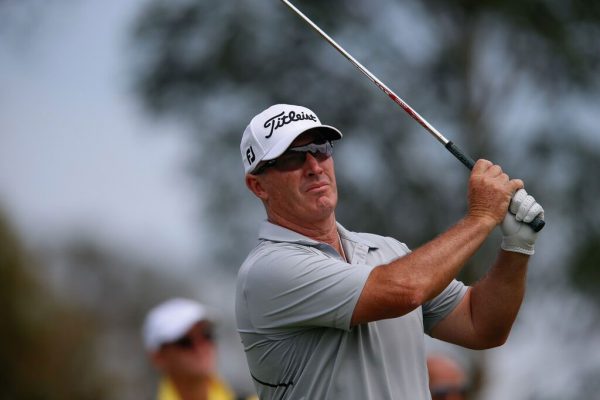 PETER Lonard, one of Australia's most popular golfers, has earned the chance to reignite his career in America with several early starts on the US PGA Tour web.com tour in 2016.
On Peter's official website www.peterlonard.com, Bruce Young recently wrote: "Peter has continued to have physiotherapy on his back since playing his last 2015 event in Australia in December and is now gearing himself towards starts in the early season Web.Com events in Central and South America."
Lonard, 48, said: "I have been told I should get several early season starts, as the Web.com Tour makes available opportunities for former PGA Tour players — at the ages of 48 and 49 — to prepare themselves for the over-50 Champions Tour.
"Overall I am pleased with the progress I have made in 2015 and I'm looking forward to getting back into the web.com Tour in what will hopefully be Panama in late January."
Lonard made the cut in eight of his last 10 tournaments in 2015, which continued an encouraging comeback by the former US Tour title winner.
"A fourth-place finish at the NSW Open in November followed three weeks later by a ninth at the Australian PGA Championship were impressive and gave heart to a campaign in 2016 that will include several starts on the Web.Com Tour," Young wrote on the website.
Lonard also reported that at one stage late on the final day he thought he was a chance to win his third Australian PGA Championship, having won in 2002 and 2007.
"When I birdied the 15th at Royal Pines to get to two-over in the PGA, I thought if I could find a couple more and post even-par then it might well be the winning score as the golf course was playing really tough on that final day.
"Then I made a mistake with my approach at the 17th and, perhaps deflated, I hit a bad drive at the last and in the end was lucky to make bogey really."
An even-par 288 total would have earned Lonard a place in the playoff for the title won by Nathan Holman and a win would have placed Lonard back onto the European Tour.
Lonard finished 32nd on the PGA Tour of Australasia's Order of Merit, which, when it is considered he only played 12 events here in 2015, it was a solid year, Young reported.