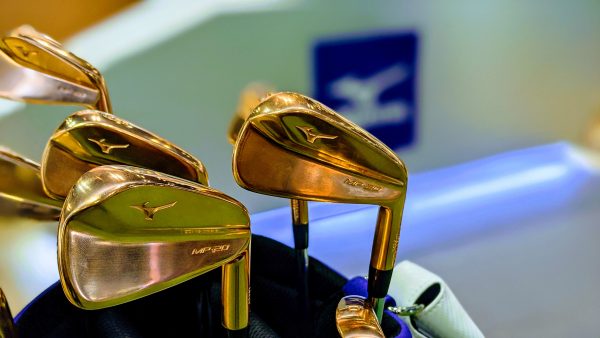 Mizuno Golf has long been renown for their sleek, high-performing, irons, woods and (more recently) putters. Favoured by many tour professionals and amateurs alike, Mizuno's name is synonymous with success, performance and exceptional feel.
In January at The PGA Merchandise Show, Mizuno caught the eyes of the industry once again, as they previewed a limited-edition set of their powerful MP20 irons…in a glorious copper model. This ultra-rare release (only 500 sets released world-wide) had heads turning from the moment the show opened, and the US allotment sold out within hours.
In a lucky break for Australian golfers, 50 sets of the MP20 Copper limited edition sets are arriving into Australia next week (27 April).
The specs: MP20 Blade, RH only, #3-P. Comes with a Dy Gold Tour Issue S400 Chrome shaft, Limited Edition BB&F ferrule, Z cord black out grip. Available in STD length and STD lie (no custom specs available)
RRP is $495.00 per iron or $3,960.00 for the 8 pce set.
These will be available at the following locations in Australia:
TERREY HILLS DRIVING RANGE
GOULBURN GOLF CLUB
MOORE PARK GOLF COMPLEX
POWER GOLF – ALEXANDRIA
POWER GOLF – CASTLE HILL
PUREFORM SYDNEY
TERREY HILLS GC
KAREELA GC
TEMPE DRIVING RANGE
CMT GOLF REPAIRS
DRUMMOND GOLF – WOOLLOONGABBA
HOUSE OF GOLF – BUNDALL
VICTORIA PARK GOLF COMPLEX
GOLF KING McKAY
KOOYONGA GOLF CLUB INC
ROYAL ADELAIDE GC
THE GRANGE GOLF CLUB
ALBERT PARK DRIVING RANGE
GOLFBOX – BOORAGOON
GOLFBOX – JOONDALUP
GOLFBOX OSBORNE PARK
SEAVIEW GC
CARRAMAR GC
BALMAIN GOLF
TOUKLEY ONCOURSE GOLF SHOP
ALBERT PARK DRIVING RANGE
DRUMMOND GOLF – NIDDRIE
HOUSE OF GOLF – MENTONE
HOUSE OF GOLF – MELBOURNE
THE GOLF FITTING HUB – MGA
THE NATIONAL GC – CAPE SCHANK
WANTIMA  GOLF COURSE
More information and photos: